Houston remains in a typical August-like pattern, with high pressure largely in control of our weather, but not dominating. Were a strong high overhead we'd be having temperatures around 100 degrees, with no chance of rain. But since the high isn't dominant, there's a chance for some scattered rain showers each day. Mind you, most of Houston isn't going to see rain through Saturday, but there is at least a chance. Since the forecast is rather dull we'll also talk about the tropics and eclipse weather today.
Wednesday to Saturday
See above. Hot, with highs in the mid- to upper-90s. Warm nights. Mostly sunny. A few showers will develop during the afternoon hours.
Sunday to Tuesday
Pressures fall a bit, allowing for slightly better rain chances, perhaps in the 30 to 40 percent range each day, with the higher end chances for the eastern half of the area. These probably won't be real soakers—likely some areas will see a couple of tenths of an inch of rain, while most of the area won't see that much, if any rain. Highs may pull back to the mid-90s. That's still hot, but we've certainly had hotter Augusts.

Solar eclipse
As everyone knows, Houston will see a partial eclipse on Monday, with about 75 percent of the Sun covered by the Moon at 1:16pm CT. The forecast remains pretty good for the area, but we can't rule out partly cloudy skies during the day. For those traveling north to see a total eclipse, the following map from the GFS shows that model's forecast for cloud cover around the time of totality. Please note that cloud forecasts are difficult, but this gives you some idea of what to expect.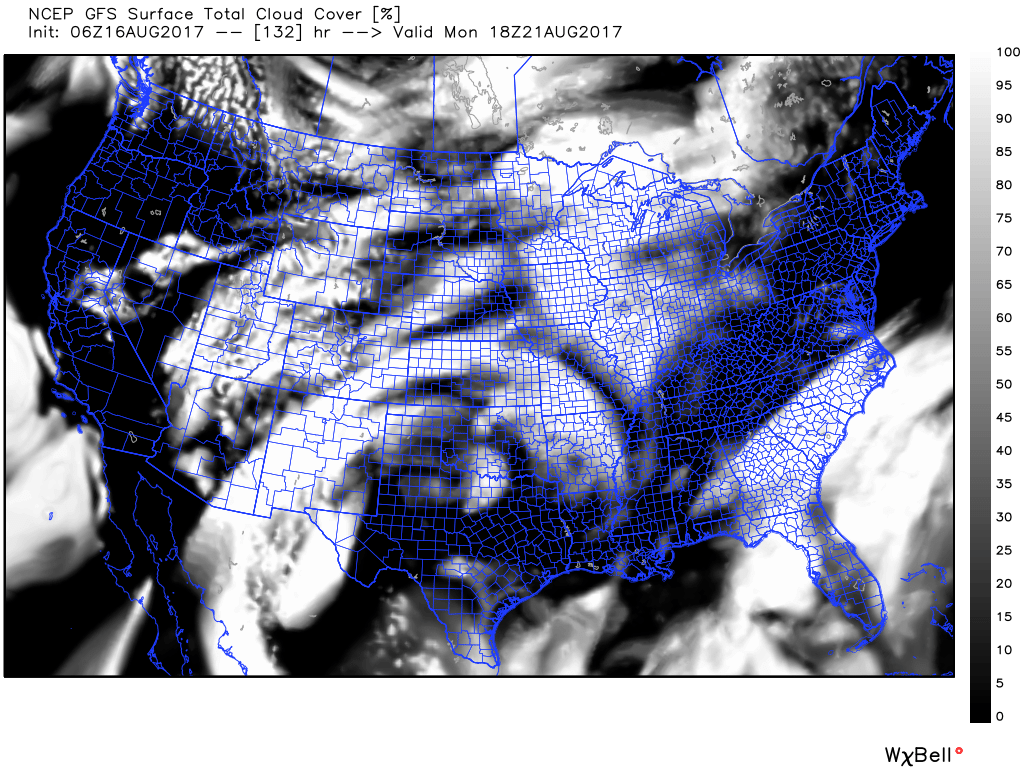 Tropics
Meanwhile, as one might expect in mid-August, the tropics are hotting up. This often occurs because a succession of low-pressure systems move westward, off the African coast, and develop tropical characteristics as they cross the Atlantic Ocean. Here's a look at the five-day forecast from the National Hurricane Center: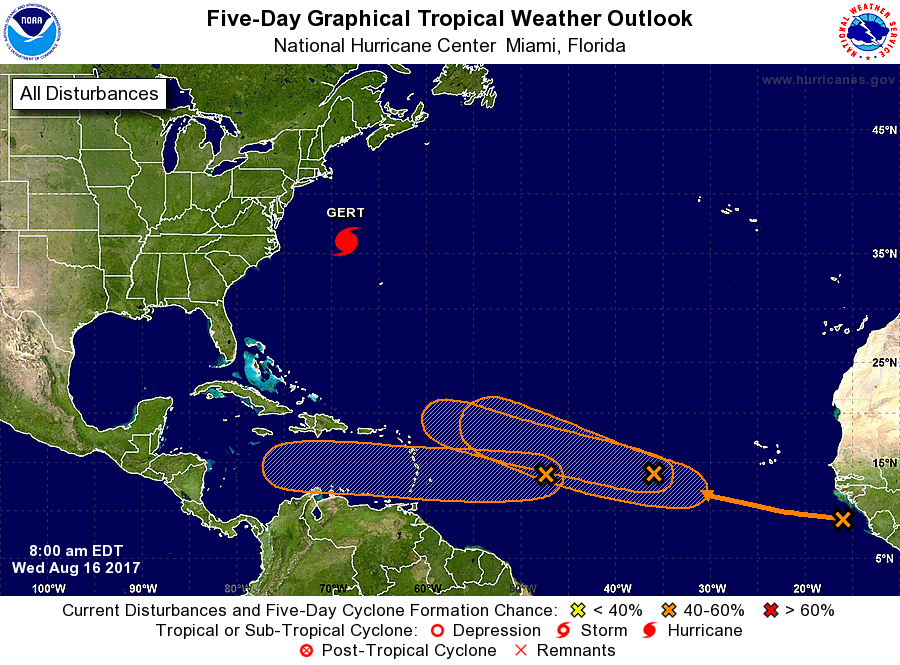 Wow, that's a lot of activity! But from Texas' perspective we're really only concerned by the system forecast to move into the Caribbean Sea, toward Central America next week. This is "Invest 91L" and generally the forecast models steer it toward the Yucatan Peninsula, and keep it confined to the southern Gulf of Mexico—away from Texas. That's what will probably happen, but at this far out there are no guarantees so we're going to continue to watch it.