Tuesday's high temperature at Hobby Airport reached 85 degrees, breaking the record high at the airport of 81 degrees set in 1999. The mark also tied for the second hottest day on any day December, based on records that go back more than eight decades. Prior to last year, 85 degrees would have tied for the hottest day of all time in December at the airport. However that record was pushed upward in 2021, when the mercury reached 87 degrees on December 9.
We are far from alarmist on this site, but such extreme heat for December is consistent with the background warming of climate change. During the first six days of this month, the average temperature at Hobby Airport is 9 degrees above normal. And more heat is on the way over the next week.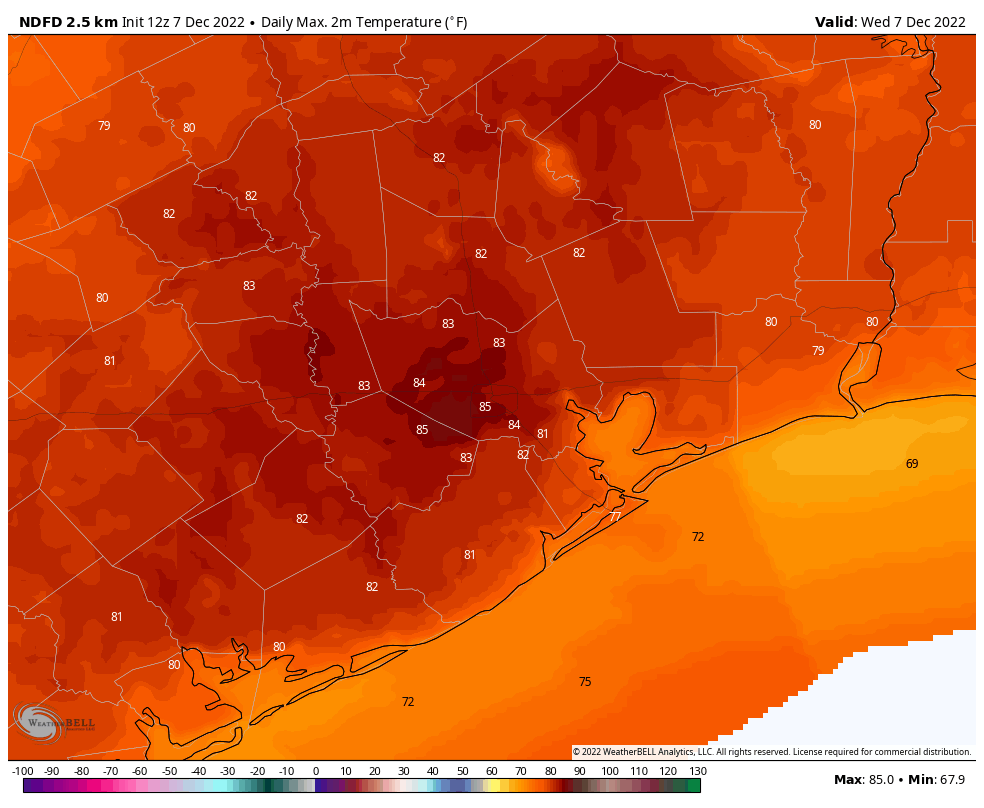 Wednesday
We're seeing patches of fog near the coast this morning, which is to be expected as dewpoints match air temperatures. After the fog lifts we'll be left with partly to mostly sunny skies this afternoon, and another hot December day. With high pressure in place we can probably expect highs to push up into the low- to mid-80s again today. Along with Tuesday, this will probably be the warmest day of the week, although we're going to have to wait until next week for some significant relief. There will also be a slight chance of very light rain this afternoon. Winds will be out of the south at 5 to 10 mph. Lows tonight may briefly drop below 70 degrees.
Thursday
Fog, again, will be a possibility. Otherwise expect highs in the low 80s with mostly sunny skies. There will be humidity and mosquitoes aplenty.
Friday
This will be another warm day, with highs likely in the low 80s and partly sunny skies. Areas south of Intestate 10 will see perhaps a 20 or 30 percent chance of light, misty rain. Accumulations will be nothing to write home about, however.
Saturday and Sunday
Conditions this weekend will continue to be warm and humid, although high temperatures may back off slightly into the upper 70s with partly sunny skies. A weak front will try to push southward on Saturday night, but at this point I don't think it will get too far down into the metro area. This may produce a chance of light showers, more like a mist, later on Saturday or overnight. Lows should drop into the mid-60s.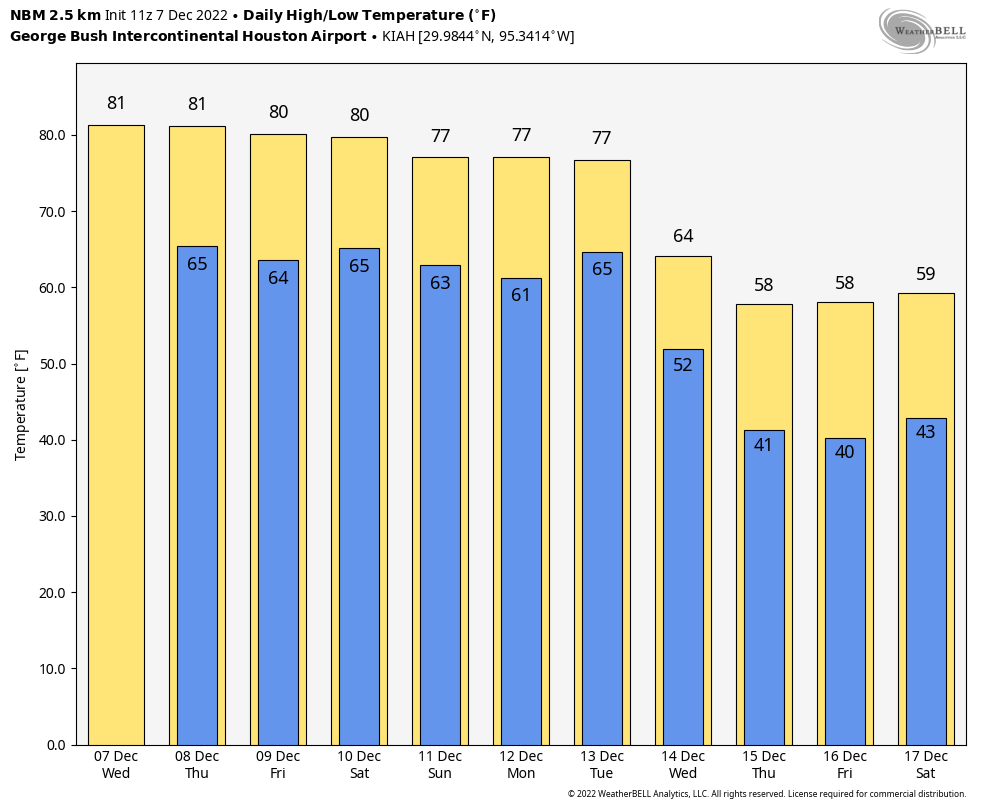 Next week
Monday will be sticky again, but change should finally come on Tuesday or Tuesday night with the arrival of a more significant front that pushes off the coast. There may well be a line of showers and storms with this front, given the upper level pattern. By the second half of next week we should see highs perhaps only in the 50s, with lows in the 30s and 40s. Details are yet to come, but we will certainly see a return of winter-like weather by that time. If I may borrow a phrase from Monty Python, it would be, "And there was much rejoicing."