The month of May is about to draw to a close, and it has been a warm one for Houston. Through Tuesday, the average temperature for the month at the city's official weather station, Bush Intercontinental Airport, is 79.6 degrees Fahrenheit, which is 3.0 degrees above normal. (We've had just two days this month with below normal temperatures). It appears as though this May will end up as the third warmest May on record in Houston, ranking behind only 1996 and 2010. That may or may not be significant—the summer of 1996 did not end up being abnormally warm, but 2010 certainly did.
Wednesday and Thursday
Our July-in-May weather will continue to wrap up the month, with high pressure building over the region and keeping daytime highs in the low- to mid-90s. Some scattered afternoon clouds may help with temperatures just a wee bit, but it's still going to be extremely warm out there so please take precautions.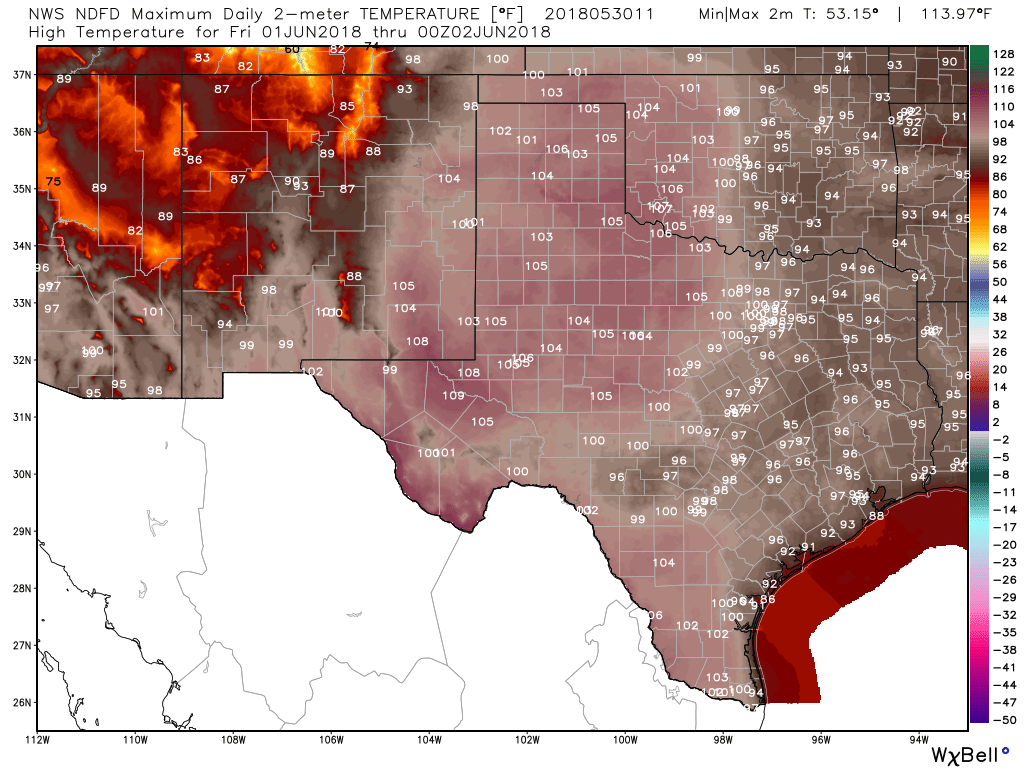 Friday and Saturday
As high pressure dominates, the story across Texas will be heat. The National Weather Service gridded forecasts are absolutely brutal on Friday, with highs of up to 110 degrees in some parts of the state. This is deep summer weather for Texas to start the month of June—and typically summer doesn't peak until late July or August.

Sunday and beyond
The weekend should remain hot on Sunday, and we're still watching for the possibility of a weak front moving into the region at the end of the weekend. At most, this probably will be a change in wind direction, and offer a very slight chance of showers, followed by a day or so of drier air for inland areas. We watch. We wait. We hope. But we shouldn't expect much.
Rain chances?
Alas, things look pretty dry for awhile. The global models are indicating a pattern change sometime around June 10th, which may lead us into a slightly wetter forecast. But if you've lived through a few Texas summers, you'll know that once a high pressure system gets ahold of us in June, July, or August, it is reticent to let us go.
Please watch out for friends, family members, and neighbors who may be suffering from heat exhaustion. It is that time of year.