Hurricane season officially begins later this week, but as we've seen with Subtropical Storm Alberto, Mother Nature doesn't care overly much about arbitrary dates. Nevertheless, it is the time of year to begin thinking about the tropics, and so we're going to help you get ready with some questions and answers.
Why does hurricane season occur now?
The easy answer is "warmer water," and it is true that sea surface temperatures above 80 degrees Fahrenheit are generally needed for tropical storms to form, and strengthen into hurricanes. However, seas in the tropics are generally warmest in October, when hurricane season often begins to wind down. There is another factor, wind shear, that is critical. When winds are rough, and blowing as cross directions at different altitudes, storms simply cannot form. Typically, tropical storms will thrive only when wind shear values near the center are below 20 knots. The following graphic, from FEMA's Michael Lowry, shows why the hurricane season lasts from June through November, but typically peaks during early September.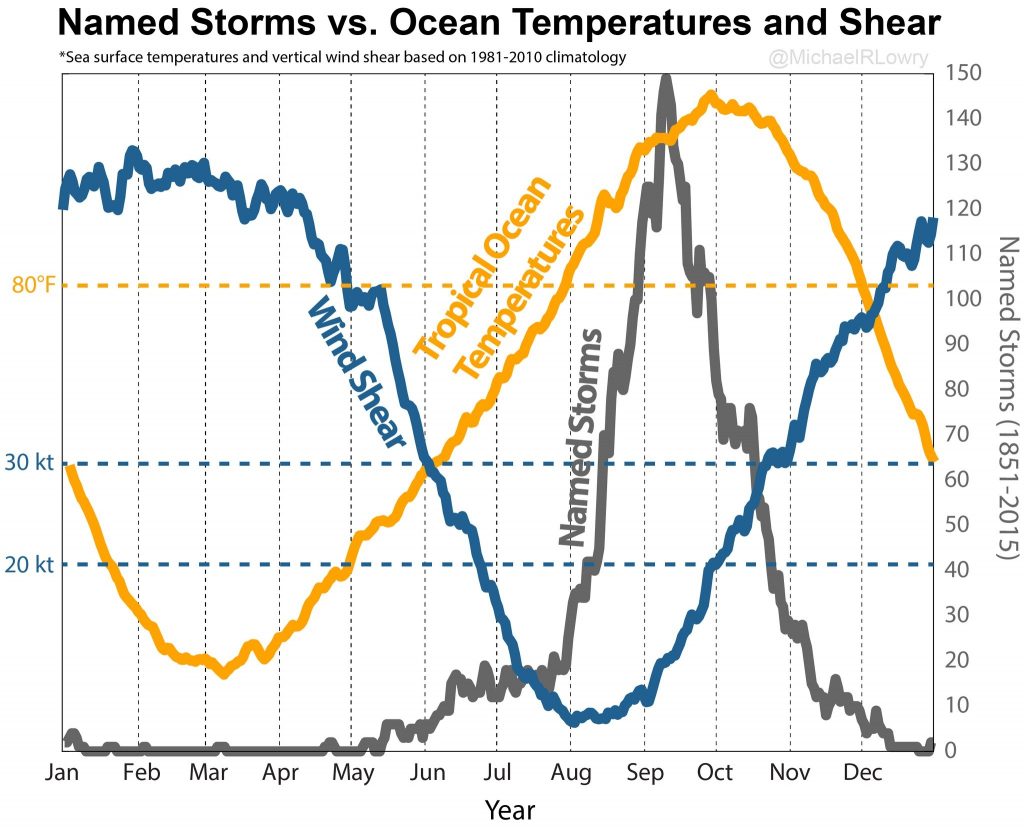 Help! I've seen a really scary forecast on Facebook
Already this season we've seen some hyperbolic forecasts on Facebook. In March, a post forecasting doom and gloom for the 2018 Atlantic season went viral, and more recently a post showing a major hurricane hitting Texas in June got passed around. Such "social mediarology" plays on the fears of people, and therefore tends to get shared widely. If you'll promise to not fall for these kinds of fear-mongering posts, we'll make a pledge to you: If we believe there is a credible threat to Houston, we will report that immediately. And if we haven't written about it, the post you've seen on Facebook is probably garbage.

Speaking of the 2018 Atlantic season, what's going to happen?
The short answer is, no one really knows. There aren't any particularly strong indicators for the coming season so, outside of a scientific curiosity, the outlook probably doesn't mean a whole lot.
If a storm comes this way, should I evacuate?
There's a map for that. Essentially, when a storm threatens, the mayors and county judges of the region will call for evacuations. Depending on where you live, the more likely you'll be called to leave. The more threatening the storm (i.e. the more powerful the storm surge) the more people will be called upon to evacuate.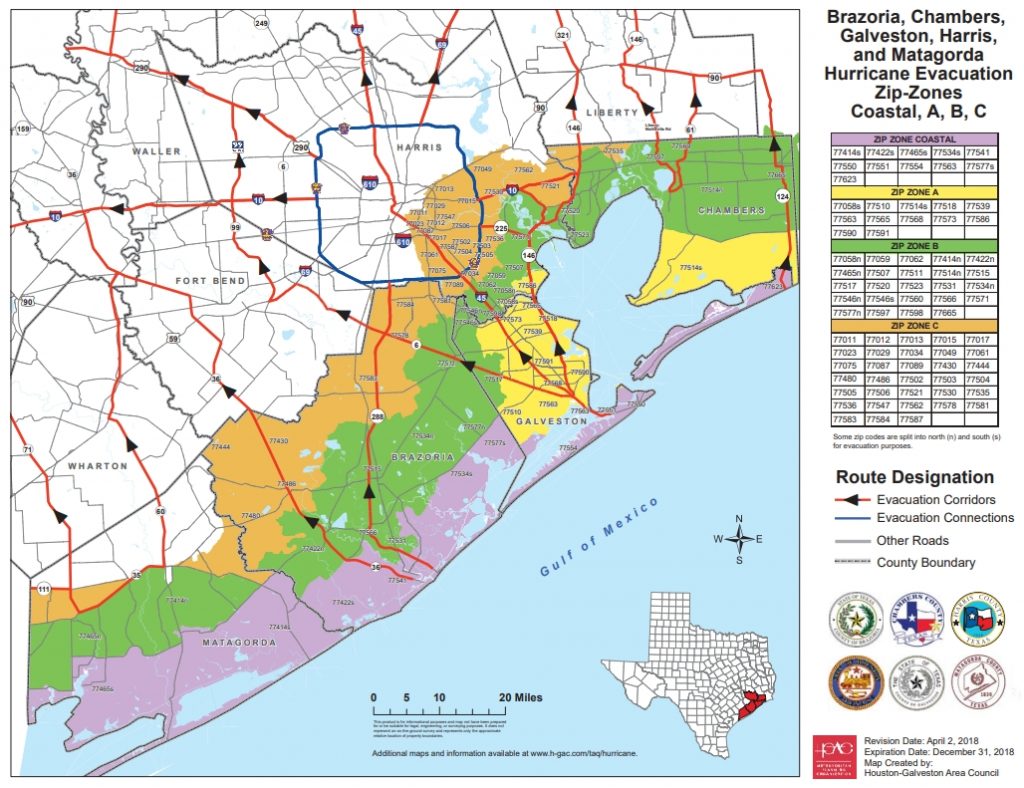 What are the evacuation routes, again?
Here's another map for you. Click the link for a much bigger, zoomable map. Note that these are not mandatory routes, but rather suggested routes.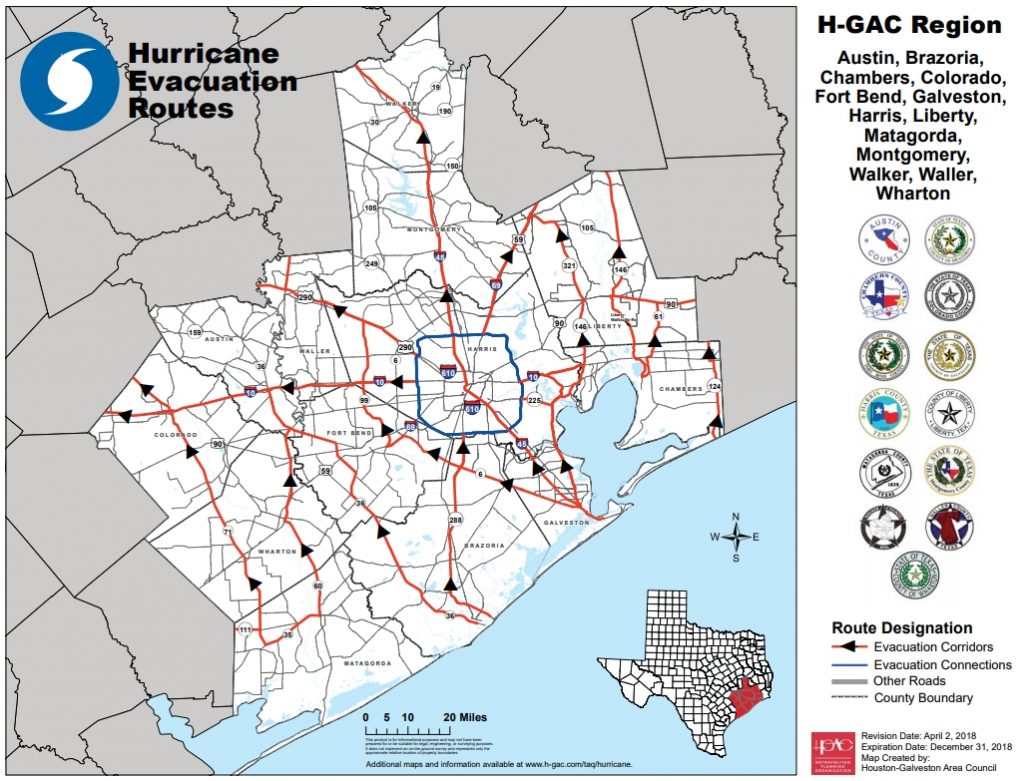 After Harvey, I'm really nervous
Hey, we get that. In fact, we've heard from a lot of people who still get twitchy every time they hear hard rain. So Matt and I have come up with a new flood scale that should help people understand how concerned they should be about heavy rain when it is forecast. We're planning to introduce this scale, which ranks the flood potential of an event from Stage 1 through Stage 5, in a couple of weeks. (Don't worry, it's probably not going to rain until then.) Anyway, our hope with this is that people will understand that not every event is going to be Harvey-like, or close to Harvey like. We're pretty excited about this, and think that it should really help with Harvey-related anxiety.
Sponsor note
As we head into hurricane season, we'd just like to remind you of our strong partnership with Reliant this year. They will continue to bring you the entire site entire free, and free of advertising, for the duration of hurricane season.
Hurricane Harvey forever changed lives and communities along our state's Gulf Coast and beyond. But through it all, Harvey also reminded us that even when skies are their darkest, Texans stand strong together. During and after a severe weather event, the Reliant Storm Center is a good resource to check during weather events for information on finding shelters, recovery after storms and other important regional information.
If you have additional questions about the upcoming hurricane season, please ask them below. We'll do our best to answer them.