We are looking at sort of a weird forecast for Houston in the days ahead. Read on for all the details, but basically we're first going to get hot, and then we're going to cool down and probably see some pretty decent rainfall. Have a great weekend, everyone!
Friday
Today's forecast is pretty straightforward. With a warm and gusty southerly flow in place we're going to see temperatures bump up into the mid-80s, with some areas likely reaching the upper 80s depending on how many breaks in the clouds there are. There will be a slight chance of light rain during the daytime. Conditions this evening will be warm.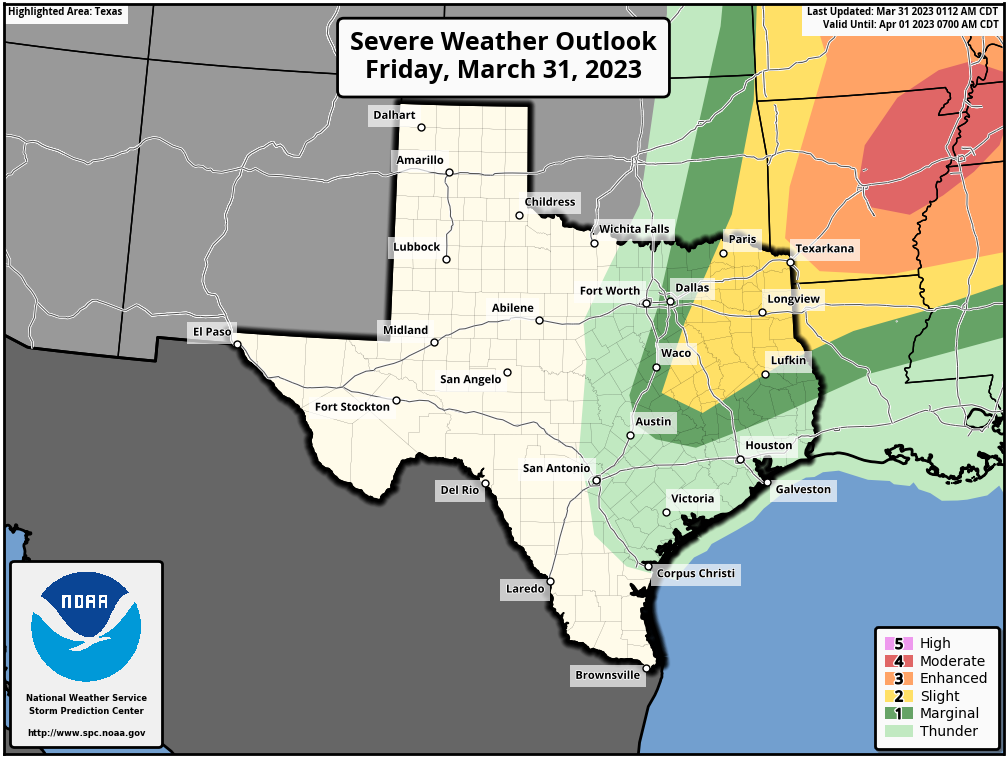 A cold front will approach Houston this evening, and this may bring some strong thunderstorms well to the north of the metro area, including locations such as College Station or Conroe. (So if you're driving to place like Dallas this afternoon or evening, please take care). But further south, we should be protected by a capping inversion that prevents the development of such storms. Could the cap break somewhat for areas north of Interstate 10 late this evening? It is possible, but the chances are probably on the order of 10 percent.
Saturday
By Saturday morning drier air associated with the front will be moving into Houston. And this is going to be something because, for about 12 hours, dewpoints are going to absolutely plummet. This will feel nice, in the form of low humidity. But it's also going to allow temperatures to spike. If we get partly sunny skies on Saturday afternoon, we will probably see high temperatures in the upper 80s to 90 degrees as dry air warms more efficiently than humid air. This dry air will be pulling back by Saturday night, as the front lifts inland, but I still think we'll see low temperatures in the 60s for all but the immediate coast.
Sunday
This day should be partly to mostly cloudy, with returning humidity and highs in the low 80s. There is a slight chance of showers during the afternoon hours, but I don't think we'll see much (if any) precipitation.
Monday and Tuesday of next week
Welcome back, summer! With a warm southerly flow in place and partly sunny skies, both of these days have a solid chance to hit 90 degrees, or even a bit higher, across the entire region. It's going to feel hot after five months of cooler weather. Rain chances are near zero.
The rest of next week
Some sort of front is going to drag into the area next week and then probably get hung up near the coast or offshore. This will do two things. First of all it should knock highs back into the upper 70s or so, and take a bit of the sting out of the humidity. Secondly, it will act in concert with some atmospheric disturbances to produce a healthy chance of rain from from Wednesday through Saturday. The details are to be worked out, but we're probably looking at something like 50 percent rain chances each day. The Easter forecast is still very fuzzy, but I'd ballpark a high of around 80 degrees, with low-to-moderate rain chances. We'll have all the details about that on Monday morning for you.