Good morning. After an almost chilly day on Wednesday, when temperatures remained in the low- to mid-60s, Houston will warm up again for awhile. Some things we're watching for are rather warm temperatures this weekend and into next week, and the potential for widespread and potentially heavy rainfall late next week. Whether this spills into Easter Sunday is something we'll have to wait and see.
Thursday
Scattered, light showers will be possible later today as moisture streams onshore from the Gulf of Mexico. Overall chances are probably 20 or 30 percent. Skies, otherwise, will be mostly cloudy with temperatures in the upper 70s to 80 degrees. Winds will be fairly strong, at 10 to 15 mph from the east, with higher gusts. Lows tonight won't drop far, perhaps only into the lower 70s, with the warmer flow. Some additional light showers are possible overnight.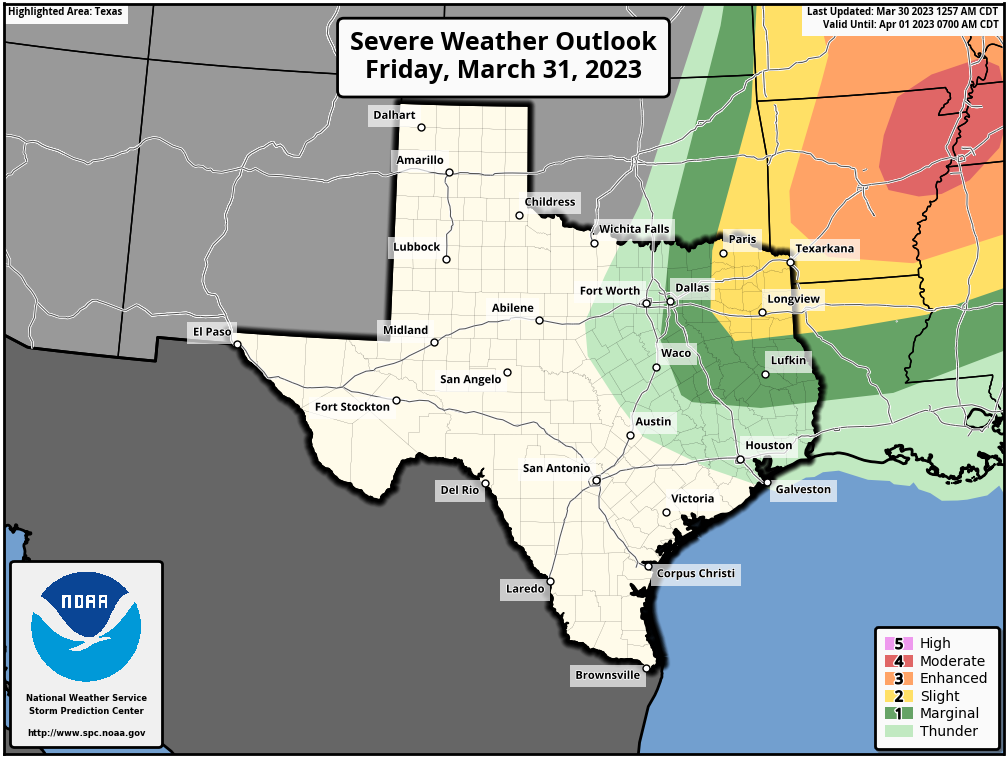 Friday
Skies will again be partly to mostly cloudy on Friday, and as a warmer southerly flow persists we should see temperatures increase into the mid-80s. This will be another windy day, with gusts perhaps as high as 30 mph. Rain chances will be fairly low, only about 10 percent. A cold front will approach the area later on Friday, and this may drive the development of some thunderstorms well to the north of our area. I don't expect much, if any, activity in Houston. It will be another warm night for the region.
Saturday
Drier air from the front will start pushing into the region after midnight, and the front itself should reach the coast by mid-morning on Saturday. This will be one of those touch-and-go fronts in the sense that it will drop down to the coast, stall, and then probably start lifting back on Saturday afternoon or evening. So how much dry air you see Saturday will depend on how far inland you live. In any case, I expect partly to mostly sunny skies, with highs in the mid- to upper-80s with the dry air warming quickly. Lows on Saturday night may drop into the mid-60s.
Sunday
Humidity returns, and clouds along with it. This should limit highs to the lower 80s, with a decent chance of some light rain during the afternoon or evening hours. Accumulations will be light.
Next week
The first half of next week looks warm, with high temperatures in the upper 80s. It will not surprise me if some inland areas record their first 90-degree days of the year. Fun, I know, for early April. After that we turn into a period of more uncertainty, but it looks like a front will move into the area and serve as a focal point for a few days of April showers. As a result we could see a few days in the 70s, with some decent rainfall accumulations of 2 to 4 inches. For now that is fairly speculative, however.
Easter weekend
What about the holiday weekend? I think it's more likely than not that we'll see some sort of shower activity lingering into Saturday, and possibly Sunday. The only thing that seems particularly clear at this point is that, whereas the first half of next week is going to be rather warm, the weekend should be cooler. So we're not looking at a 90-degree Easter Sunday. The question is really how much cooler it will be, and whether rainfall will be a factor.