The heat goes on—especially the early morning heat. Today will likely be July's ninth morning of 80-degree or warmer morning lows. According to Matt Lanza, that's now third most for any July on record in Houston, behind only 2009 (12), and 1963 (10). What's more, the maximum number of 80-degree mornings in any month in the city's history is 14, recorded back in August, 1964. It now seems probable we will blow through that record as it is only July 12th. I recently shared some thoughts on why we are seeing more warm nights in Houston.
Anyway, let's jump into the forecast.
Today
If you remember what the weather was like on Monday, we've got a near carbon copy today. Hot, sunny, and only very, very isolated rain showers.
Wednesday through Monday
Much of Houston has not recorded any rainfall during the month of July, but we've got a decent chance for that to change from the middle of this week through the weekend. The region is going to fall in between two areas of high pressure, and in addition to this we're going to see some rising moisture levels in the atmosphere. I don't believe we're going to see any kind of organized storm systems, but there will be the potential each day for some scattered afternoon showers, and I'm hopeful that most areas will see at least a few tenths of an inch of rain. Not making any promises, but after such a dry start to July some chance is better than no chance. Highs should be in the mid-90s with lows in the upper-70s.
Tuesday and beyond
Let's hope the region sees some rain during the next several days, as it looks like a fairly strong ridge of high pressure will build over the midwestern United States during the second half of July. The maps below show temperature anomalies (in Celsius) for approximately the weeks of July 18th and July 25th.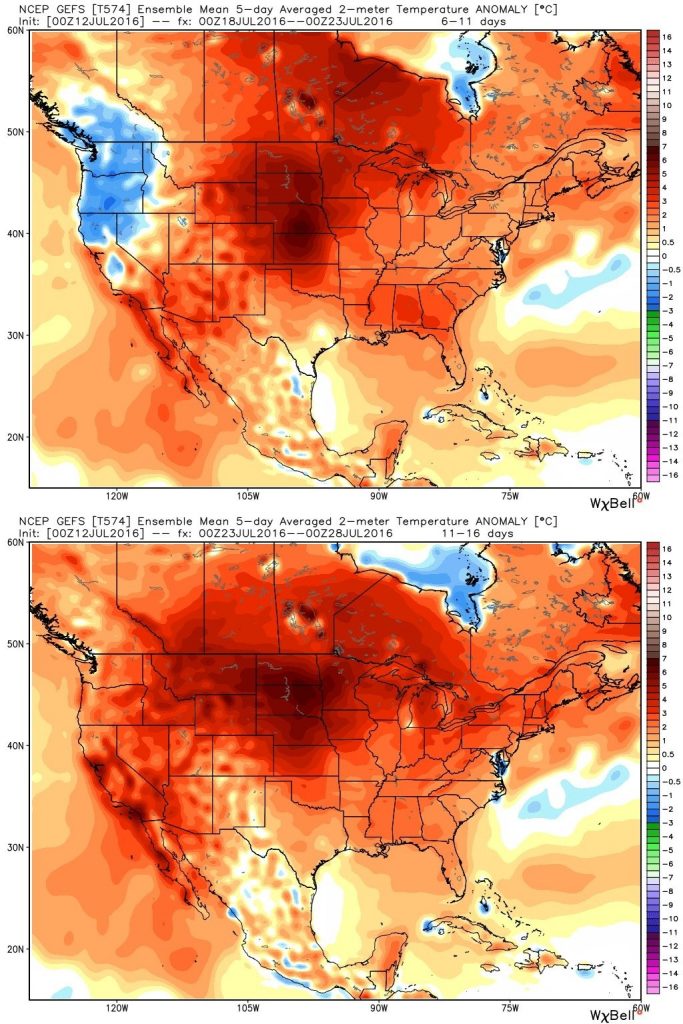 That is a classic mid-summer ridge for the United States and it should mean very hot and dry weather for much of the country, including Houston. Perhaps will we be far enough south to see a few afternoon showers during that period, but I would not count on it.
Posted by Eric Berger at 6:55am CT on Tuesday