Let's talk about minimum temperatures. The city of Houston has now recorded five consecutive mornings of 80-degree plus temperatures. This average of 81.6 degrees trails only a five-day period in 2011 (81.8 degrees) for the warmest stretch of minimum temperatures in about 120 years of records for the city of Houston.
Looking across the entire globe, climate scientists have been noticing this trend for some time—that as the planet warms nighttime temperatures appear to be warming faster than daytime temperatures. In Chapter 2 of the latest report from the Intergovernmental Panel on Climate Change, the authors write, "Confidence of accelerated increases in minimum temperature extremes compared to maximum temperature extremes is high due to the more consistent patterns of warming in minimum temperature extremes globally."
Why is this happening?
Now there's no question that development around northern Houston has played some role in warmer temperatures around the National Weather Service's official station at Bush Intercontinental Airport. This is the so-called Urban Heat Island effect. However it would be wrong to attribute the nighttime warming to urbanization alone, as the global trends are pretty clear. Warmer nights locally are consistent with a warmer world.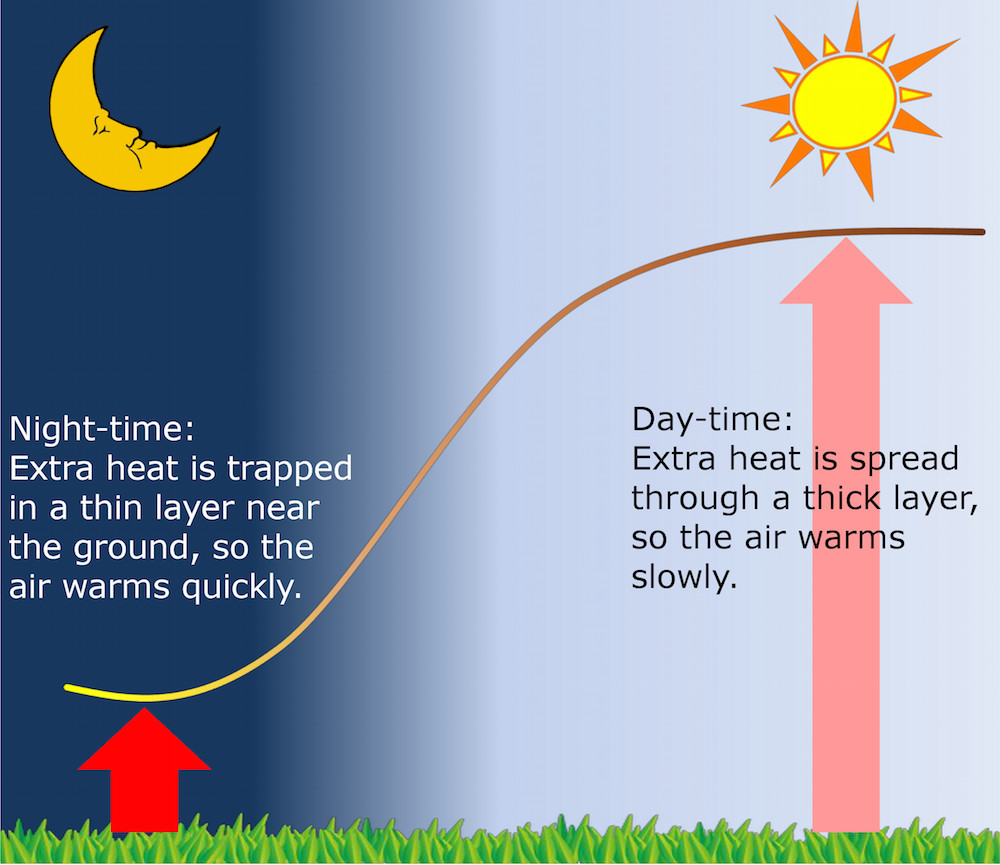 That raises another question: Why would nighttime temperatures be increasing faster than daytime highs? One plausible explanation has to do with the thickness of the "boundary layer," which is the layer of air right at the surface of the Earth which is distinct from the rest of the atmosphere. This boundary layer is quite thin at night, and thickens during the day. One recent study of the boundary layer above Houston found that, during the summer months of June, July and August, the boundary layer was about 200 meters thick at night, and nearly 2,000 meters thick during the late afternoon hours.
As we know from the basic greenhouse theory, increased amounts of carbon dioxide and other greenhouse gases reduce the amount of heat that is radiated back into space from this surface layer. When the boundary layer is thinner at night, with a much thinner volume, this warming effect is more concentrated. During the day, when the boundary layer is thicker, the heat is dissipated over a larger area, further above the surface of the Earth.
The process is almost certainly more complex than this, but the bottom line is that we can expect to see more 80-degree nights in Houston's future than we have in the past.