Good morning, and Happy New Year! For some perspective, temperatures on Sunday afternoon peaked at 44 degrees in Houston. This was far below the minimum temperature on the the first morning of the new year, when the low temperature at Bush Intercontinental Airport bottomed out 75 degrees. Much of the region outside of the city's urban core, and away from the coast, is seeing a freeze this morning. A light freeze will be possible for areas well inland again tonight, but this morning should yield our coldest weather for awhile.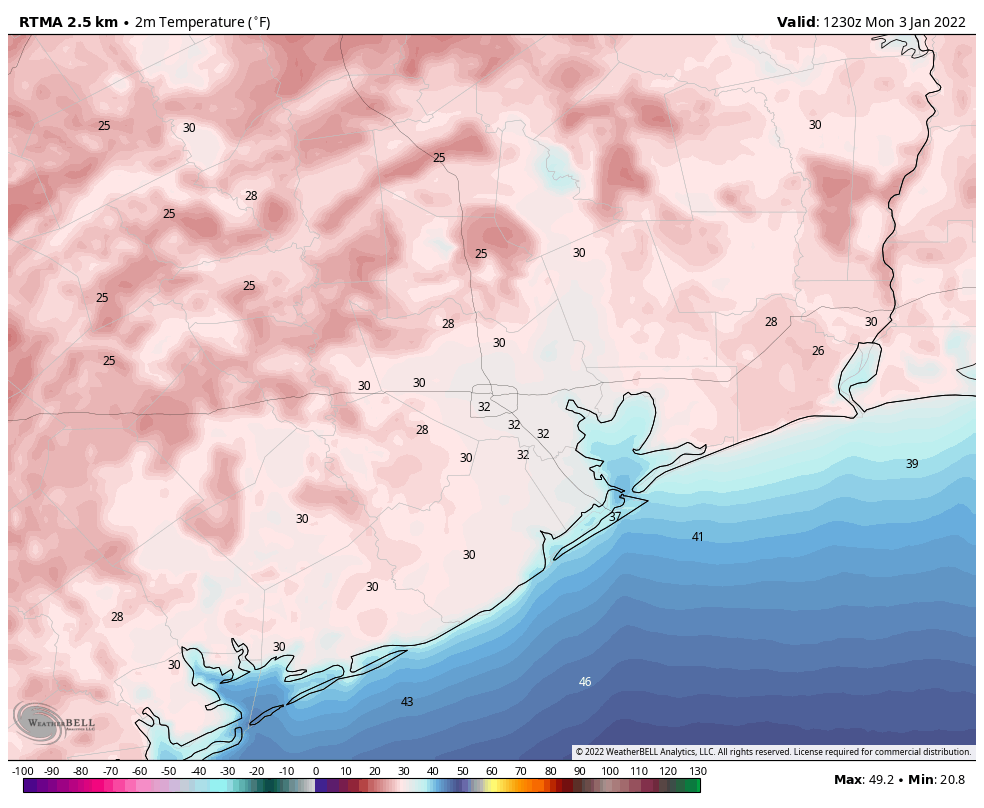 It's worth noting that the city's official station at Bush Intercontinental Airport did record a freeze this morning. This marks the first freezing temperature there since February 20, 2021, the tail end of the Valentine's Day freeze last year. During that cold spell Houston recorded a freeze seven nights in a row, with the temperature bottoming out at 13 degrees on February 16.
Monday
Skies will be sunny today, with light northerly winds. As a result highs should be able to work their way into the low- to mid-50s. Temperatures tonight should be about 5 degrees warmer than Sunday night, but still rather chilly. As the high pressure system near the surface moves eastward, we'll begin to see winds shift to come from the southeast by Monday night, and this will begin the process of warming us up.
Tuesday
Highs will accordingly jump back into the mid-60s on Tuesday, with mostly sunny skies, and winds of about 10 mph out of the south. Lows drop into the 50s late Tuesday night into Wednesday morning.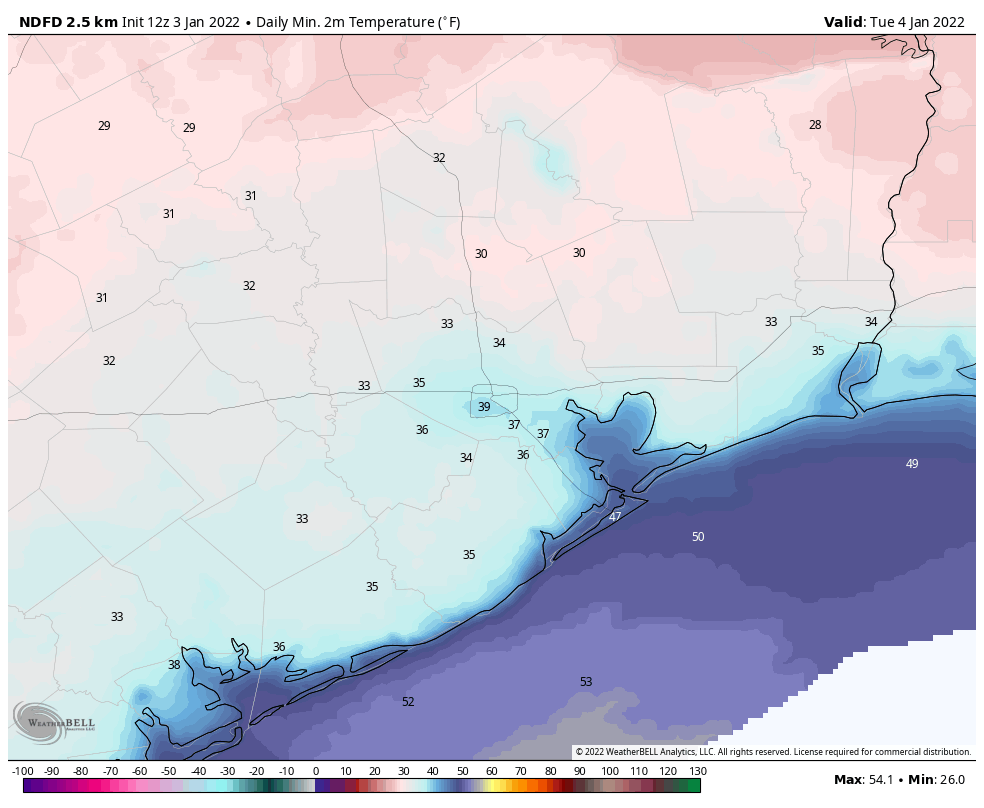 Wednesday
This should be the warmest day of the week, with highs in the mid-70s and mostly sunny skies. Dewpoints won't be oppressive like they were in late December, but the air won't exactly be dry, either. Lows on Wednesday night will drop into the upper 50s for most.
Thursday
The forecast for Thursday is highly uncertain, as it's not clear when the next cold front will push through the area. It could be anywhere from Wednesday night through Thursday night. If it's the former, highs on Thursday may top out in the 60s, if it's the latter, then expect mid- to high 70s. We'll see. This front should be dry, bringing no rain with it. Lows on Thursday night will probably drop to around 40 degrees.
Friday, Saturday, and Sunday
After a brief cooldown on Friday, with highs perhaps reaching about 60 degrees, a warmer pattern along with a southerly flow should return for the weekend. We're probably looking at highs in the mid-70s, or thereabouts, on Saturday and Sunday. The days will be partly sunny, but as a low pressure system moves inland from the Gulf of Mexico there will be a decent chance of rain from Saturday afternoon through Sunday morning. Accumulations of a few tenths of an inch of rain are possible closer to the coast, with lesser amounts inland. Another front should arrive later in the weekend, perhaps on Sunday night, to cool things off somewhat for next week.