Good morning. The upcoming forecast offers a little bit of something for everyone. There is more cold weather in store, but also some spells of warmer weather. We should also see some measurable rainfall this weekend, which would be the region's first real precipitation since mid-December.
Tuesday
After a cold start this morning, with a few freezing spots far inland but temperatures mostly in the upper 30s and low 40s, Houston will warm nicely today under the influence of a more southerly flow. Highs will likely top out in the mid-60s, with sunny skies. Easterly winds will turn south, and generally blow at 5 to 10 mph. Skies turn partly cloudy tonight, with lows getting into the low 50s for most areas except the coast, which will be a bit warmer.
Wednesday
This will be a warmer day, with mostly sunny skies and highs in the mid-70s. Expect another mild night with temperatures in the mid-50s.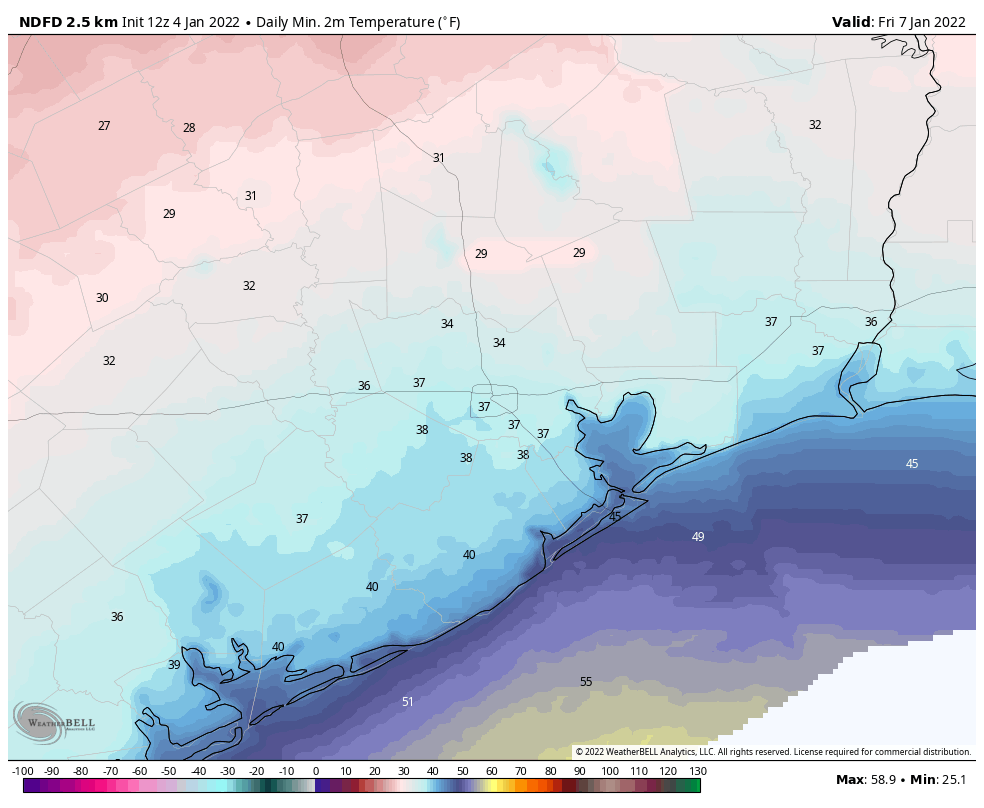 Thursday
A fairly sharp cold front will drop into the region on Thursday morning, and while the timing remains yet uncertain it should be off the coast by or before noon. There should not be any rain with this front, and skies should remain mostly sunny on Thursday. The influx of northerly air will limit highs to the mid- to upper-60s as winds come out of the north at 10- to 15 mph. Lows on Thursday night will drop to about 40 degrees in Houston, with a light freeze possible for some far inland locations.
Friday
The cold air will be fairly short lived, as winds return from the south on Friday. Expect a pleasant day, with partly sunny skies and highs around 60 degrees. But lows on Friday night will only drop a few degrees, into the low- to mid-50s, as the southerly flow reestablishes itself.
Saturday and Sunday
This warmer pattern will hold sway this weekend, with warm days in the upper 70s, partly to mostly cloudy days, and more humidity. With moist air and low pressure in the vicinity we'll see healthy rain chances, especially from Saturday afternoon through Sunday morning. Accumulations should range from 0.25 to 1 inch, but there probably will be a wide variance in totals. Rain chances will be best for areas along and east of I-45. A cold front should arrive on Sunday night, some time, to return a drier and colder pattern to the region. Look for several days of highs near 60, and lows in the 40s next week.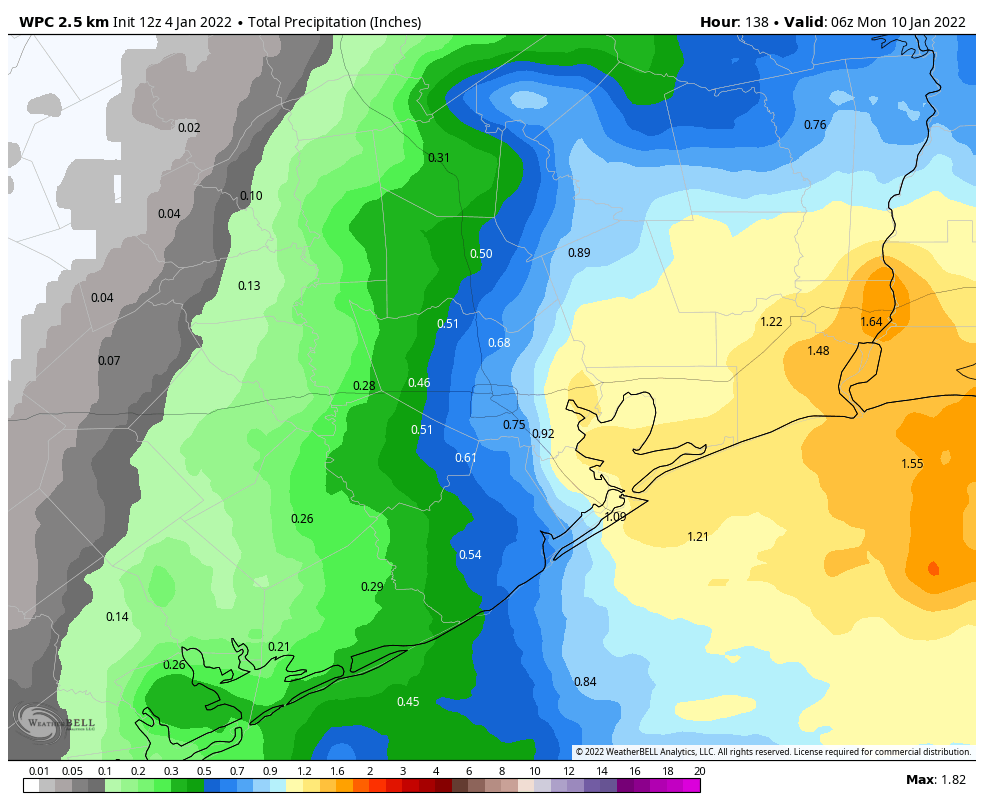 Houston Marathon
We're getting closer to the Houston Marathon, which takes place on Sunday, January 16. Right now it's really quite early to have any confidence in a forecast a dozen days from now. But given the overall pattern, I think the greatest likelihood is that we see a fairly normal January day, with a temperature in the low 40s at race start, and highs in the 50s or low 60s. The air should be reasonably dry, but it's way way way too early to have any confidence in such details. I'll keep an eye on things, and let you know when something more concrete emerges.