Sorry, I know these headlines are getting a bit cheesy. But how many ways can you say the weather is going to be be great?
Several readers have noted the region's dry weather of late, and it's true that almost the entire area has seen less rainfall than normal since Tropical Storm Imelda in September. The last 30 days—the percent of normal rainfall for this period is shown below—have been particularly dry. There is a reasonable chance that next week will see the return of a decent amount of precipitation, as we'll discuss below.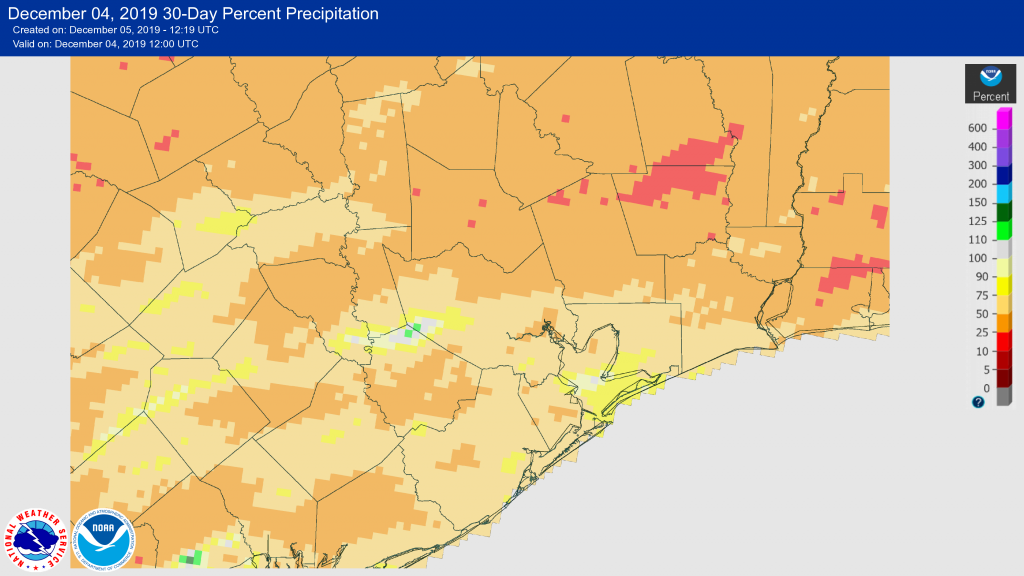 Thursday
Oh noes! For one day this week Houston may not see mostly sunny skies. That day is today. A southeasterly flow will push temperatures up into the 70s today, and bring enough moisture into the atmosphere such that we should see at least partly, if not mostly cloudy skies after this morning. Low temperatures tonight should get down into the low 60s for most.
Friday
After a warmish start during the early morning, a cold front should push into Houston between sunrise and noon. With only a modest amount of moisture return, I would expect most of us to see no rainfall at all, although we can't entirely rule out a few spotty, very light showers. After the front, skies will clear, and we'll see a beautiful day in the 70s.

Saturday and Sunday
The weekend forecast still looks splendid for Houston. Lows on Saturday and Sunday mornings will get down near to 50 degrees for most of the region—a bit warmer near the coast, and a bit cooler inland. Saturday will be mostly sunny, with highs in the upper 60s, while Sunday is also pretty sunny, albeit with highs in the 70s as the onshore flow starts to blow again.
Monday
This will be a warmer, partly sunny day, with highs near 80 degrees. Rain chances and low temperatures on Monday night will be dependent upon the timing of the next cold front, which at this point I'd peg between midnight and noon on Tuesday.
Tuesday and beyond
There will be some decent rain chances with the front, and I think some areas may have a chance to pick up around one-half inch. This should usher in a cooler period of weather, with highs in the 50s and 60s, and lows in the 40s. These will be more typical conditions for December.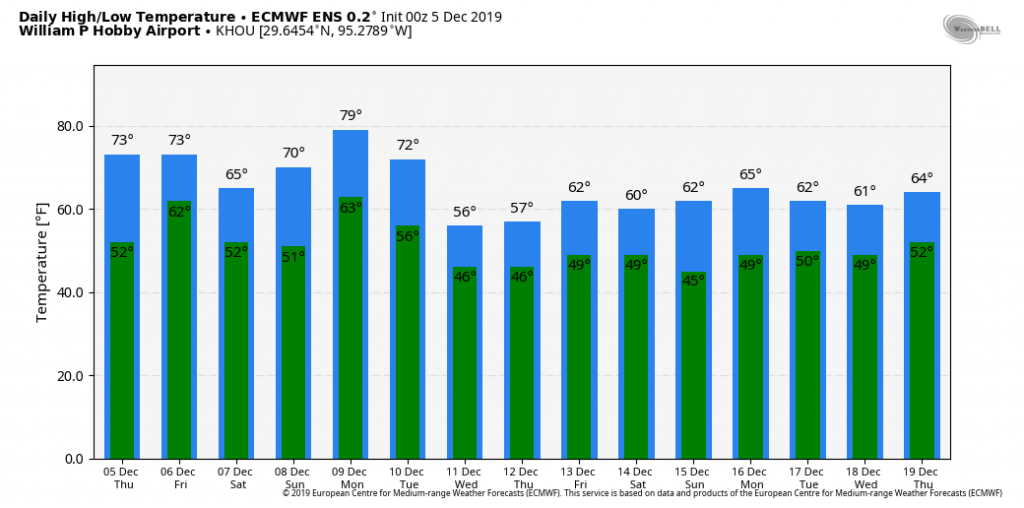 Another front later in the week, perhaps on Friday or so, should bring a healthy chance of rain showers and keep temperatures on the cool side going into the weekend.