Quick shout out and thank you to Eric for covering me last Friday so I could go home to New Jersey and visit some family. It was cold up there. Had I still been living there, it would have been fine, but after 10 years in southern climes and this amazing autumn in Houston, my tolerance for anything under 40° is gone. This autumn really has been something, hasn't it? Eric touched on the dry weather this fall yesterday. Let's look briefly at daily average temperatures this autumn: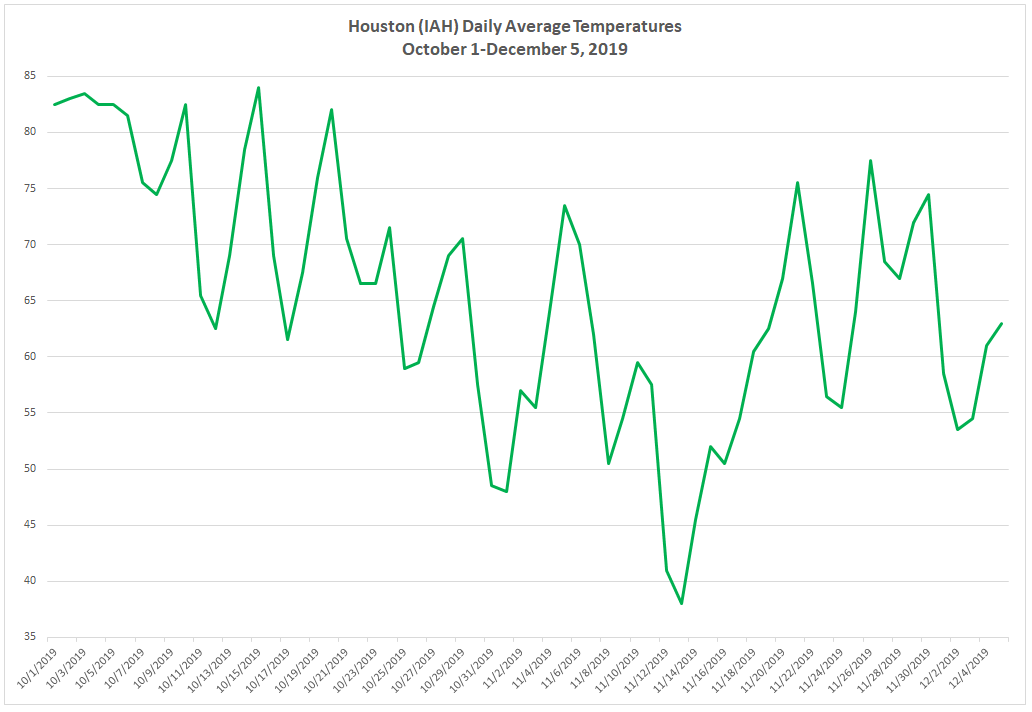 Each time the temperature dips on this chart, it basically indicates that we had a cold front. We've had at least 13 of them this autumn. And since mid-October, we have only seen a handful of days with daily average temperatures above 70 degrees. The key this autumn is that the pace of cold fronts has been frequent enough to keep onshore flow rather weak most of the time. So we haven't had many really muggy days. It's been virtual Goldilocks weather and one of the nicest seasons I have experienced anywhere that I have lived in my lifetime. And it will continue this weekend.
Today & tonight
Cold front number 14 (at least) of the season will cross through Houston today. We often show you where cold fronts are located based on temperature, humidity, or wind direction change. Today, it's actually easiest to see the front's location based on visibility. Ahead of the front, patchy dense fog has developed, especially southwest of Houston or near the water. But you can see roughly where the front is located really well based on where 10 mile visibility shows up.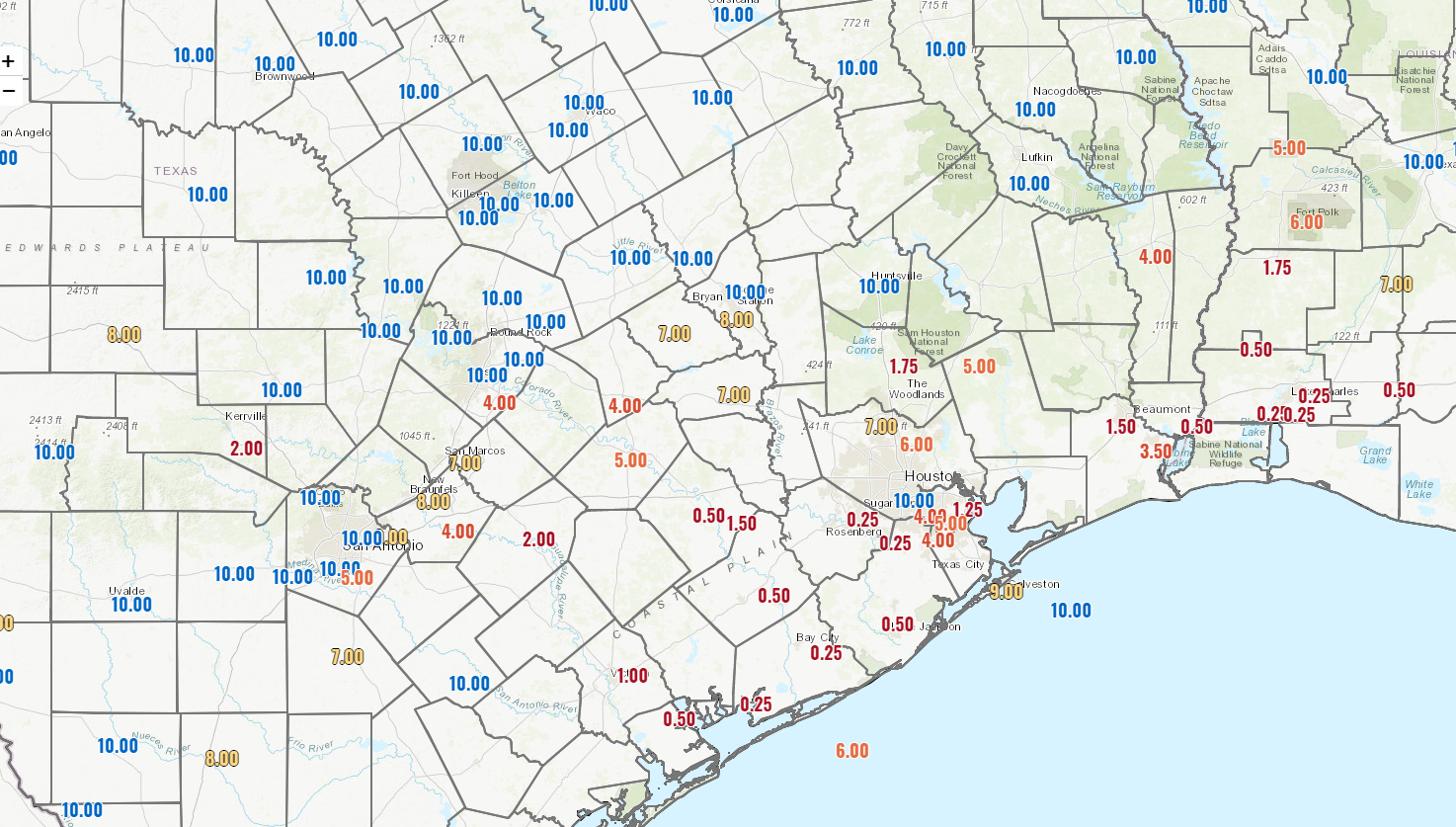 The timing of the frontal passage now looks to be between roughly 9 and 11 AM from northwest to southeast across the area. There should not be a big temperature drop behind the front, but you'll notice that any low clouds and fog will be quickly scoured out. The wind will shift and humidity will begin dropping as well.
Skies will full of sunshine this afternoon. Another winner. We will peak in the 70s later today. Drier air behind the front will allow for a cooler night tonight, with nothing worse than a few passing high clouds. Look for lows to drop back into the low-50s, with perhaps 40s in outlying areas.
Weekend
Saturday should see sunshine and a few passing high clouds. Sunday will see some patchy morning fog, then sunshine and some building clouds. Saturday should top off in the mid- to upper-60s, Saturday night will be back in the 50s, and Sunday will be a little warmer with high temperatures in the low-70s. North winds tonight of 10-20 mph will back off Saturday and especially Sunday.

Monday
Next week will begin with a transition back to warm, humid weather. Look for a good deal of clouds on Monday, perhaps some sprinkles or showers, and relatively balmy temperatures. We will top off in the upper-70s Monday, after starting the day in the upper-60s. Monday's record high is 82°, so that will be a bit close.
Tuesday and beyond
The details and specifics of the forecast are difficult to pin down beyond Monday, but the generalities are pretty straightforward: A cold front should move through very early in that period (Monday night) and bring some showers. Moisture in place behind the front may be enough to deliver lingering showers Tuesday with chilly temperatures. We should finally clear out Wednesday. Another system is possible late Thursday or Friday. How much rain, the exact timing of the rain, and exactly how cool we get are details that are tough to hone in on right now. Look for more about this on Monday.
Thursday morning meteor
In case you missed it, around 5:35 AM Thursday, a rather brilliant meteor lit up the skies over Houston. In fact, my neighbor and friend Hunter Moliver captured it beautifully on his Nest!
A couple friends and colleagues did some sleuthing last night and determined that the meteor was also picked up on Houston's doppler radar and the GOES-East satellite in space, via its lightning mapping feature.
Looks like the Geostationary Lightning Mapper saw it too. Watch SE texas around 12 utc. https://t.co/z75tmUk3YX

— Chris Schultz (@cschultzwx) December 6, 2019
Definitely one of the cooler things you'll ever see (and yes, I realize my word choice in the tweet above was mildly misleading). Anyway, if you have a Nest or home camera, you may want to go back and see if you captured it too. Enjoy the weekend!