For the first time in 380 days, Houston officially hit 101° on Thursday afternoon. Since 1980, we have averaged about 3 to 4 days this hot per year. Another interesting nugget about Thursday: With a high temperature of 101°, a low temperature of 81°, and a daily average temperature of 91°, it was Houston's hottest day since August of 2016.
By far the most impressive statistic came from Galveston on Thursday. The temperature never dropped below 86°, meaning Thursday saw the warmest minimum temperature ever recorded in Galveston, with records dating back to 1874.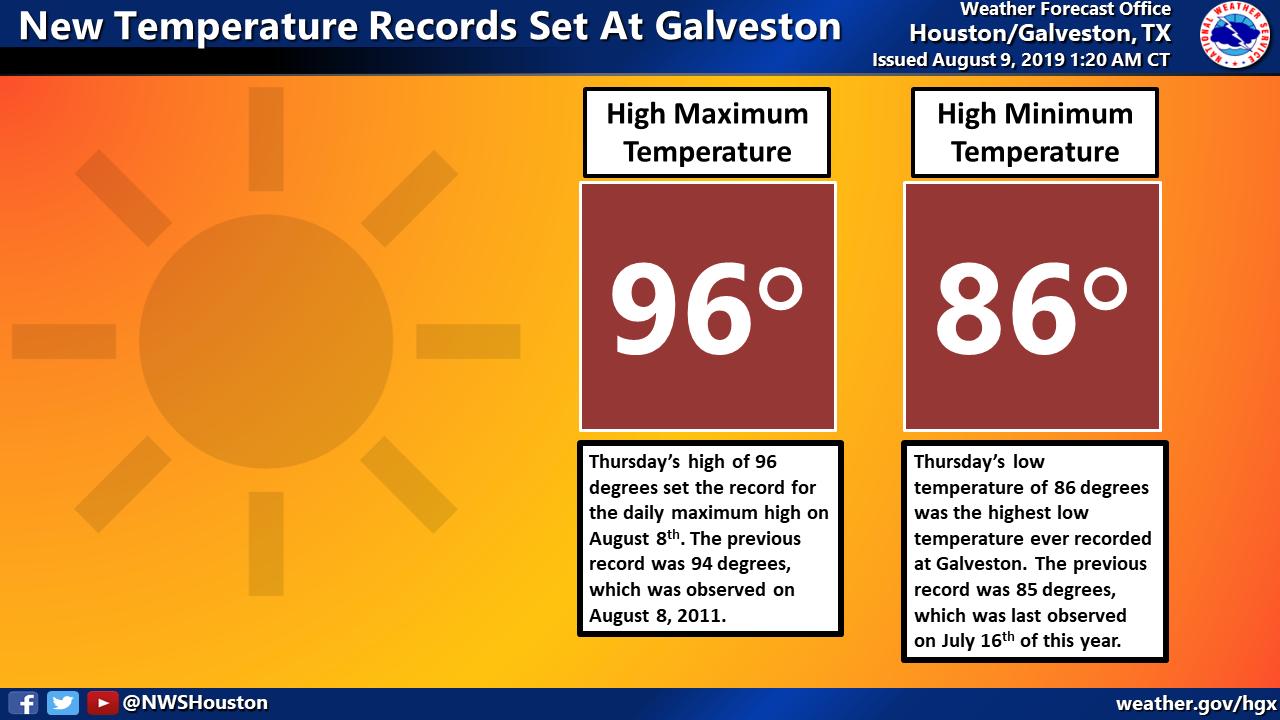 Since 2015, Galveston has set or tied 90 warm daily minimum temperature records, or near 25 percent of all of them. In just five years! This is consistent with what has happened elsewhere along the immediate Gulf Coast. New Orleans has set or tied warm minimum temperatures 120 times since 2015, while Tampa has done it over 130 times. Corpus Christi has has new warm minimum records over 50 times since 2015. This likely speaks to a combination of a fairly warm Gulf of Mexico in recent years and is also a symptom consistent with what is expected due to climate change. Galveston will likely match or exceed several more daily warm minimum temperature records before summer is over.
Today through Sunday
It's going to be oppressively hot and humid again today. High temperatures will hit the mid-90s at the coast and upper-90s or 100° inland. Heat index values will again likely be at least 105° to 110°, with several locations likely to push even higher.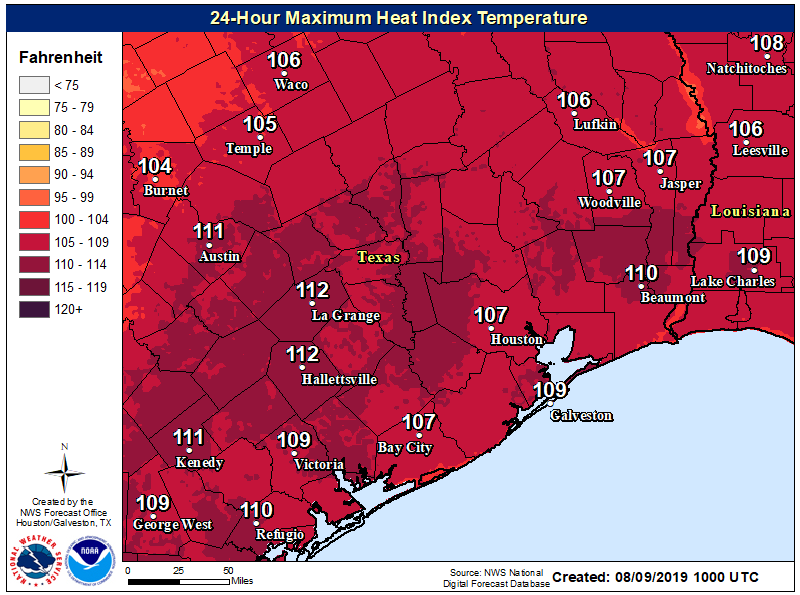 Galveston maxed out with a heat index value of 117° on Thursday afternoon. We may not be quite that absurd today, but it will come close.
Saturday and Sunday sees high pressure anchor itself over the state of Texas. This will keep the heat rolling on with more of the same: At least mid- to upper-90s for highs, with 100° or higher possible. Nighttimes won't see temperatures drop below the upper-70s or low-80s. Humidity and heat index values may drop off just a bit on both weekend days as that drier high pressure sits overhead. If you're looking for rain, you won't find it here.

Monday through Thursday
At this point, we do not see much relief from this weather pattern through Thursday. Expect sunshine, steady temperatures, and potentially a slight uptick in humidity again, meaning it is going to remain oppressive, both at day and at night.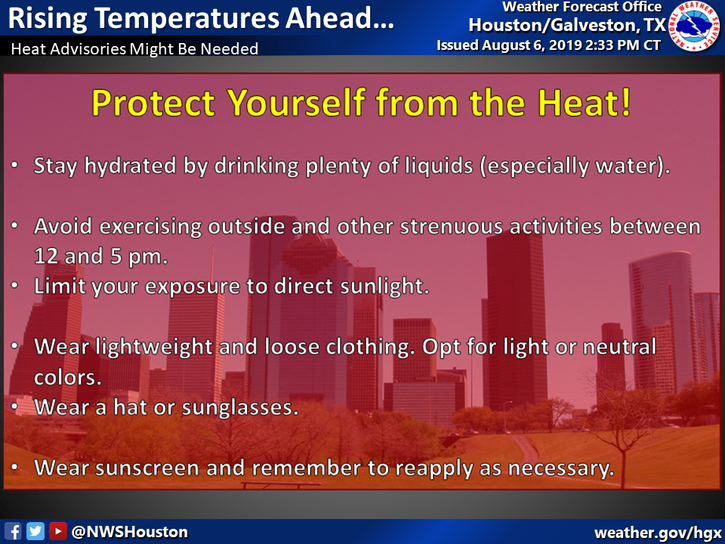 Please exercise extreme caution in these conditions. Summers are hot in Houston, but this is a couple notches more than usual.
The heat may begin to ease up a bit and scattered rain chances may return by next weekend.
Tropics
The tropics are quiet, and they are expected to remain so through the next 7 to 10 days at least. We do expect activity to begin to uptick near the end of the month. NOAA updated their hurricane outlook yesterday, which indicates a slightly higher chance of above normal activity to round out the season. Eric Blake, a hurricane specialist for NOAA, and the author of the outlook did add some perspective on this via Twitter:
For instance, the above-normal category is only at 45%. It is really only slightly favored- there's a 55% chance of a normal or below normal season. Consequently the forecast ranges are not very small this year.

— Eric Blake 🌀 (@EricBlake12) August 8, 2019
You can read his entire thread about this here. This comes on the heels of Colorado State University's forecast update on Monday that reaffirmed their idea of a near-normal hurricane season. Don't read too much into either of these outlooks or the differences between them, as their methodologies and how they quantify the outlooks differ. Either way, with quiet conditions likely for at least the next 10 days, it's a good time to review your plans or update your hurricane kit if you have not had an opportunity.