The region's streak of very hot days and record-setting nights continues as high pressure dominates Houston's weather. Here are a few notable trends from the last week across the region.
Bush Intercontinental Airport recorded four consecutive days of 101-degree high temperatures through Sunday.
Galveston has had six consecutive days in which overnight lows have only fallen to 84 degrees, the second longest streak after the heat wave of 2011.
Houston's Hobby Airport set or tied its record low temperature on August 7, 8, and 9 with lows of 80 or warmer.
All of these trends are likely to continue Monday and Tuesday as the ridge of high pressure continues to dominate our weather. Fortunately, the pattern should begin to change by the middle of the week.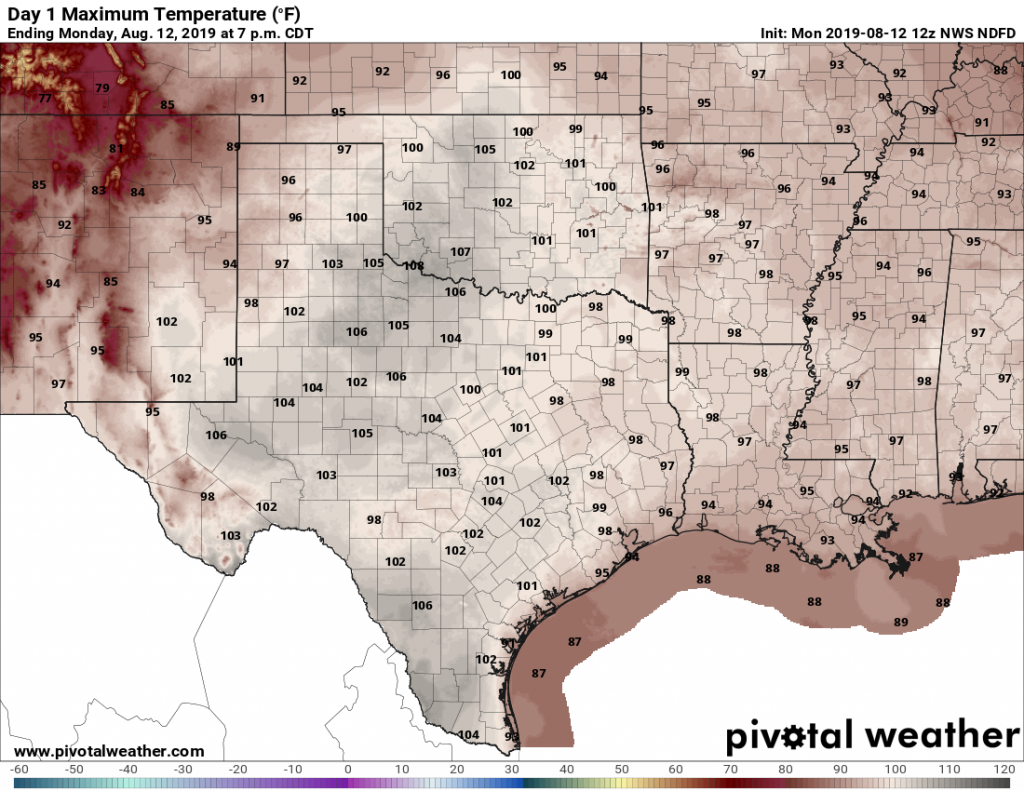 Monday
A few, isolated areas of Houston saw some brief showers and thunderstorms on Sunday afternoon, as rising moisture was able to combat subsidence in the atmosphere. We may see a similar pattern today, with 10 to 20 percent of the region seeing brief showers. Any relief from the heat will be temporary, however, as we still expect a hot way with much of the area seeing 100 degrees. Nighttime lows will again be around 80 degrees for most of the area.

Tuesday
Expect a hot, sunny day, with highs around 100, and very warm low temperatures again. Right now, rain chances appear to be near zero.
Wednesday and Thursday
The pattern begins to change, as high pressure backs of to the west, and better rain chances take some of the heat away. Both days should see about 50 percent rain coverage and a more northerly flow and a dying front bring some lift to the area. Confidence is fairly low regarding where the best rain chances will establish themselves, so for now I'd guess that most people probably receive only on the order of 0.25 to 0.5 inches. Highs should still be in the mid- to upper-90s despite the rain.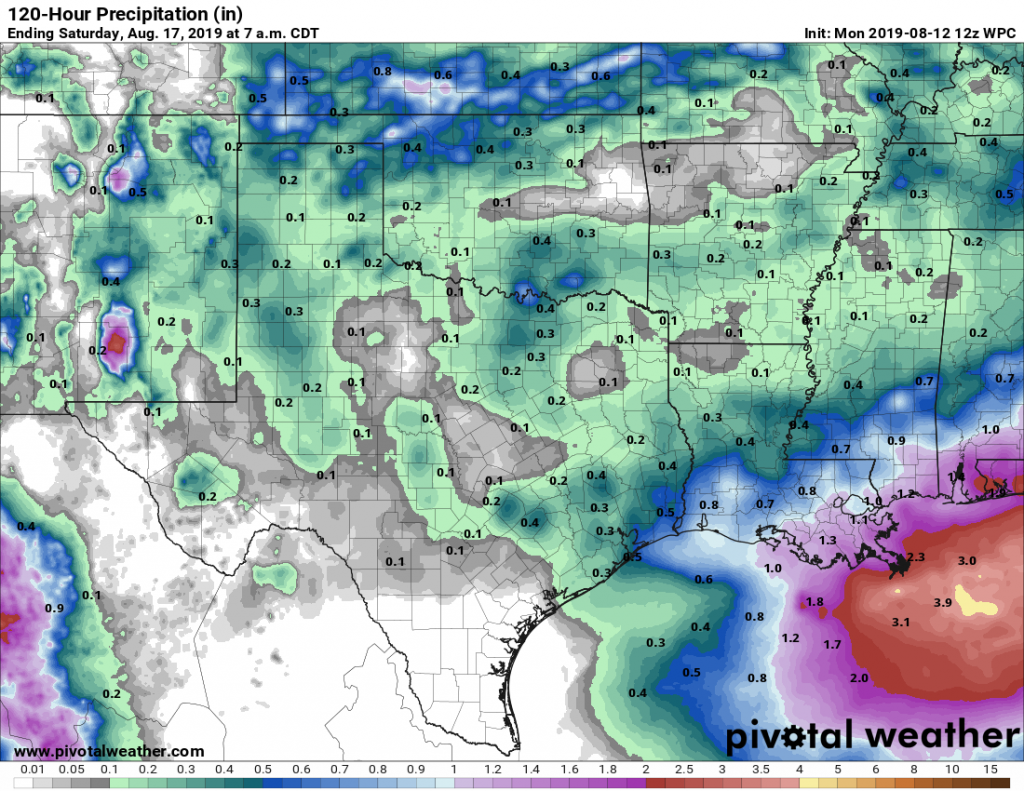 Friday, Saturday, and Sunday
This weekend should see fairly typical weather for August, in Houston, but the extreme heat will be gone as high pressure continues to move away. The net effect of this will be highs in the mid-90s, lows in the upper-70s (except for the coast, which will be warmer), and perhaps a 20 percent chance of daily showers driven by the sea breeze.
Some notes
There are a couple of things Matt and I wanted to remind you of this morning.
This is the very last day to enter Reliant's competition for a free A/C system. This is really a great prize, and if you don't need one, please share this link with a friend or family member.
If you can, please try to conserve electricity from 2 to 6pm today, as the state's electricity grid will be under severe demand during this time.
Finally, Matt and I are speaking about the origins of Space City Weather, our future, and hurricanes in general at the Houston Museum of Natural Science on Tuesday evening. You can find more information here.