The low temperature this morning has only fallen into the low 70s across most of the Houston area this morning,a nd so it goes as we get deeper into May…
TODAY
Some scattered showers moved across parts of Houston early this morning. We also can't rule out some more spotty showers and thunderstorms this morning and later today with afternoon heating—especially to the far north and northwest of the city. But for the most part, the region will see cloudy skies give way to partly sunny skies later today. I expect high temperatures to climb into the upper 80s again today, along with strong southerly winds gusting to above 20 mph.
THURSDAY
We'll see another warm, partly sunny day on Thursday, with the possible development of scattered showers and thunderstorms later in the day and during the overnight hours as a cool front approaches and moves through Houston. With that being said conditions aren't overly favorable for the development of storms, so I'd expect a broken line of showers as the front moves down through Texas and into the Houston area. Highs, again, will be in the upper 80s.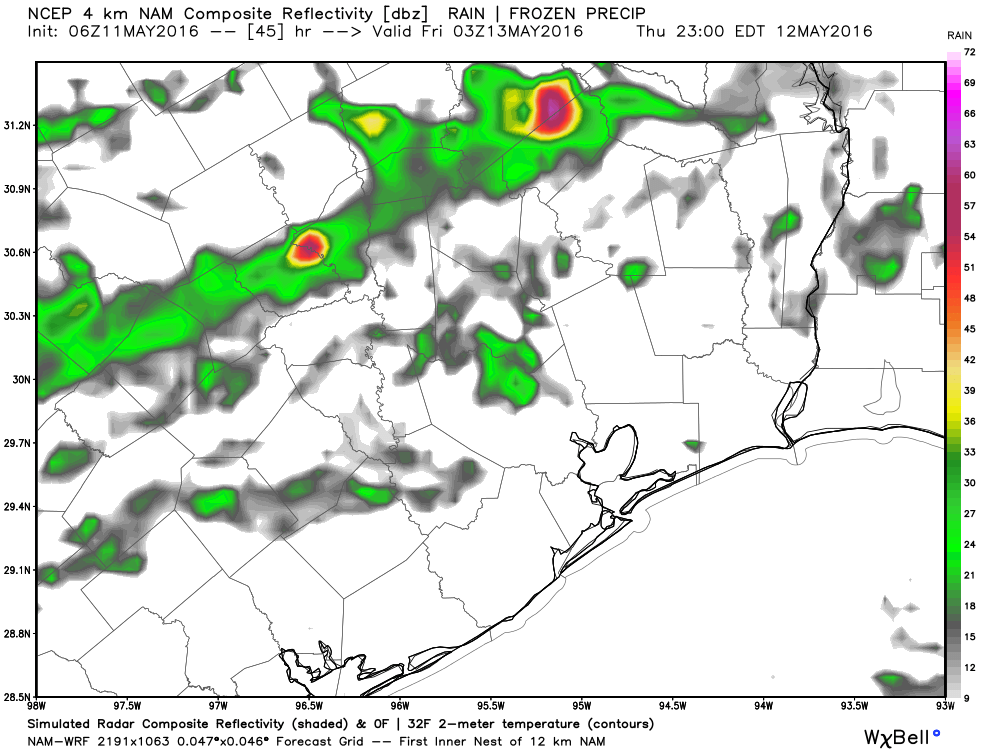 FRIDAY and SATURDAY
If you're expecting a potent cool front in May, you probably haven't lived in Houston that long, because they're usually more of a last gasp of spring than a fountain of cool air. After any lingering showers clear the area Friday morning, we'll see partly cloudy skies on Friday give way to more sunny skies on Saturday. Highs both days should be in the mid- to upper-80s, but at least with the drier air the nights should be a little cooler, with temperatures falling into the upper 60s. It won't be bad, and it will be a heck of a lot nicer than what is about to descend upon Houston in the form of summer.
SUNDAY and MONDAY
Moisture returns Saturday from the Gulf of Mexico, and by Sunday afternoon or evening we'll begin to face the possibility of rain returning, and potentially heavy rain in Houston on Sunday night and Monday. The models remain a bit hazy, but with an atmospheric disturbance likely grazing the area the region could easily pick up 1 to 2 inches of rain, and perhaps more, to start next week. Moisture levels do not appear high enough to support really threatening rainfall amounts of 3 to 5 inches, or more, but we'll be watching this closely.
NOTE
I'll have my outlook for the Atlantic hurricane season coming later today.