Good morning. Houston will likely see its first 80-degree day in more than two weeks this afternoon, but then we'll be sharply cooler for a couple of days after a frontal passage. In something of the roller coaster pattern we're used to during the fall and spring months, temperatures will then rebound for this weekend before yet another front in about a week or so.
This is your final reminder about our annual fundraiser. So far thousands of you have contributed to support the operation of Space City Weather, helping to pay for our server, app development costs, and our forecasting tools; compensating Matt and I, and so much more that goes into this. We are so appreciative. Today is the final day to buy Space City Weather merchandise, or donate by clicking "I'd like to make a donantion" only. If you're tired of hearing about this, we'll say no more until next November!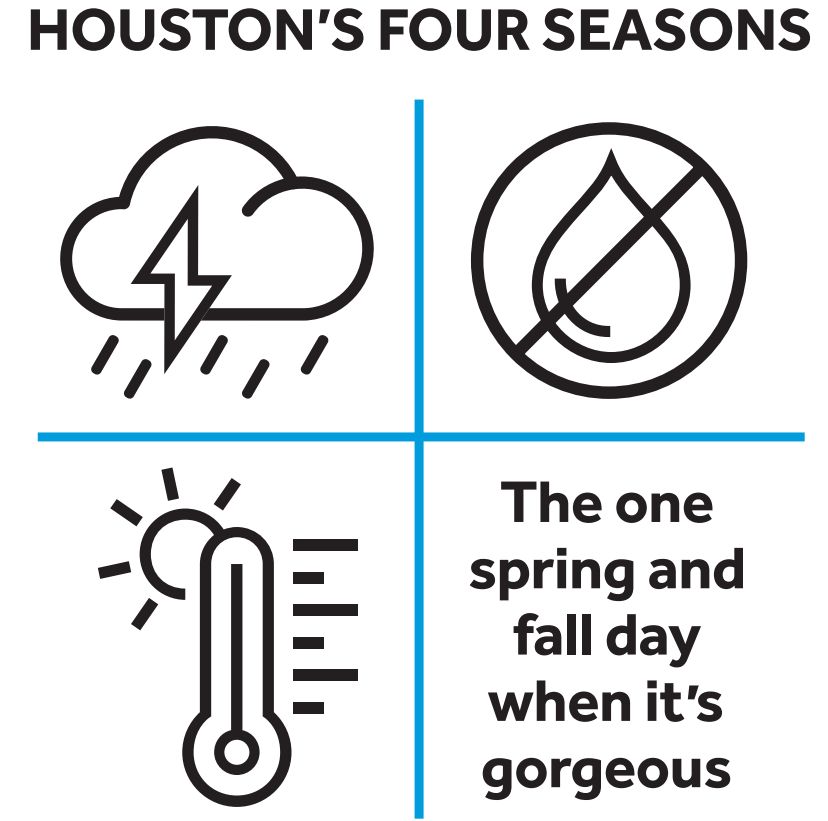 Tuesday
Fog is fairly widespread in Galveston and other coastal areas this morning. What is happening is that slightly warmer air is pushing inland, moving across waters with surface temperatures just a bit cooler than the air. This is producing sea fog, and it is rather thick in some places so take care outside. After the fog lifts this morning we will be left with a cloudy and muggy day. Highs will reach about 80 degrees, with sticky dewpoints in the mid-70s.
As atmospheric moisture levels rise we'll see some scattered showers today, and perhaps even a few thunderstorms ahead of tonight's front. The most likely time and region for such storms is this afternoon, perhaps from 1 to 4 pm, near and northeast of Bush Intercontinental Airport. Overall the threat is low, and most areas should see little in the way of accumulations. This evening will be sticky in the metro area, with the front not reaching Houston until after midnight. I don't expect a line of storms with the front.
Wednesday
Expect a blustery, cold day. The front should be off the coast by around sunrise, and in its wake we're going to see brisk northerly winds and clearing skies. With the influx of colder air, highs will likely struggle to reach 60 degrees during the afternoon hours. Temperatures will plummet as the Sun sinks behind the horizon. Lows will drop into the low 40s in Houston on Wednesday night, with colder conditions inland.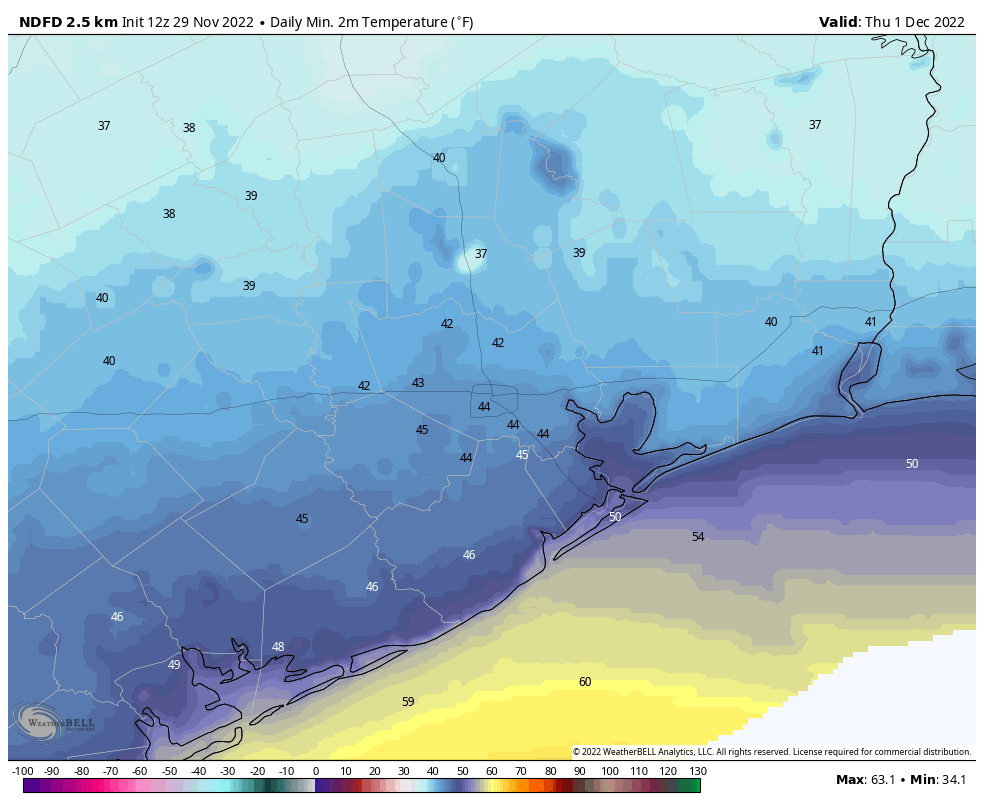 Thursday
This will be a fine day, with mostly sunny skies and highs of around 60 degrees. Temperatures on Thursday night will be warmer, in the mid-50s, as winds shift to come from a more easterly direction.
Friday
As high pressure departs to the east, we'll be back into a full southerly flow by Friday. Look for partly sunny skies and highs in the upper 70s.
Saturday and Sunday
As warmer and wetter air moves back into the region, look for highs this weekend of around 80 degrees and a mix of clouds and sunshine. We'll have a 20 to 30 percent chance of rain each day, but any showers that develop will probably be short-lived.
Next week
The next front should arrive by around Tuesday of next week, perhaps bringing a smattering of rain with it. It's too early to say whether lows will drop into the 40s or 50s.