Houston's clear and fine weather will continue Monday before we see an increase in humidity and overnight temperatures running into Thursday. After that time another cold front should arrive, setting the stage for a clear and cool weekend. The weekend mornings look chilly, with widespread lows in the 40s.
Monday
With calm winds this morning, some patchy fog will be possible across the area, but it should burn off fairly quickly. Skies will be mostly sunny, with light winds out of the southeast, and highs pushing up into the mid-70s. With these winds, dewpoints will continue their slow rise, and as a result overnight temperatures will probably be 5 to 10 degrees warmer on Monday night that Sunday night. Still, much of the region should still drop into the 50s.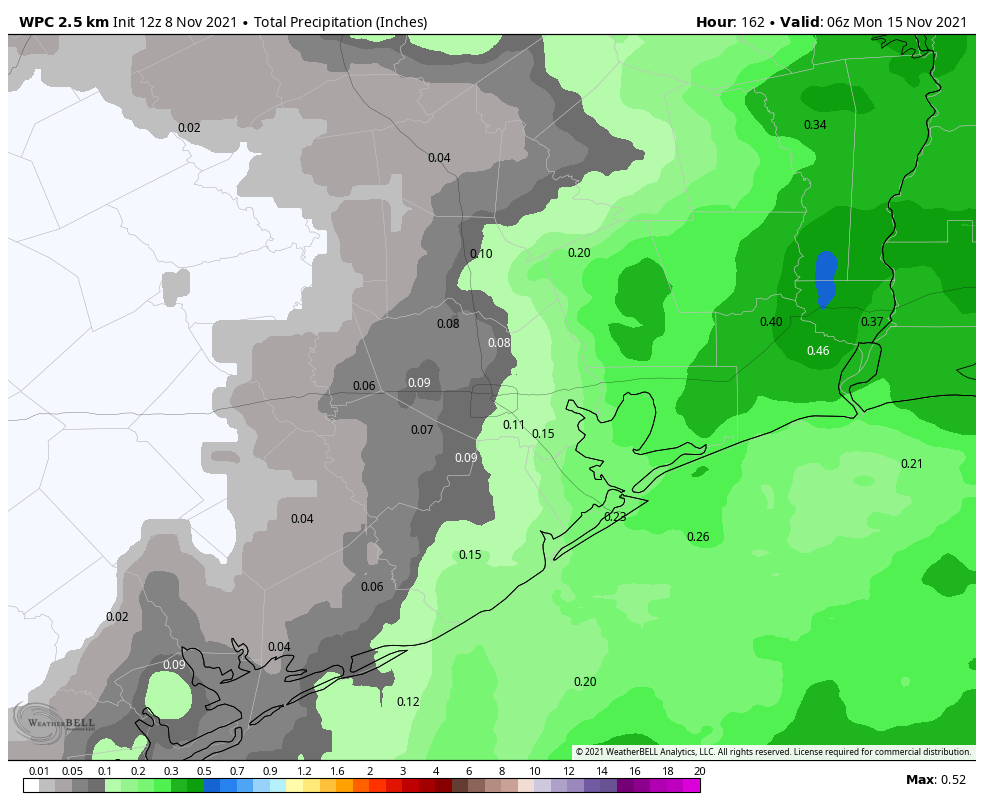 Tuesday and Wednesday
These will be warmer, more humid days, with highs between 75 and 80 degrees. Winds will start to pick up out of the south and southeast, becoming more noticeably gusty on Wednesday. Both days should see a mix of sunshine and clouds. Rain chances should be about 10 percent, or less, and anything that falls would probably be almost a mist rather than any real rain. Overnight lows will start to get a little sticky, probably only falling into the mid-60s for the city, and low 70s along the coast.
Thursday
The next front should arrive some time on Thursday, probably during the afternoon hours, although confidence in its timing remains fairly low. We probably will see some scattered showers on Wednesday night and Thursday ahead of the front, but right now the ingredients aren't really lining up for any serious storms as the front blows through. Lows Thursday night will probably drop to around 60 degrees in Houston, with cooler conditions inland and warmer temperatures along the coast.
Friday
This should be a mostly sunny day, with highs around 70 degrees. Winds will be noticeable out of the north, perhaps gusting to 20 mph or a little higher. With clear skies, Friday night into Saturday morning could be quite chilly, with lows dropping into the low- to mid-40s across much of Houston, away from the coast.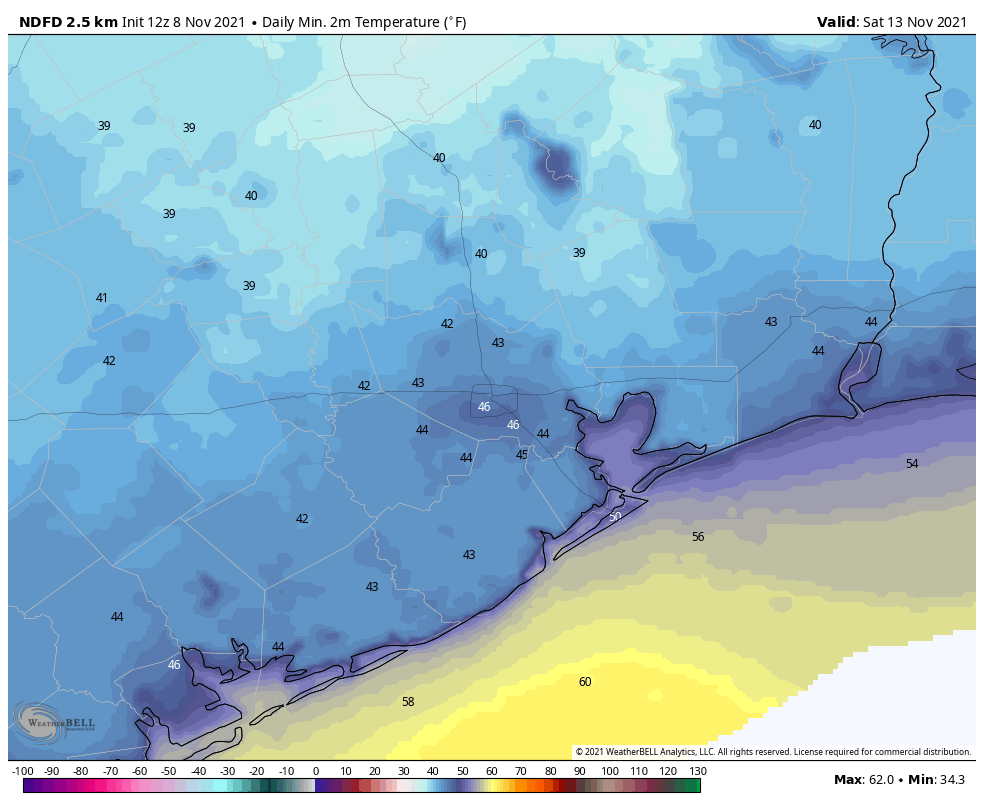 Saturday and Sunday
Are you spoiled yet? We look set for another clear and sunny weekend, with highs in the mid-60s on Saturday, and low 70s on Sunday. Winds will be generally light and dewpoints low. By Monday we should start to see a warming trend, although right now I don't anticipate high temperatures will get above the 70s next week.