Space City Weather is free, and always will be. But it costs money to produce and publish this website, and Matt and I put a lot of time and effort into our product. Today, with the opening of our 2021 fundraiser, comes your chance to give back. Your purchases and donations during the next three weeks will support the site next year, allow further upgrades to our app, and more. It's also a nice way to thank us for our efforts following a wild weather year that included a historic freeze and Hurricane Nicholas.
This year we are selling t-shirts and sweatshirts with two different designs, an umbrella, an insulated tumbler that people loved last year; and new for this year, a baseball hat. You may order any of these items by clicking on the links below, or visiting the entire collection here. All items should arrive a week before Christmas. You may also simply donate money by clicking any of the links, and selecting "donate only."
Thank you for your support—Matt and I are always truly humbled by the response to this fundraiser.
Tuesday
Conditions are cool this morning, but we're already seeing the return of some clouds that herald the coming of somewhat more humid air, and warmer nights. With light southeasterly winds, we'll see partly to mostly cloudy skies for the remainder of Tuesday, with highs pushing into the mid- to upper-70s. Rain chances are near zero. Overnight lows will drop to around 60 degrees in Houston, with cooler conditions inland, and warmer ones near the coast.
Wednesday
This will be another day with a mix of sunshine and clouds, but with rising atmospheric moisture levels there will be a slight chance of light rain, perhaps about 20 percent for Houston. Winds will also be more prominent on Wednesday, likely gusting to 20 mph or higher from the south. Expect highs to top out somewhere from 75 to 80 degrees. This will be the warmest night of the week, with lows only dropping into the mid- to upper-60s for most.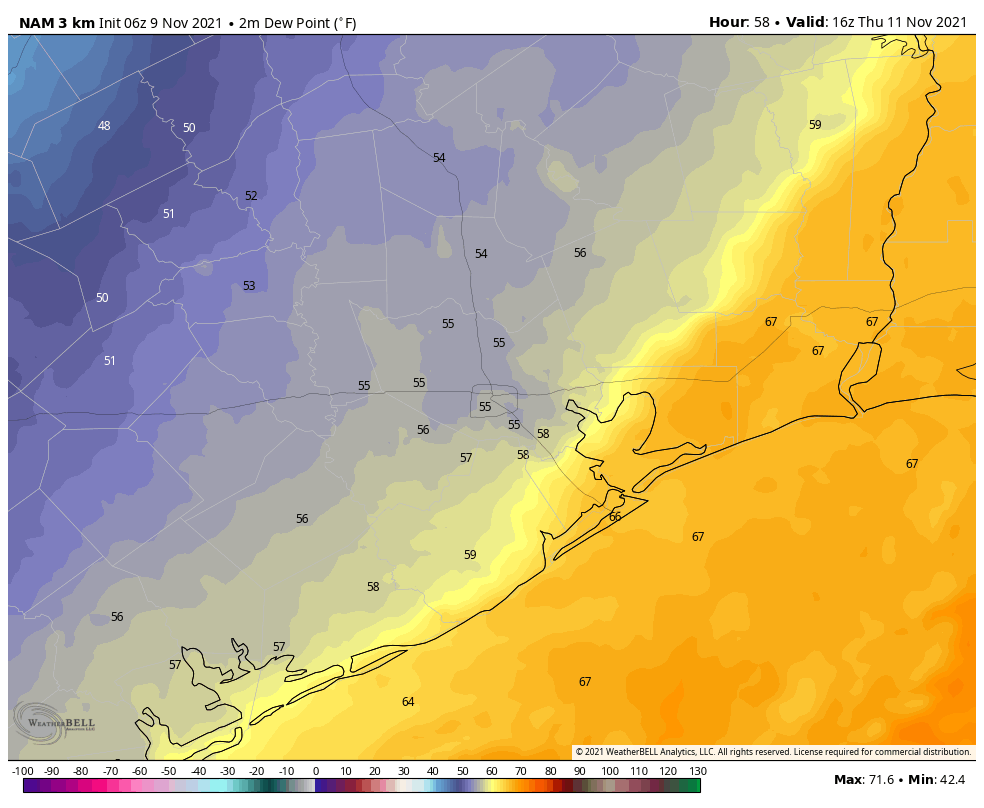 Thursday
A cold front remains on track for Thursday, and it now looks likely to reach the city of Houston by or before noon, and pushing off the coast shortly afterward. There appears to be no line of storms with the front, and if you do see rain accumulations will probably be less than a quarter of an inch. After the front moves through we should see clearing skies and falling dewpoints. So while afternoon highs will reach the upper 70s, it should feel much drier out. Overnight lows should drop into the 50s for all but the coast.
Friday, Saturday, and Sunday
The weekend looks clear and cool, with highs generally ranging from the upper 60s to mid-70s. Lows should drop into the 40s for inland areas, about 50 degrees in central Houston, and a bit warmer along the coast. Saturday should be the coolest day. Enjoy the fall weather, y'all!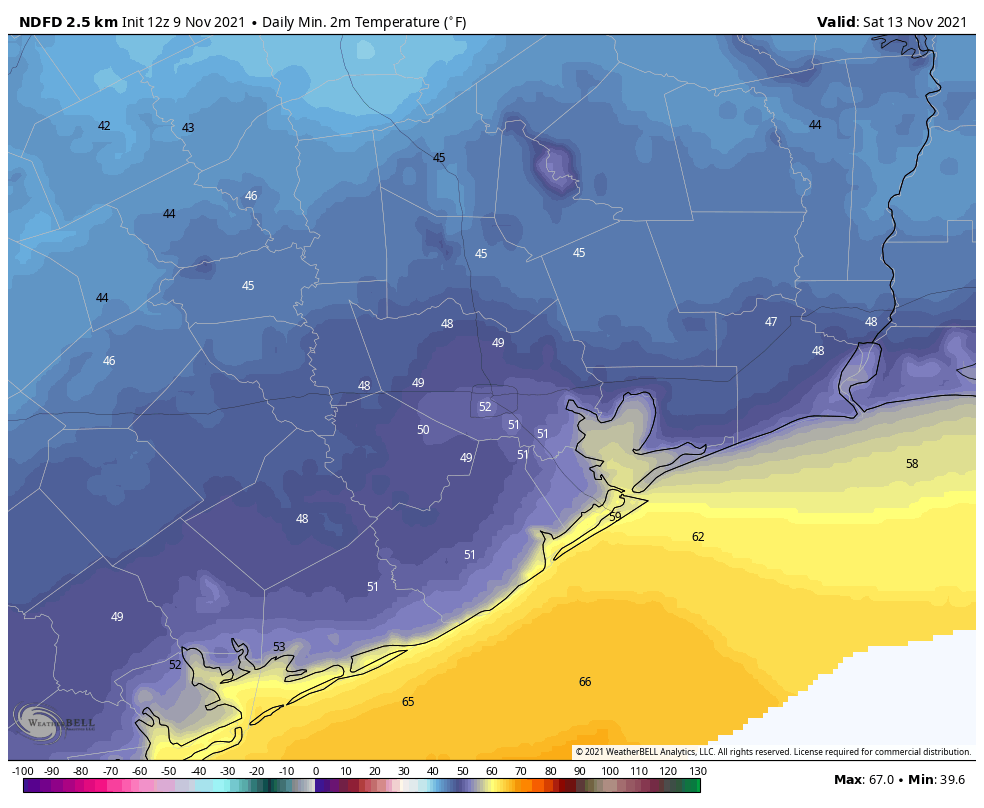 Next week
Highs next week should recover to the upper 70s, but there's not yet a clear picture on when our next front comes through—Wednesday? Friday? It's too early to have any confidence.