Some warmth returns to Houston briefly on Thursday before a cool front sweeps into the region on Friday, bringing the coldest weather since February. While the greater Houston area is unlikely to freeze, inland areas have a decent chance of seeing overnight lows on Saturday and Sunday morning fall into the 30s. Let us hope the Dodgers' bats go as cold this weekend.
Thursday
As a southerly flow resumes this morning, humidity will return to Houston, and highs will climb into the lower 80s under sunny skies. There could be some gusty southerly winds later this morning, especially closer to the coast. Lows tonight will be in the 60s.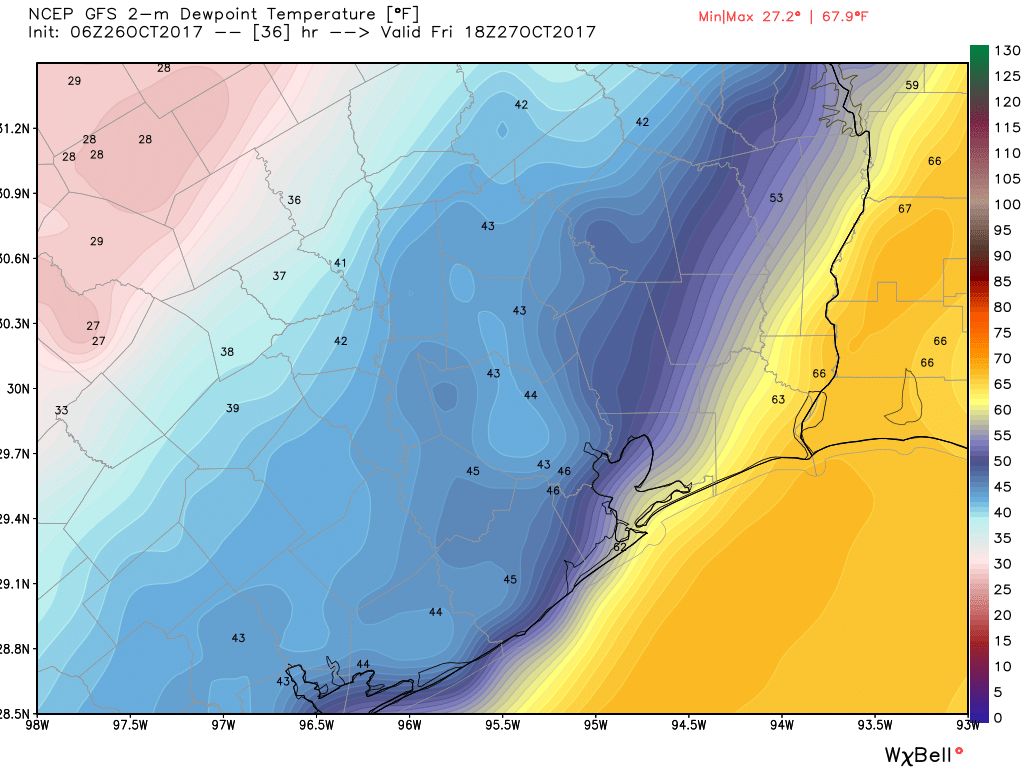 Friday
A strong cold front will approach the northwestern areas of Houston on Friday morning, likely pushing into the city around 9 or 10 am (give or take), and off the coast by or before noon. Some scattered showers and thunderstorms may accompany the frontal passage, but we're not expecting any kind of significant rain accumulations, and rains should end during the afternoon hours. Highs should reach around 70 degrees on Friday before a steep dropoff in temperatures during the evening hours.

Astros roof interlude
The Houston Astros return to Houston for games 3, 4, and 5 of the World Series on Friday through Sunday. Although we don't have any particularly deep insight into their roof policy, generally the Astros keep the roof closed when nighttime temperatures are below 65 degrees. Friday and Saturday's game time temperatures should be in the low 50s, and Sunday's temperature should range from the low 60s to mid-50s. Bottom line, we think it will be too cold on Friday and Saturday for an open roof, but we think there's an outside chance the roof may be open Sunday. And let's face it, fireworks to celebrate the team clinching the World Series would be grand.
Saturday and Sunday
Cold. Highs Saturday will be in the low 60s, and for Sunday, the upper 60s. Overnight lows will be in the low 40s closer to the coast, and around 40 degrees or below for areas generally north of Interstate 10. Wind chills early on Saturday morning will be … chilly. Sunday morning should be a couple of degrees colder, with fewer winds.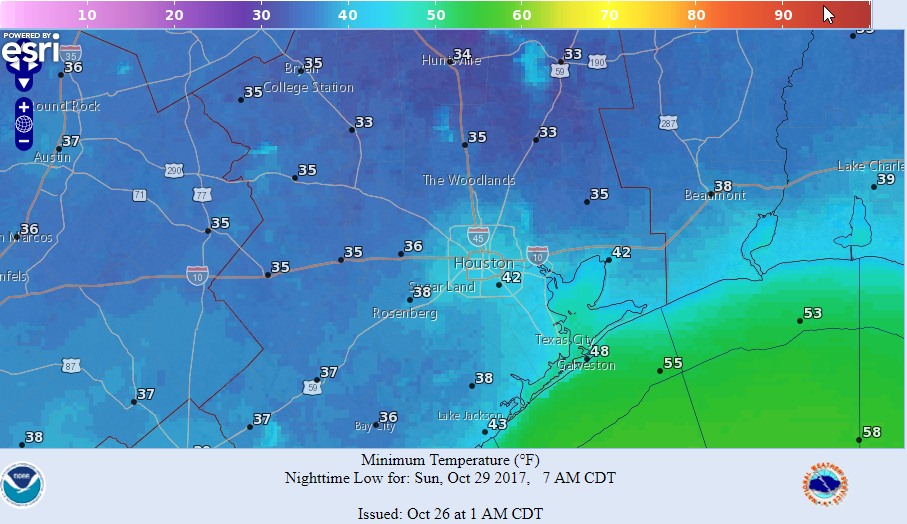 Next week
The onshore flow returns later Sunday or Monday, and most of next week should see highs in the upper 70s to around 80 degrees, with nights in the upper 50s or lower 60s. Chances of afternoon and evening rain showers and thunderstorms return around Tuesday. We're watching for rain chances on Halloween.