I've been offline this morning because I had to deal with some serious personal and property matters. We are living through the same disaster as the rest of you, and my family is near the epicenter in the Clear Lake area. I think we're in a good place now—well, as good of a place as one can be right now—and so I'd like to share some perspective. For this afternoon, at least, Matt will continue to handle immediate forecasting duties.
Harvey and rainfall
Tropical Storms and hurricanes, along with earthquakes, tornadoes, and other events are called natural disasters for a reason. They are, truly, disasters. And that is precisely what has unfolded across the Houston metro area during the last 12 to 18 hours.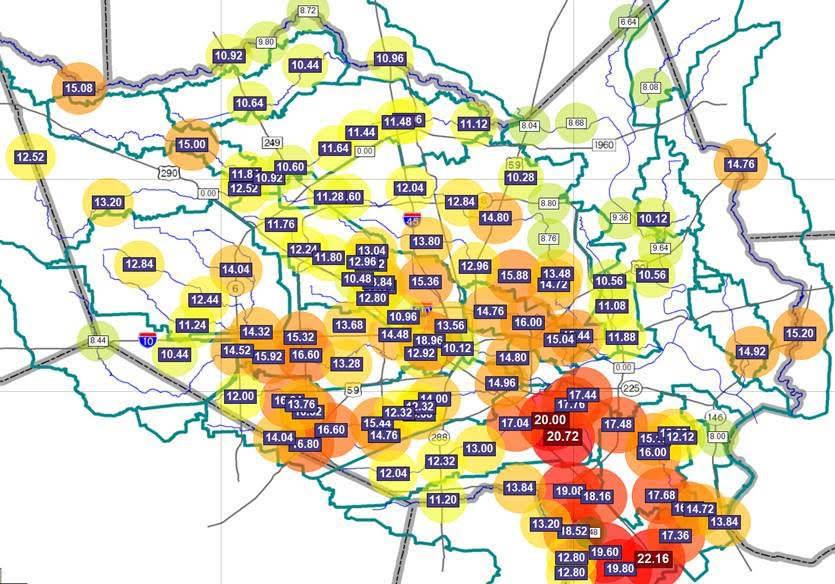 Last night's rains flooded many of the area bayous, and some areas, such as Clear Creek in southeastern Houston, have blown through 500-year flood levels. What is so maddening about these rains is that we don't know for sure when they are going to stop. So if I may, let me offer some advice.

First responders
Let the professionals do their job today, and tonight. According to Houston Mayor Sylvester Turner, the city's 911 system is being overwhelmed with calls on Sunday, many of which are not life threatening. "Please, let's give preference to life threatening calls," he said. Those include vehicles trapped in rising waters (the majority of deaths during flood events like this come in vehicles), and people in homes where water is rapidly rising.
Do not go into your attic, if threatened by rising waters, unless there is an exit. You could be trapped there. Instead, public officials advise going onto your roof, and to take white towels so that first responders from the city, county, or US Coast Guard can more easily find you. If that sounds grim, well, it's pretty grim out there.

The other clear advice is to not drive on roads today, even if conditions appear to be clearing, because we expect more showers and flooding tonight. Even if roads are clear near where you are, they may not be where you are going. (If you absolutely must travel, Google maps, with traffic, offers a rough means of gauging which roads are passable at this time). But, as the mayor said, "The best way to keep from getting stranded is to stay off the street."
Some perspective
The situation seems horrible now, and with the prospect of more rain, you may feel hopeless or helpless, or both. From a mental health standpoint, the uncertainty this brings adds a considerable amount of stress to an already stressful situation. I wish we could tell you when the rains will end, but we can't. Here's one thing we are sure of, however. The rains will end.
After that the sun will come out. Whatever you think about the government, as a democracy we have decided it is important to help neighbors in need, and if you need assistance, it will come. Homes will be rebuilt. They may be built higher, or on higher ground. We will need to have discussions about sustainable developments in and near floodplains. But Houston is a get-things-done city and we will move forward.
So when the rains return tonight, try to retain some perspective. The most important thing is not protecting your property, or risking driving through that high water you think you might make it through. The most important thing you need to do is remain calm, protect your family, and understand that this, too, shall pass.
Posted at noon CT, on Sunday, by Eric