Temperatures range from the low 60s north of Houston this morning, to the upper 60s in the city, and lower 70s near the coast. It's worth noting that Houston's official weather station, Bush Intercontinental Airport, did hit 65 degrees this morning. So in terms of "fall's first front," we can safely define that for 2016 at Sept. 29th. It came 11 days late.
Today
More cooler air is on the way. A reinforcing front will move through Houston today, and because conditions are already fairly dry I don't expect any rain with this system. The cooler, northerly air should keep highs north of Houston in the low 80s, while closer to the coast highs should climb into the upper 80s. Tonight should be lovely, with far inland areas falling into the upper 50s, and even coastal areas falling into the mid- to upper-60s.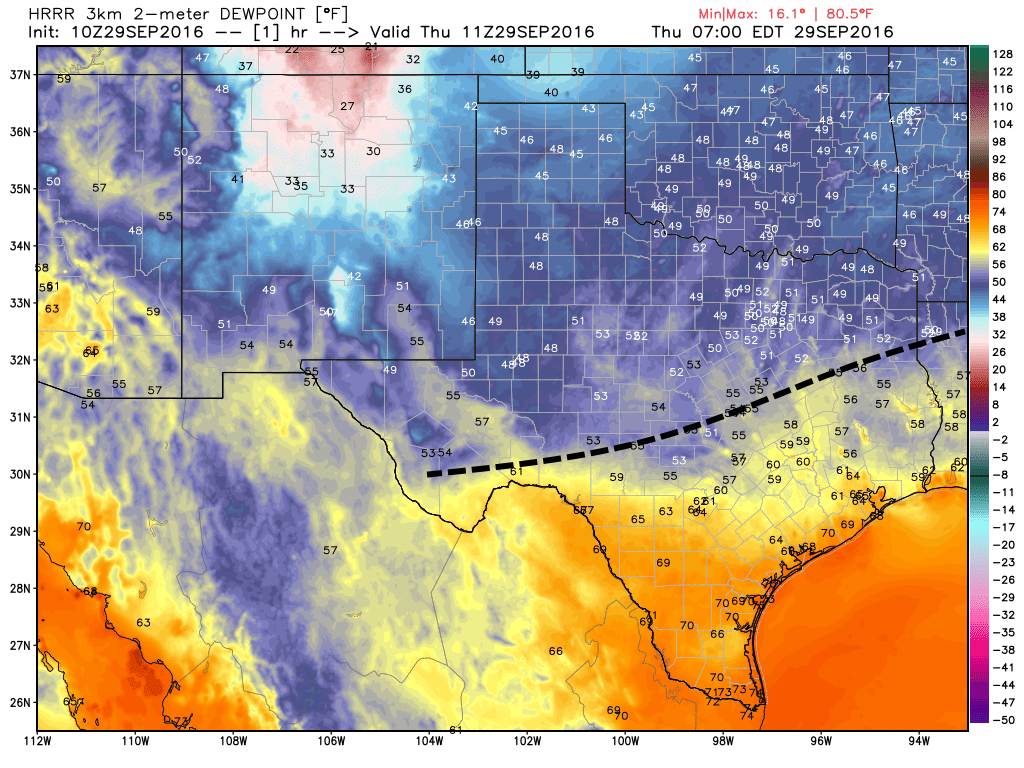 Friday and Saturday
Hello, gorgeous. Who is up for sunshine, with highs in the low- to mid-80s, and overnight lows ranging from the upper-50s up north into the 60s closer to the coast? I am.
Sunday and Monday
Conditions start to warm some, but I still expect highs in the 80s, and enough dry air to keep overnight lows in the upper 60s for most of the Houston area, expect for immediately along the coast.
Tuesday and beyond
A warmer, more humid onshore flow will resume sometime on Monday or Tuesday, and this will allow the middle of next week to warm up. I think we're going to see a return to highs of around 90 degrees, with lows back into the lower- to mid-70s. Some rain chances will also return at this time along with the Gulf moisture. However, it looks like the sauna won't last too long as another cold front (along with possible storms) will probably work its way through Houston by next Friday, give or take a day. With luck this will ensure another splendid weekend, but it's too early to say with any confidence.
Tropics
As expected, Tropical Storm Matthew has strengthened, now with sustained winds of 65 mph as it moves westward across the western Caribbean Sea. It should continue to do so. For the next few days the storm should move into the central Caribbean and then slow down, likely making a turn to the north some time this weekend. After that it could wreak havoc across some Caribbean islands like Cuba or Haiti and the Dominican Republic before moving further north.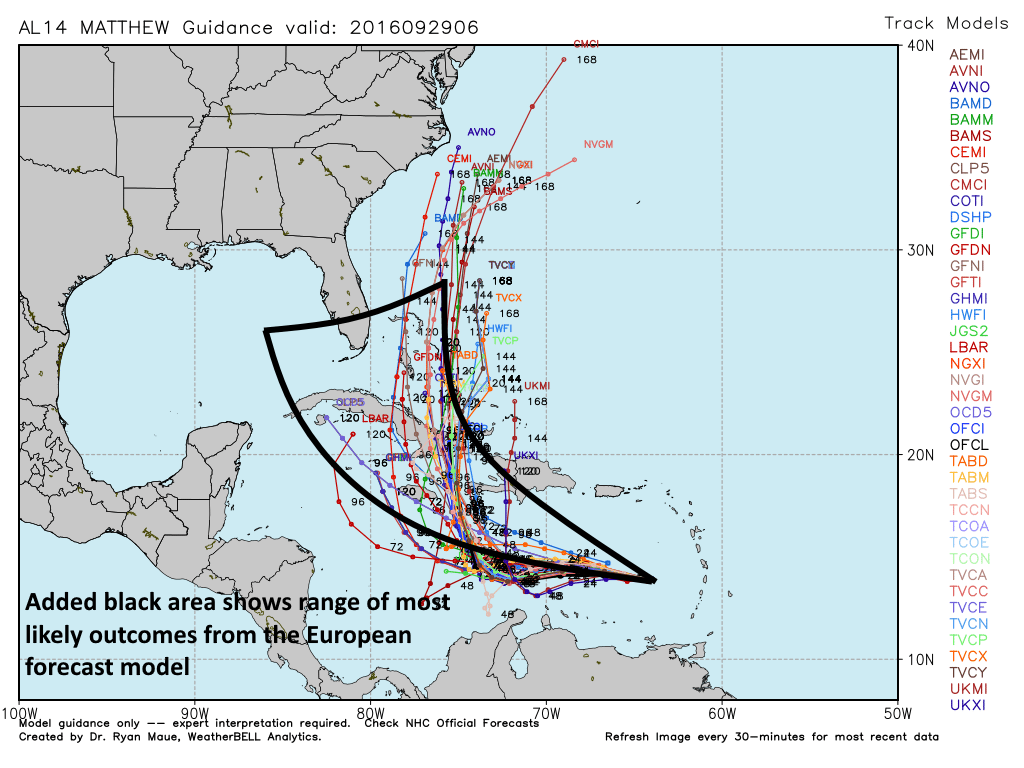 While most of the model guidance shows the storm remaining well to the east of Florida, many of the ensemble members of the European forecast system bring the storm toward Florida in about a week's time. This storm should not be a concern for Texas, but Floridians should watch it closely, and it may also eventually threaten the East Coast of the United States, from the Carolinas northward.
Posted by Eric at 6:55am CT on Thursday