Up and down, up and down—so will go our temperatures over the next 10 days as Mother Nature vacillates on whether it should feel like winter or spring outside. This is good thing for those who believe variety is the spice of life. We're also continuing to track the likelihood of rain this weekend, which would be the region's first meaningful precipitation in about three weeks.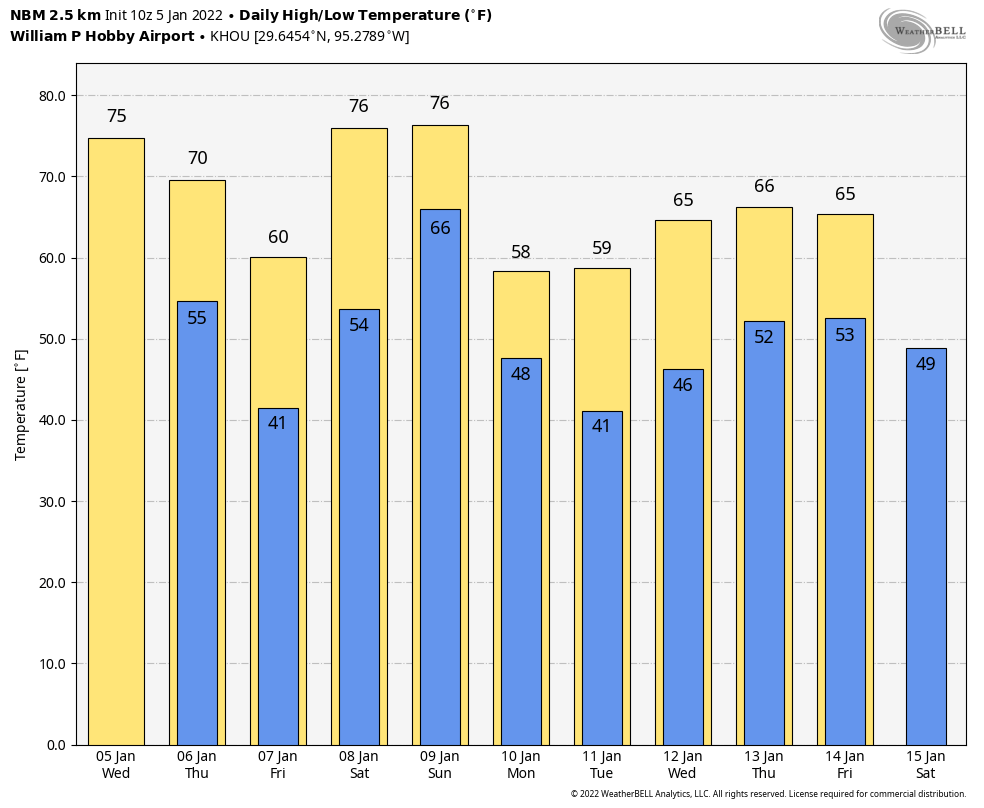 Wednesday
Temperatures are generally starting out in the 50s this morning, and with light winds a few areas of patchy fog have developed. This should not last, and skies will be mostly sunny later today, allowing for temperatures to warm nicely into the mid-70s. Winds will be modest, out of the south and southwest, at 5 to 10 mph. Temperatures tonight will start out moderate, but a cold front will arrive to cool things down. It looks like the front will reach the Interstate 69/Highway 59 corridor around midnight, and push down to the coast between 3 and 6 am. As a result, Houston will be generally in the 40s (inland) to low 50s (near the coast) when you wake up on Thursday. No rain is likely to accompany the front.
Thursday
Conditions will be breezy on Thursday, as northerly air follows the frontal passage. Look for winds gusting up to about 20 mph to go along with sunny skies, and highs likely topping out in the upper 60s. As winds die down overnight, this will set the stage for cold temperatures. I think the urban core of Houston will remain at about 40 degrees, but outlying areas should fall into the 30s. A light freeze is possible for far inland areas, such as College Station.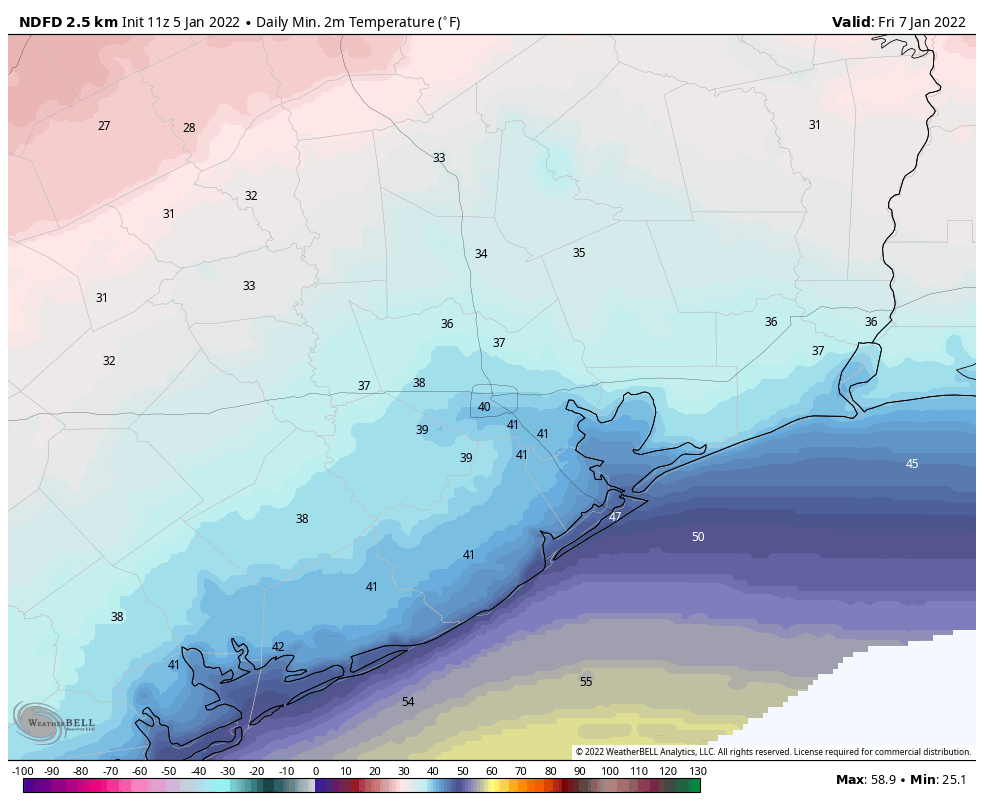 Friday
This will be a sunny and cool day, with highs around 60 degrees. However as high pressure moves off and winds shift easterly, this will set the stage for warmer weather ahead. Lows Friday night will probably be about 15 degrees warmer than Thursday night.
Saturday and Sunday
Conditions will be quite warm and muggy this weekend, especially for early January. Look for highs in the mid-70s with partly to mostly cloudy skies and plenty of humidity. The onshore flow will also ramp up moisture levels, and this will lead to increased rain chances beginning as early as Saturday morning. This pattern will hold sway until about Sunday afternoon or evening, when the next front arrives. This front may bring additional rainfall with it, and all told I think most areas will average 1 inch or so this weekend, with less for some areas, and more for locations that see some briefly heavy rainfall. Rains will end with the front's passage, and lows on Sunday night should drop into the upper 40s.
Next week
We'll see fairly cold conditions next week, with highs in the 50s and 60s, and lows in the 40s and 50s. Another front arrives by the weekend, perhaps Saturday the 14th, to keep things on the cooler side. If you're running the Houston marathon, my best guess remains chilly start line temperatures of about 40 degrees.