Good morning. Houston's overall pattern remains more or less the same. We're expecting a warmish fall week—with high temperatures mostly in the upper 80s—before potentially a slight cool down this weekend. If you're looking for a more hearty taste of fall (raises hand) a stronger front will probably move through in about a week from now, or slightly before.
Tuesday
A few lucky areas picked up some rain showers on Monday, but we're now entering a period during which daily rain chances probably won't rise much above 10 percent for most days. Houston's weather will be guided this week by an onshore flow, felt at the surface as light southeasterly winds, which will pump up humidity levels while also keeping a lid on highs. With partly sunny skies, high temperatures today should reach into the mid-80s. Overnight lows will fall to around 70 degrees—warmer along the coast, and slightly cooler inland.
Wednesday, Thursday, and Friday
The rest of the week should produce conditions that are much the same. We should see plenty of sunshine, with highs generally in the mid- to upper-80s. This is about 10 degrees warmer than we normally see in late October. Low temperatures should remain around 70 degrees.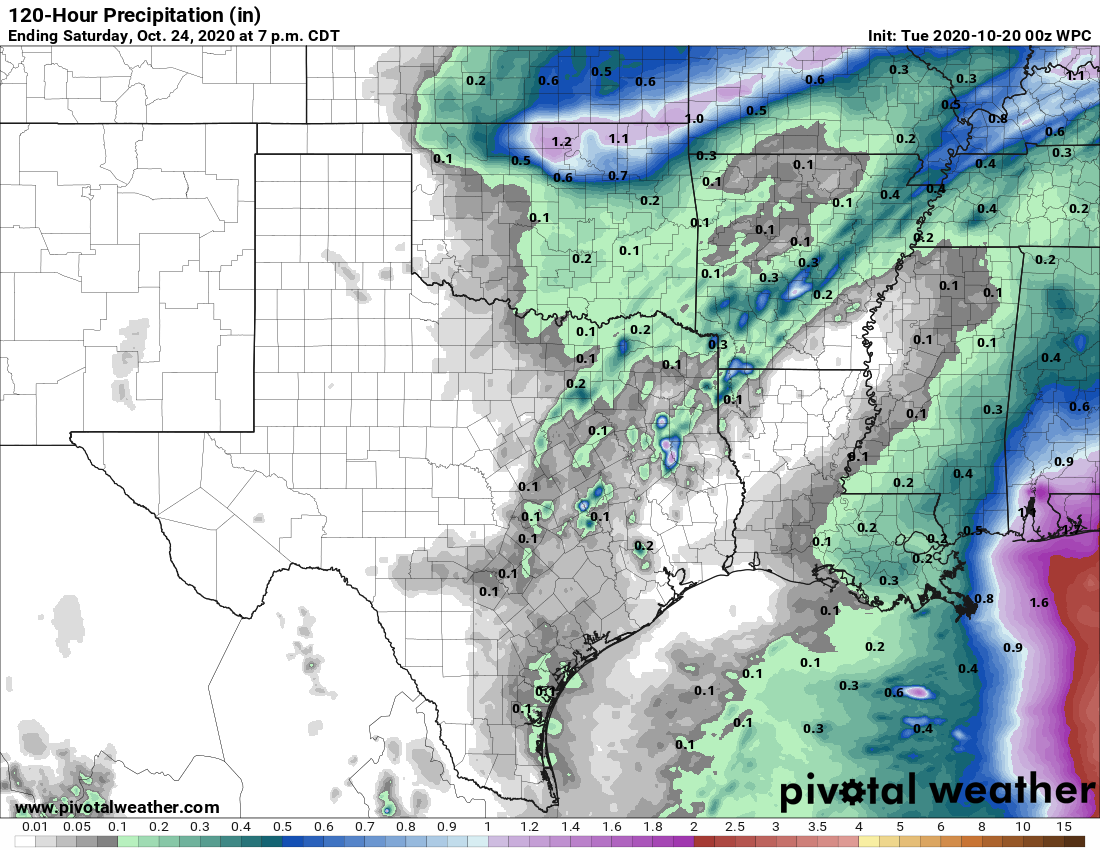 Saturday and Sunday
The forecast for this weekend is not yet set in stone. We still think a weak cool front is going to approach the area and move into Houston late Friday or early Saturday. But will it reach the Interstate 69 corridor? Or will it push all the way to the coast?  It's difficult to say. If you live in Katy I'd feel pretty confident in seeing a slight dose of cooler and drier air. But Baytown or Seabrook? Perhaps not so much. In any case, any effects should be short-lived as the front washes out on Sunday. There's a slight chance of showers with the front, but for the most part we expect sunny skies this weekend.
Next week
Global models are in fairly good agreement that a robust cold front will push into Houston late next Monday or Tuesday, and this will bring a decent spell of colder weather. How cold? I'd hazard highs in the 60s and 70s, and lows in the 40s and 50s, perhaps. But please don't hold us to that just yet. For now it's enough to know that our warm weather this week probably will change in a meaningful way next week. Hopefully we'll see some rain with the front, too.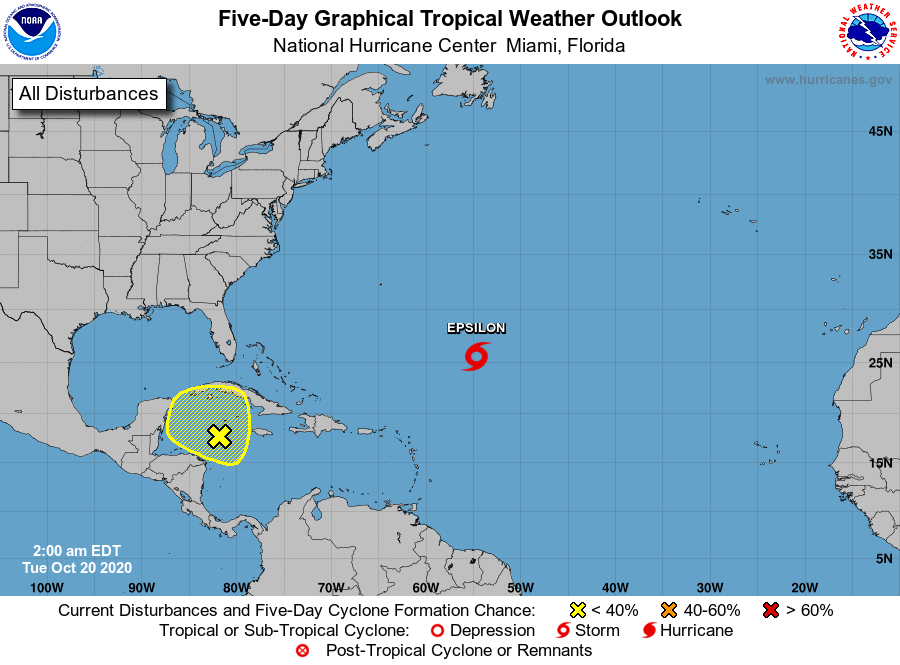 Tropics
You may have seen that Tropical Storm Epsilon formed in the open Atlantic. It should steer just east of Bermuda toward the end of this week, and remain a "fish storm." There's also a yellow blob in the northwestern Caribbean Sea that we've had some questions about. Folks, it ain't coming to Texas. Our hurricane season is over.