It was 15 degrees in Houston a week ago this morning. We managed 77 degrees yesterday afternoon. The winter roller coaster is here. In addition to the warmth, we saw some pretty gnarly storms over parts of the area, even a Tornado Warning down near Galveston.
As Eric accurately noted yesterday, the rainfall was quite erratic. Rain totals ranged from over 5 inches near in Galveston County to next to nothing in western Harris, northern Fort Bend, and southern Waller Counties. In between, it was hit and miss. Some areas saw tremendous displays of lightning, while others may have only heard some distant rumblings. So it goes. We'll settle in to some very mild but fair weather over the next few days before our next speed bump on Monday.
Today
We have a little patchy fog in spots this morning. Other than that, just a lot of clouds. On the whole, we'll call it "decreasing clouds" with hopefully a bit of sunshine later today. Depending on sunshine, we'll either hit the upper-60s or low-70s today. Accompanying last evening's system was a very weak front that will make its presence felt tonight, sort of. Light north winds should allow temperatures to dip into the 50s.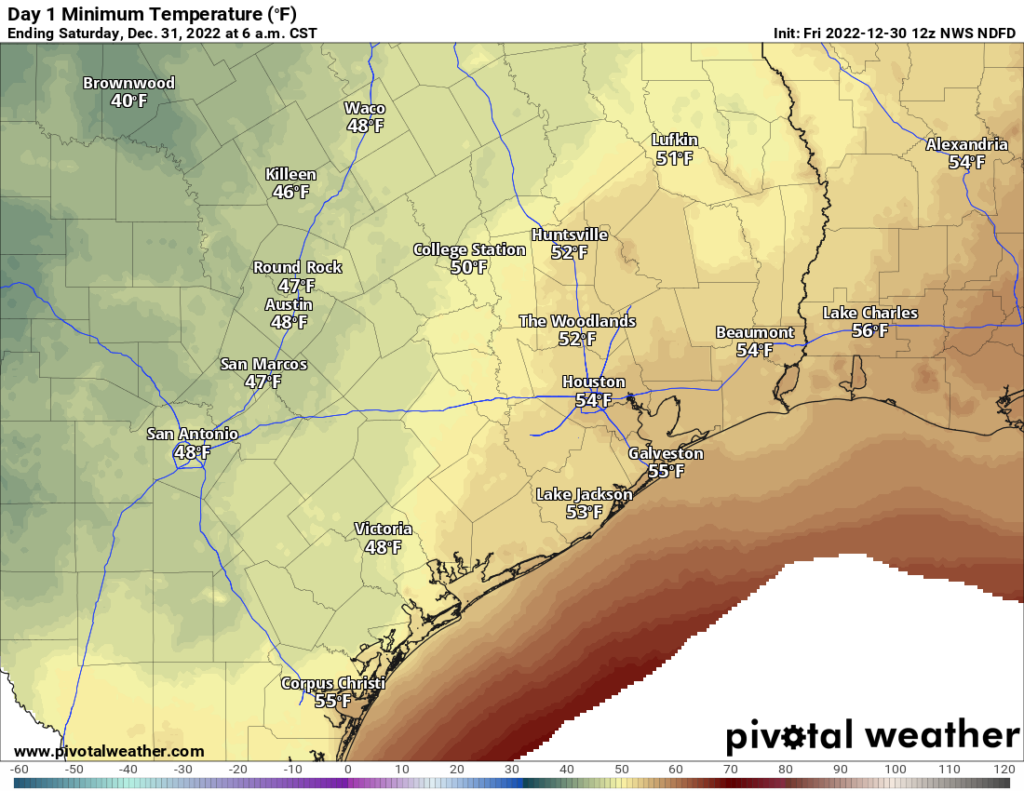 New Year's Eve & air quality concerns
We should have partly to mostly sunny skies across the area tomorrow, along with highs into the 70s. All your festivities, from "Noon Years" for those of us with little ones to watch parties for TCU hopefully beating up on the Fighting Harbaughs of Michigan to evening celebrations look great. The only thing to watch will be areas of fog near the coast, so use some caution if you'll be out and about late Saturday night and after midnight Sunday morning.
One word of caution: Fireworks and air quality.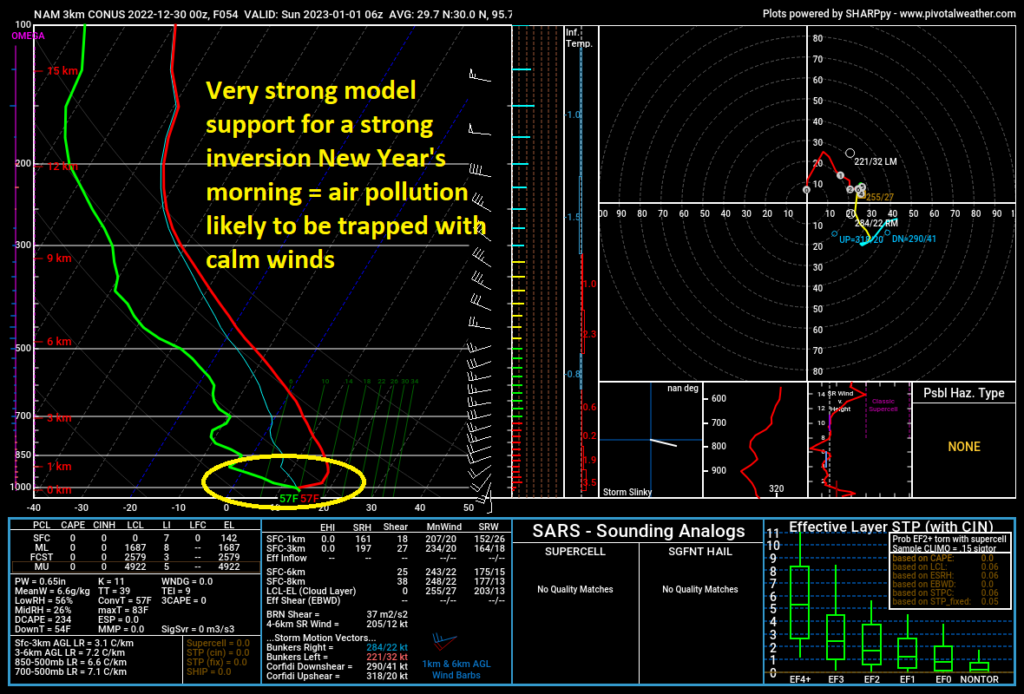 Unfortunately, the setup this New Years is going to be one that features mostly light winds and likely a very strong inversion in the atmosphere. In simple language? All the pollution from those fireworks everyone sets off on New Year's Eve probably isn't going to go far, and we are likely in for some very unhealthy, if not outright hazardous air quality across the region at times late Saturday night and early Sunday morning. The good news is that winds don't look totally calm, but they will be light. So if you have respiratory difficulties, it would be a good idea to keep an eye on area air quality readings. Winds and "mixing" will pick up after 9 or 10 AM Sunday. So if we end up with a lot of trapped smoke in the early morning, the afternoon should at least be nicer.
New Year's Day
As noted, air quality may be an issue Sunday morning, but at least it should become sunny. Some morning fog is possible, if not likely in spots, and clouds will likely increase through the day. Highs could get to 80 degrees in spots. Coastal areas may again see fog persist deep into the day.
Monday
The forecast for Monday continues to look a bit tricky. It may play out very similar to yesterday, with numerous storms, locally heavy rain, and isolated severe weather. Or it could be more widespread. We still don't have a great handle on this and likely will not until Sunday. Look for an average of a half-inch or so of rain, but it's likely many places see less and others, especially east of I-45 see 3 inches or more. Highs will top off near 80 in spots, 70s elsewhere.
Rest of next week (and chances of a freeze-peat this winter?)
After Monday's rain, a cold front and slow clearing should arrive on Tuesday, bringing much cooler weather for Wednesday. We'll probably drop back to 60s by day and 40s by night for much of the rest of next week. Another warm up is likely late next week or weekend.
We've seen a lot of questions about the chances of another freeze this winter. Put simply: We have no idea. There's no rule that says if you freeze in December like we did this year that it can't happen again later in January or February. The odds are no different the rest of winter today than they were a month ago. So, yes, it's possible it could happen again. Likely? Not necessarily. There's no sign of emergent cold in Canada or the Plains over the next 2 weeks, meaning any strong cold is unlikely here through mid-January. If anything, the jet stream in the Pacific Ocean is trying to ramp up again in mid-January, which could signal another period of warm weather to come. The takeaway? While we see no sign of a freeze-peat right now, that doesn't mean things can't change later in January or February. But it's neither more or less likely than normal because we had one this month.
Happy New Year to you, readers. On behalf of Eric, Maria, Lee, and Dwight, thank you all for a great 2022, and we look forward to another great year in 2023.