Happy New Year! The year 2023 has started out warm, but a front will arrive on Tuesday morning to bring more seasonal conditions back into the forecast. Ahead of the front, we have some concerns about the potential for thunderstorms and severe weather later today and tonight, but overall the dynamics are not too supportive for this.
Monday
With very warm conditions this morning, and lows only in the low 70s, we are seeing some sea fog developing again. This should burn off by mid-morning, leaving us with a cloudy day and highs in the upper 70s. Two things we'll be watching for today: strong southerly winds and the potential for thunderstorms. The winds are pretty much a certainty, as the onshore flow responds to high pressure over the central United States. We're going to see gusts up to 30 or 35 mph this afternoon. As for the storms, I'm guessing a capping inversion in the atmosphere will limit activity, but you should be aware that there is the potential for some storms to break through the cap later this morning and early afternoon. The potential for rain lingers tonight as lows drop into the upper 60s.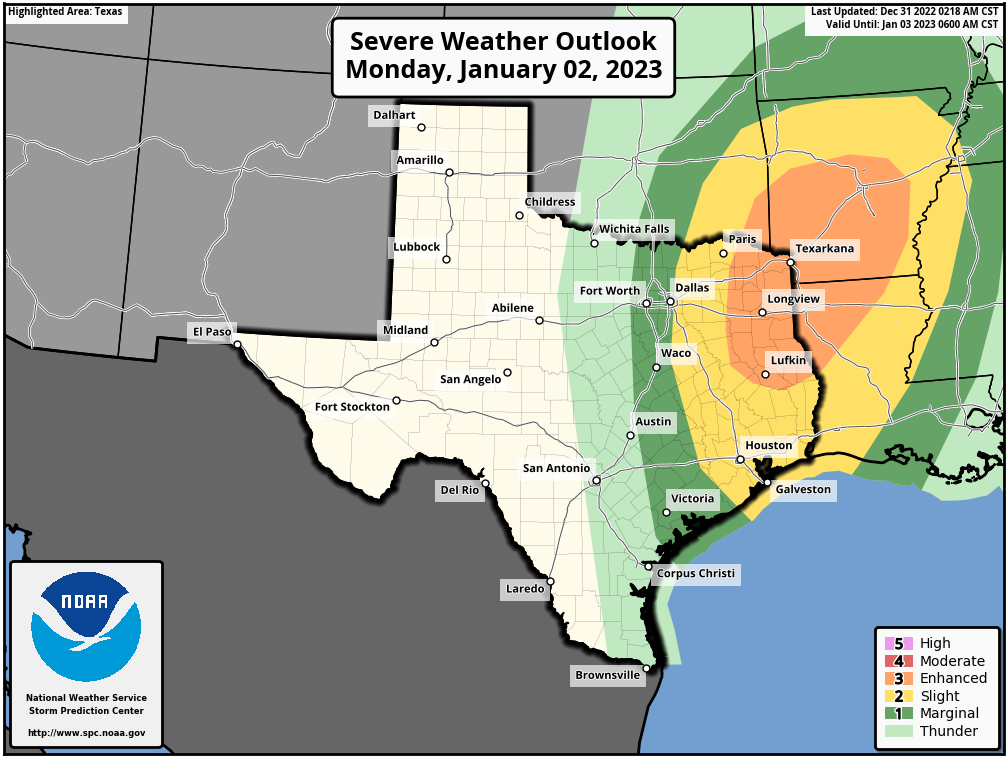 Tuesday
Our second chance for storms will come late tonight and Tuesday morning ahead of the actual cold front. A (broken?) line of showers and thunderstorms should push into areas northwest of Houston around 3 to 5 am, the metro area around 5 to 7 am, and off the coast by around 10 am. For some people, this will be the first day commuting back to the office for awhile, so be aware you may need some extra time due to the potential for storms if this timing is accurate. The skies will clear pretty quickly after the storms, so we can expect clear skies and highs in the low 70s on Tuesday afternoon with notably drier air. Lows drop to around 50 degrees on Tuesday night, with colder conditions further inland.
Wednesday, Thursday, and Friday
Our weather settles down for the rest of the week, with mostly sunny skies and highs in the mid-60s to 70 degrees. Lows will generally be in the mid-40s through Thursday night before a warm-up heading into the weekend.
Saturday and Sunday
The high pressure system that will bring sunny weather during the second half of the work week will slide eastward by Friday, setting up a warmer and potentially wetter weekend. At this point I think Saturday will be mostly rain-free, with partly sunny skies and highs in the mid-70s. Sunday has a better chance of rain, perhaps 30 percent, and at this point I'd guess we'll see mostly cloudy skies and highs of around 70 degrees.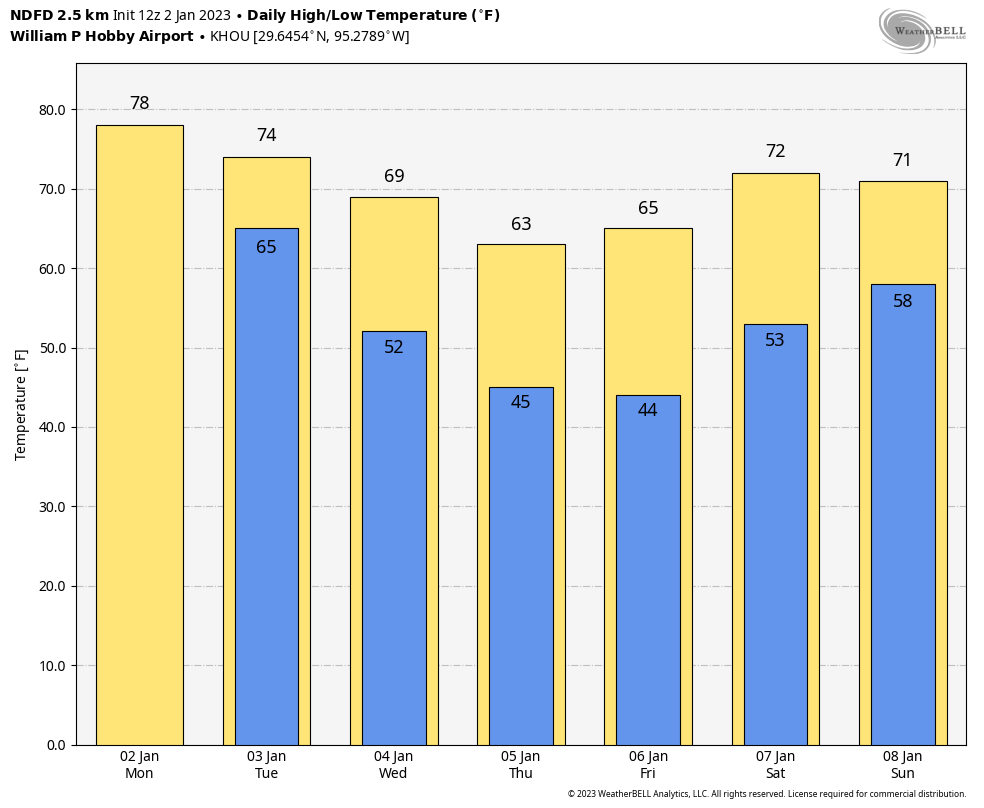 Next week
I'm afraid there is not a whole lot of certainty in the forecast by around Sunday and beyond. I think the most likely scenario is that a cold front moves into Houston and essentially stalls, setting up a pattern of a few colder, and rainy days. But do I feel highly confident about such a scenario? I do not.
Looking ahead to the weekend of January 14 to 15, a few people have asked me about conditions for the Houston Marathon. At this point there is a decent signal in the global models for a slightly stronger front toward the end of next week, so I'm thinking we'll see start line temperatures in the 40s. The good news is that right now it does not look too warm or too muggy. The bad news is that a forecast for 13 days from now is about as helpful as cramps at mile 20.