Good morning. Houston's more or less Spring-like weather will continue through this weekend and into next week. We won't be getting too hot, and we won't be getting too cold, and there will be a smattering of rain showers from time to time.
Thursday
Today will see fairly warm temperatures, as mostly cloudy skies give way to partly to mostly sunny skies this afternoon. This will allow temperatures to pop up into the low- to mid-80s. Winds will be noticeable out of the south at 10 to 15 mph, with gusts up to 25 mph. As clouds return this evening, expect a warm night with lows in the low 70s.
Friday
A front will progress toward the Houston metro area on Friday, likely producing fairly widespread, but mostly light showers. A capping inversion in the atmosphere will most likely prevent stronger thunderstorms from developing over the Houston metro area, but the further east you live the more likely this is to happen—further east as in the Beaumont area. Highs will be about 80 degrees on Friday, and overnight temperatures will slowly come down as the front stalls before finally pushing off the coast Saturday morning.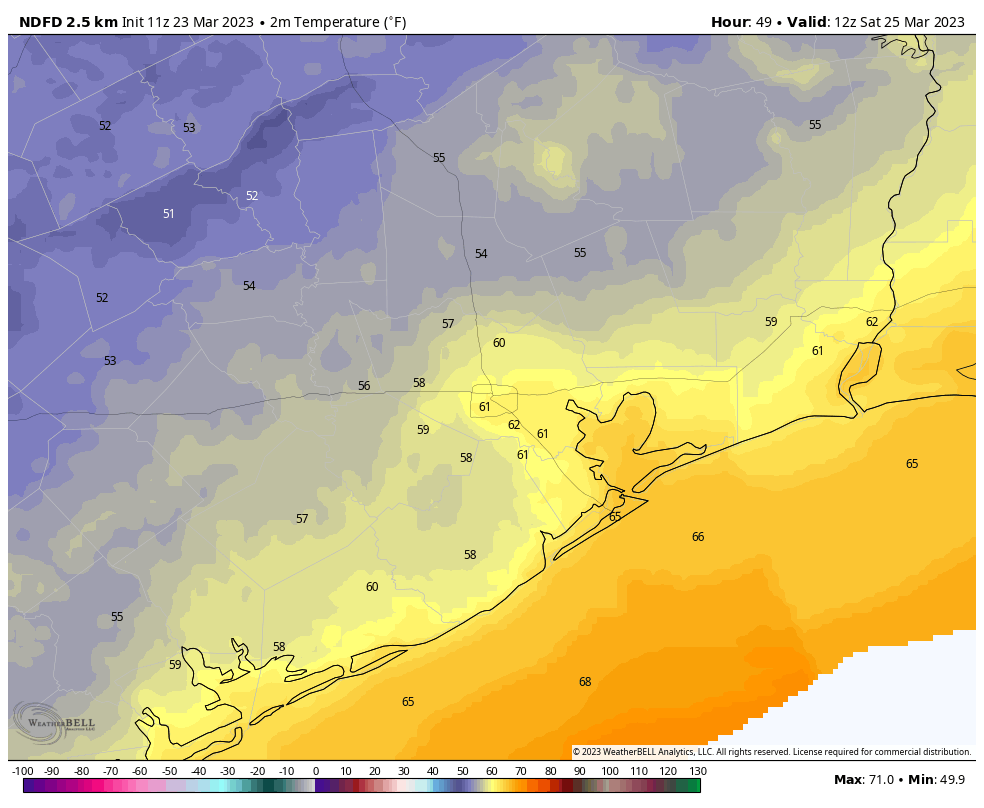 Saturday
This will be a fine, sunny day with an abundance of dry air. Look for sunny skies with highs in the low- to mid-80s as air temperatures warm quickly with less moisture in the air. Clouds return on Saturday evening as the onshore flow redevelops, however. Lows should drop to around 60 degrees in Houston, with cooler conditions inland.
Sunday
With a southerly flow, look for more humid and partly cloudy conditions on Sunday. Highs will probably top out in the upper 70s. It's increasingly likely that most areas will see at least some sprinkles on Sunday, with accumulations of one to two-tenths of an inch possible.
Next week
We'll see more of the same next week, which is to say a weak front comes in on Monday and cools us down and dries out our air for a few days before a warmer flow resumes. The details of this remain unclear, but it seems safe to expect highs in the 70s and 80s, and lows in the 50s and 60s. So all in all, pretty Spring-like weather for Houston.