One of the questions I'm regularly asked is for a long-term forecast for an outdoor wedding or reception in the greater Houston area. The reality is, a forecast for anything further than about 10 days out is little more than a wild guess, and planning for weddings takes months. So my advice to people considering outdoor events in Houston is to choose the time of year carefully.
A few years ago I spent some time studying this question, and the conclusion I came to is that March is the best time of year for outdoor events, in particular the second half of the month. Why? In addition to being fairly temperate, late March actually has the lowest daily chance of precipitation of any time of year. Here's the full analysis I performed. That is not to say bad weather does not occur in March. Of course it does. But if you took this advice months ago and planned your wedding for this weekend, well, Saturday is going to be splendid. You're welcome.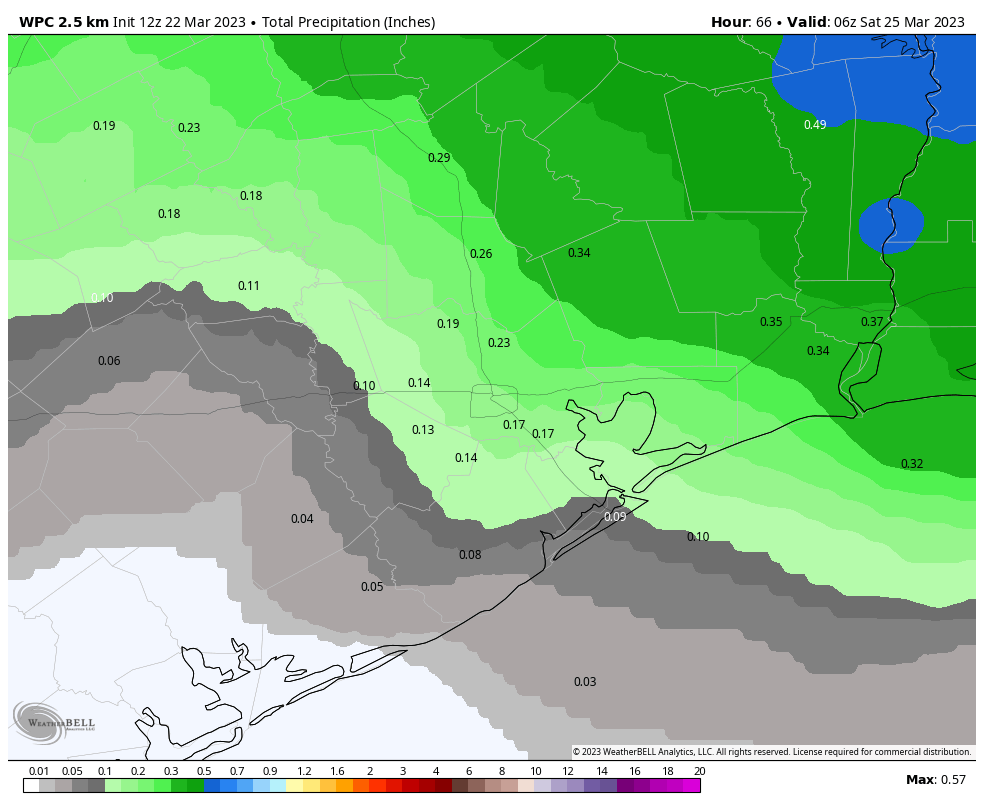 Wednesday
Houston has firmly returned to a warmer, and more humid pattern with a pronounced southerly flow. Lows this morning have only fallen to about 70 degrees, and with partly to mostly cloudy skies, highs will reach about 80 degrees or a few ticks higher. Again, a few sprinkles will be possible, but most of the area should remain rain free. Winds will blow from the south, gusting to 20 mph or higher this afternoon. Lows tonight will again be warm.
Thursday
Conditions will be similar on Thursday, with perhaps even more pronounced winds out of the south gusting up to 30 mph. Highs for some inland areas may reach the mid-80s.
Friday
A weak front will push through the area on Friday, likely with a thin line of showers and a few thunderstorms. At this point I think any severe weather probably will remain to the north and east of Houston, and rain accumulations here likely only be measured in one or two tenths of an inch of rain. Showers should end during the late afternoon or evening hours, with overnight lows dropping into the upper 50s.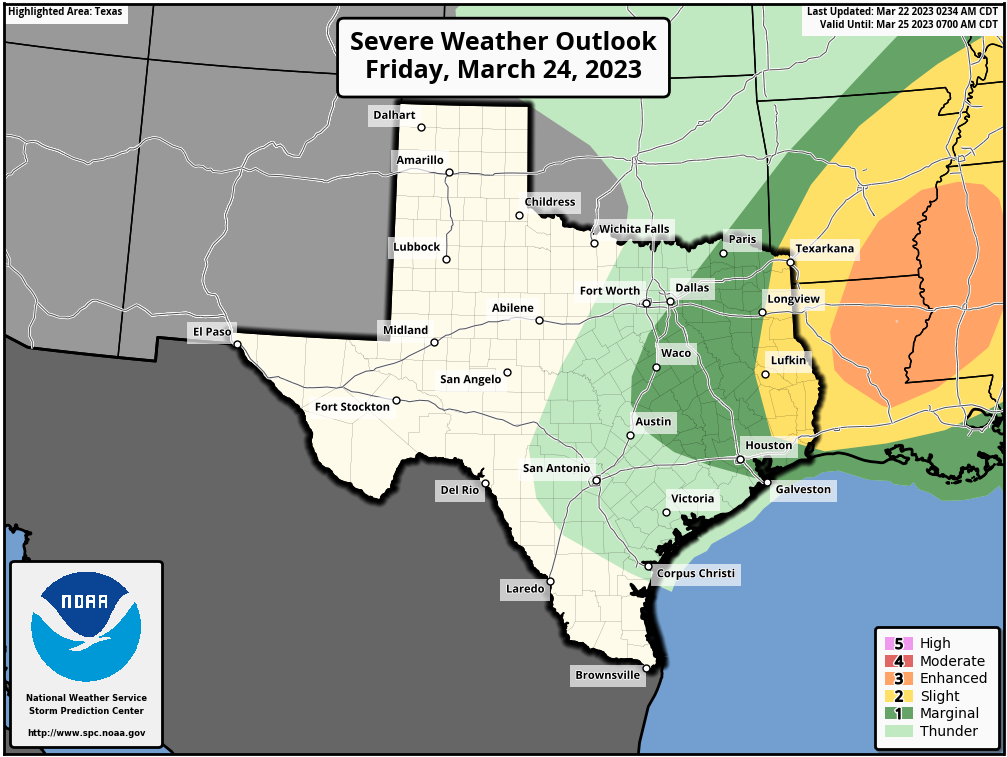 Saturday
This is the pick of the litter for the weekend. Although highs will get into the low 80s, the daytime will have plenty of dry air from the front, and this will also clear our skies out for the day. The onshore flow resumes pretty quickly on Saturday afternoon or evening, however, and therefore lows on Saturday night probably will only drop into the low 60s.
Sunday and beyond
Sunday and part of Monday look warmish, with highs in the low 80s and humidity, before another front arrives on Monday. Both days also have a 40-ish percent chance of light rain. It's too early for firm details, but I think we'll see a few days in the 70s, with lows in the 50s next week in the wake of the front. That should feel pretty pleasantly spring-like for the region I'd say.