Good morning, and I hope you had a fine weekend. Houston will see three warm days before a more winter-like pattern returns to the region. That is not to say it will be blisteringly cold, but rather simply that we'll see highs generally in the 60s, with lows in the 40s and 50s. We will also have a smattering of rain chances, but as of now there is nothing too significant on the horizon.
MLK Day
If you're planning to attend one of the parades that mark today's holiday, you can expect warm conditions, with high temperatures in the upper 70s and mostly cloudy skies. I cannot rule out a few very light showers this afternoon, but I don't anticipate thunder or anything disruptive. Winds will be out of the south at about 10 mph, with gusts up to 20 mph. Low temperatures tonight will drop into the low 60s, except for far inland areas such as College Station, that may drop lower as a bit of drier air moves in from the northwest.
Tuesday
Some fog will be possible near the coast on Tuesday morning, but this will dissipate as temperatures warm up in the morning hours. This will be a partly sunny and warm day, with high temperatures reaching 80 degrees for much of the area away from the coast. Record high temperatures for several locations are definitely in play with a warm, southwesterly flow over the region. Low temperatures on Tuesday night will only drop into the mid- to upper-60s.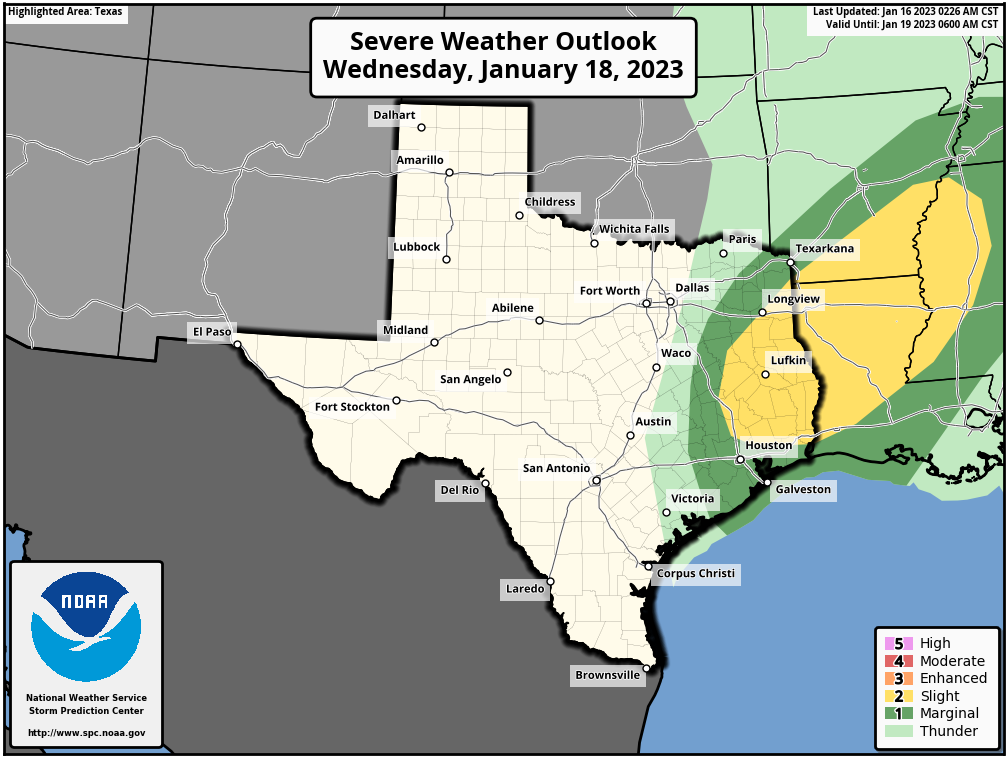 Wednesday
This will be another warm-ish day ahead of the next cold front, with mostly cloudy skies and high temperatures in the upper 70s. We'll also see a decent chance of rain, especially during the afternoon hours, just ahead of the front. There is a slight chance of thunderstorms and severe weather, but conditions are more favorable to the east and northeast of Houston. The front itself will probably arrive during the afternoon or evening hours, clearing skies and driving lows down to around 50 degrees.
Thursday and Friday
These have the look of pleasant days, with highs in the 60s and partly to mostly sunny skies. Lows will be in the low 50s in Houston, with cooler conditions inland.
Saturday and Sunday
The first half of the weekend looks wet with the onshore flow returning, and highs in the low 60s. I don't expect anything too crazy, but a few tenths of an inch of rain looks possible, with a few thunderstorms. A reinforcing front arrives Saturday night to bring us more dry air. Sunday will see highs in the low 60s, therefore, with overnight lows dropping into the 40s.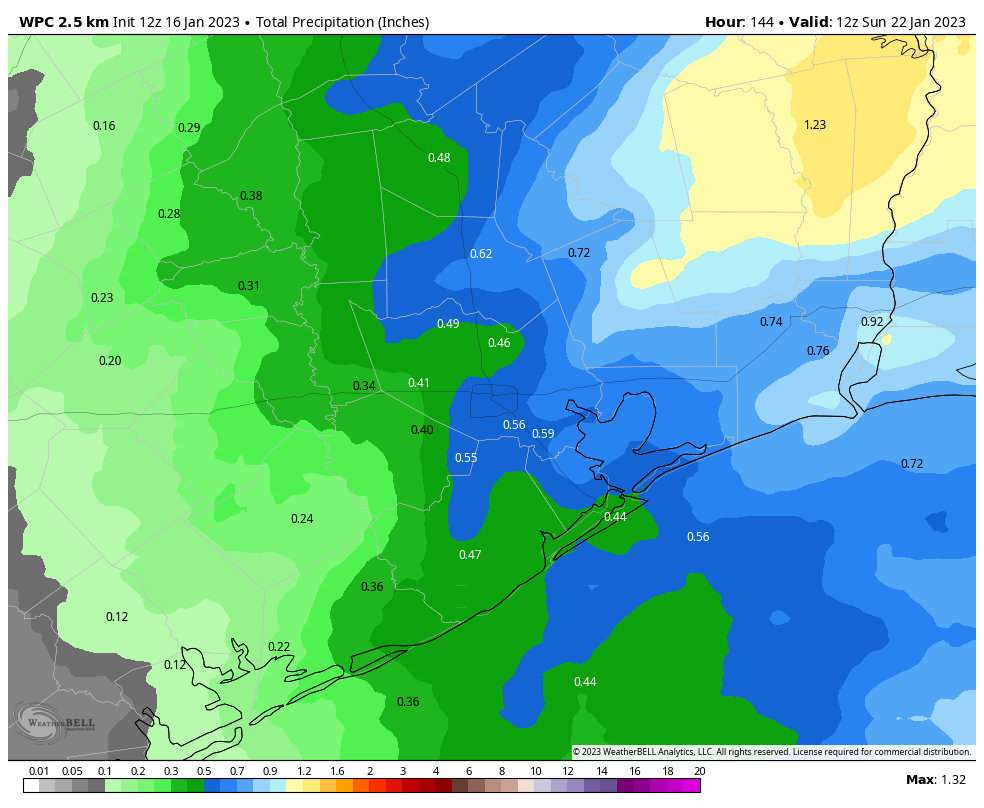 Next week
There are some hints in the models of a stronger front arriving on Tuesday or so of next week, which could lead to overnight lows in the 30s, and possibly even a light freeze. I have very low confidence in such an outcome at this point, but I'll take a deeper look tomorrow as I know some of you are already wondering whether Houston has had its last freeze of the 2022-2023 winter. All I can say is that, right now, it's far too early to make any definitive statements.