Good morning. With winter about one-half over, I thought we might take a moment to look back at what has come, and look forward to what is left. Although the region experienced a deep freeze during the days preceding the Christmas holiday, it has otherwise been a rather warm season. Overall, the month of December finished with an average temperature 1.7 degrees above normal. January, so far, has been very warm. The month's average temperature of 62.3 degrees is running 9.1 degrees above normal.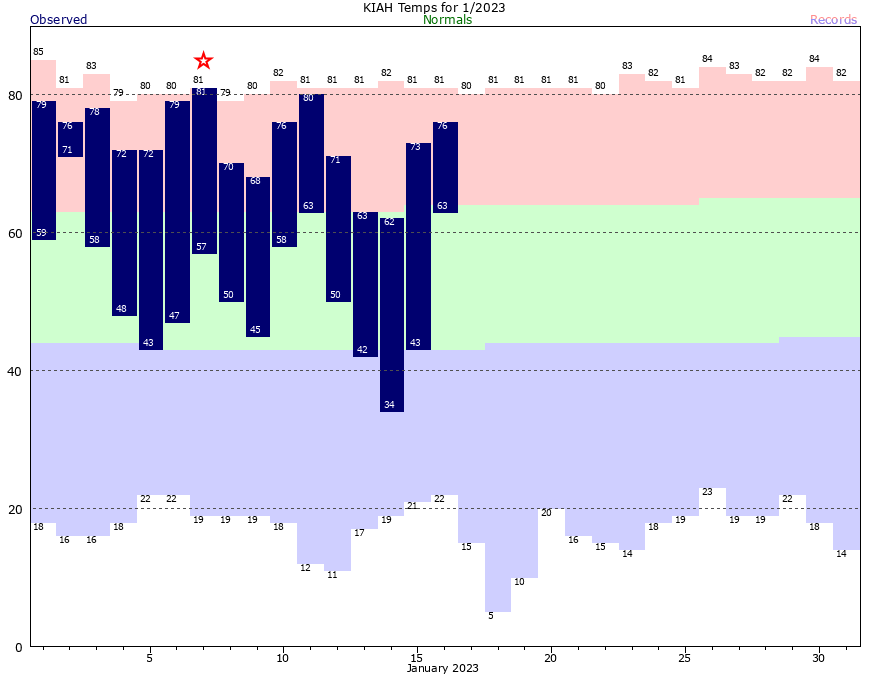 After today and Wednesday, however, it looks like the rest of January will see more seasonable weather. I expect near normal, or slightly below normal, temperatures during the last 10 days of the month. In other words, our flirtations with 80-degree days probably will be over for awhile. February is the last month of the winter that typically can produce sustained, deep cold weather. Seasonal model guidance—which is not particularly reliable—suggests February will see near normal temperatures.
If you're wondering about a freeze, the average date of the "last freeze" in Houston comes about one month from now in the city of Houston; sooner for the coast, and later for areas further inland. I give the city of Houston about a 10 or 15 percent chance of seeing sub-freezing temperatures during the remainder of January. As for February, who knows? While it's entirely possible the region has seen it's last freeze, no responsible meteorologist would say we are done with freeze chances during the winter of 2022-2023.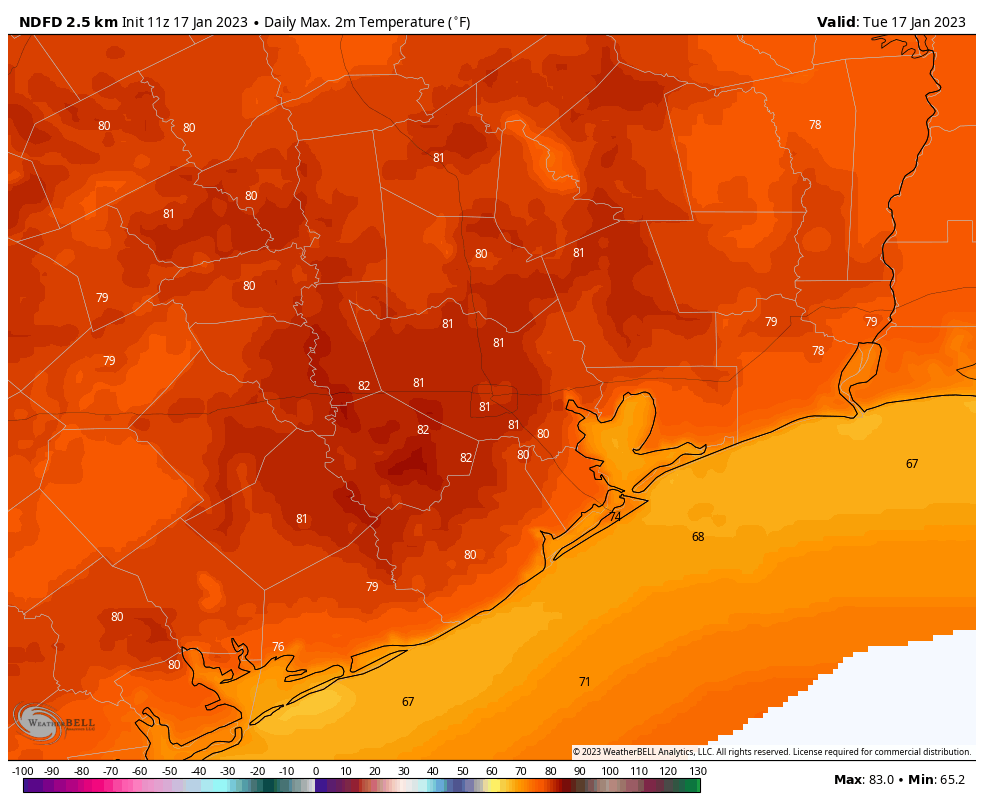 Tuesday
Today is going to feel like anything but winter. The region will see highs near, at, or above 80 degrees thanks to a warm southwesterly flow. Temperatures at your location will depend on how much sunshine breaks through partly cloudy skies this afternoon, but it will be warm and humid for mid-January regardless. Winds will be fairly light, out of the south at about 5 to 10 mph. Don't expect much of a cooldown tonight, with temperatures dropping only into the upper 60s.
Wednesday
A front will approach the area on Wednesday morning, leading to the development of scattered showers and thunderstorms, with the potential for a little bit of severe weather. Overall chances for damaging winds and possible a tornado are more favorable to the northeast of Houston, however. The front itself should arrive in Houston around noon, with an influx of drier air bringing a pretty quick end to rain showers. Temperatures will drop from the 70s ahead of the front into the 60s during the afternoon and evening, with overnight lows falling to around 50 degrees in Houston, with colder conditions for inland areas.
Thursday
This should be a mostly sunny day, with highs in the upper 60s, and moderate northerly winds. Lows on Thursday night will probably drop into the upper 40s in Houston.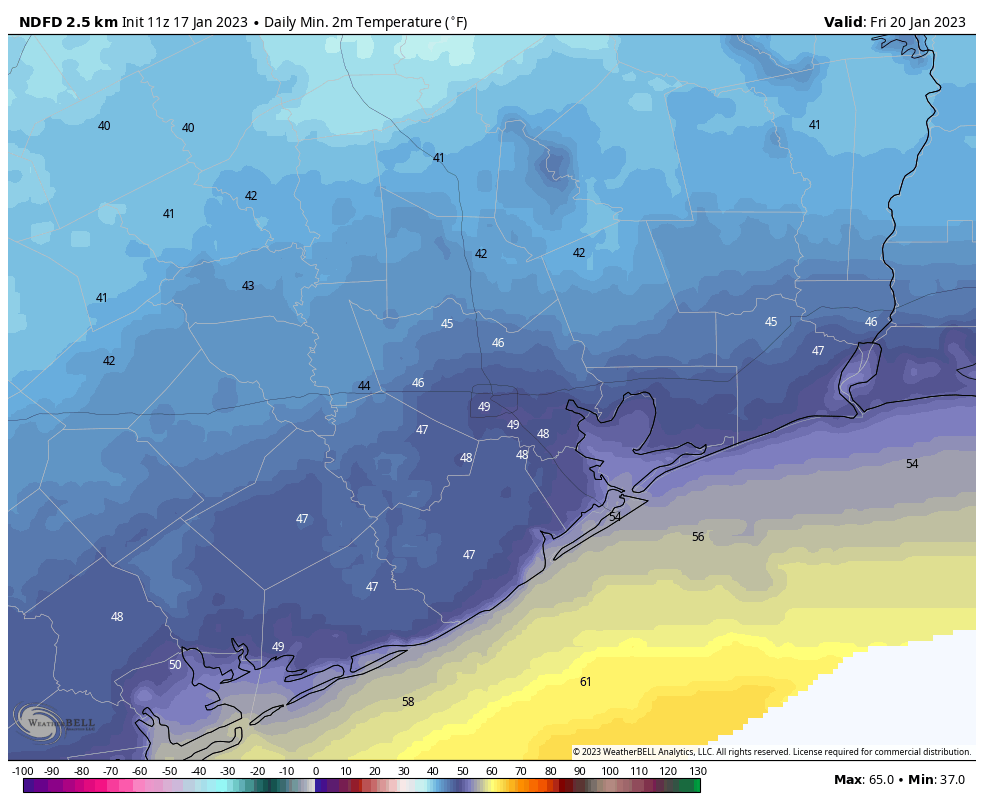 Friday
Some clouds will start to return on Friday with a more easterly flow. This will hold down high temperatures to the low 60s, with lows on Friday night in the low 50s.
Saturday
The first half of the weekend will see a healthy chance of rain as the atmosphere moistens up a bit, and supports rising air. Skies will be mostly cloudy, with highs in the low 60s. Rain is most likely during the daytime hours, and I think we'll average about one-half inch, with some areas picking up a little more, and other areas a little less. While I can't entirely rule out a thunderstorm, most of these rains should be of the moderate variety. Chances diminish after dark, and I expect lows to drop into the upper 40s on Saturday night as drier air moves in.
Sunday
The second half of the weekend should see clearing skies and highs in the low 60s. Sunday night looks fairly chilly, in the mid-40s perhaps for Houston.
Next week
A warming trend begins on Monday or Tuesday of next week, but that looks to be stopped in its tracks by a reinforcing front. Thus, most of next week will probably see highs around 60 degrees, and lows around 40 degrees. That is fairly typical for late January in Houston, and will come as good news for those who have been wondering where the heck winter has gone this month.