Good morning. Temperatures have dropped into the 40s this morning, and if you like chilly winter weather the next couple of days are something you should soak up. Starting on Sunday we'll see considerably warmer weather that will probably culminate next week with a day or two in the 80s. It is likely that a couple of fronts will bring colder weather into the region after that, with potentially a bit of rain.
Friday
There's not much to say about today, which will see fine, chilly, and clear weather. Highs will reach about 60 degrees beneath sunny skies, with northerly winds at about 10 mph. Tonight will be the coldest of the year so far, with lows dropping to around 40 degrees in Houston, and the mid- to upper-30s for inland areas.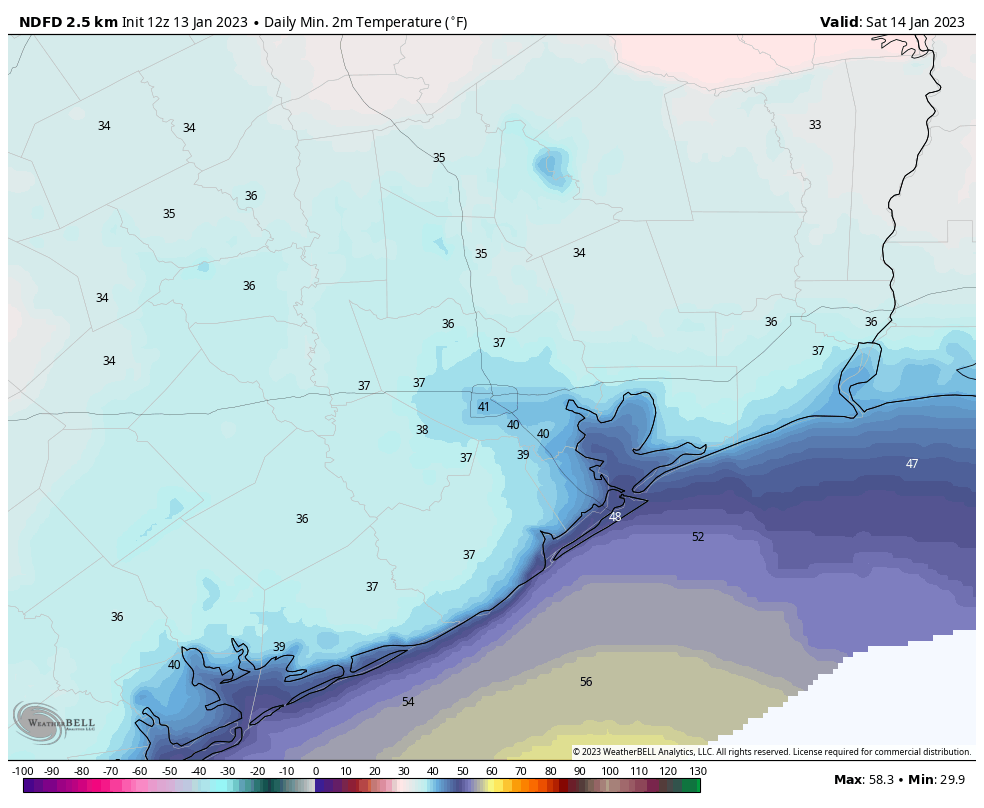 Saturday
The day will start chilly, but with sunshine we should see highs climbing into the low- to mid-60s. Winds will start to shift from northeast, to east, to southeast throughout the day, and this will herald the return of warmer conditions for next week. A few clouds will start to trail inland with the onshore flow for Saturday night, and lows will likely only drop into the low 50s on Saturday night.
Sunday
This will be one of those classic transition days from a cooler to a warmer pattern, dominated by onshore winds. If you're running the Houston Marathon, well, the first hour or two should see temperatures in the upper 50s. But pretty quickly it's going to warm into the 60s on Sunday morning, with rising dewpoints, so evaporative cooling won't be particularly efficient. Highs on Sunday afternoon will reach the mid-70s, with partly sunny skies, and winds gusting from the south at up to about 20 or 25 mph. Lows Sunday night will only drop into the mid-60s.
MLK Day
There is perhaps a 30 percent chance of light rain on Monday, particularly during the morning hours. Hopefully this won't interfere with the parades, but it's possible both will see some sprinkles. But any accumulations should be slight. Otherwise we can expect a mostly cloudy day, with highs in the upper 70s and plenty of humidity.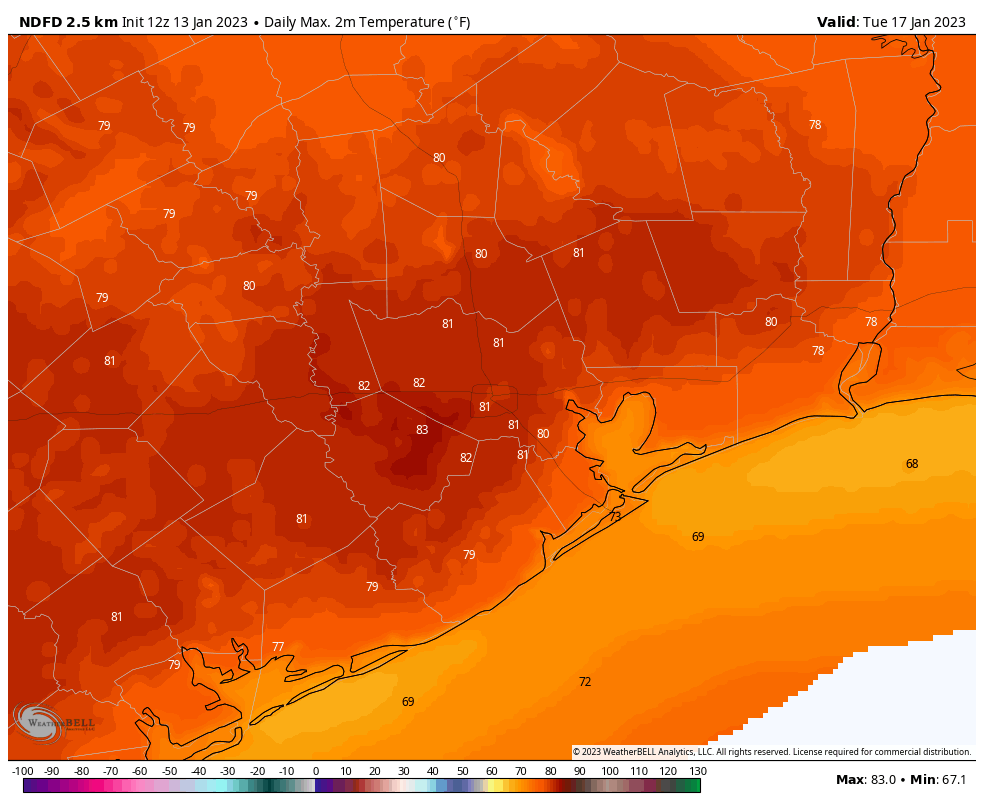 Tuesday onward
Tuesday looks to be a rather warm day, with partly sunny skies and highs perhaps reaching the lower 80s. Wednesday looks like it could see a decent amount of rainfall, perhaps half an inch give or take, which will herald the arrival of a weak front. Conditions for the rest of next week and weekend will depend on whether one or more reinforcing fronts make it through. I do think conditions by next weekend will be fairly chilly, but that could mean anything from lows in the 30s to about 50 degrees, so as always, we'll have to wait for the details to come into focus.
I hope everyone has a great weekend. We'll be back on Monday with some of those details, hopefully.