Houston's scorching stretch of weather continues. This is certainly not unusual for early July, but the nighttime temperatures certainly have been in a league of minimal, elite company. Eric discussed this yesterday afternoon. In a touch of good news, the temperature dropped below 80° around 4 AM for the first time since last Saturday.
Assuming our low is indeed 79° this morning, the last 6 days of low temperatures averaged 81.2°, it would be the warmest 6 day stretch of nighttimes in Houston's recorded history (going back to the late 1800s).

Even if it's "only" 78° this morning, it will tie 2011 at 81.0°. We'll see later. It's all statistics and knit picking at this point anyway: It has been uncomfortably hot, and more of the same is on the way.
TODAY THROUGH SUNDAY
Sunny, hot conditions will continue mostly unabated through the weekend. That being said, even yesterday we saw a handful of showers east of Houston in the late morning. As we go through the next few days, yes, there could be some showers around. Those will be extremely hit/miss, and you should probably consider yourself lucky if you end up under one. High temperatures will hit the mid 90s away from the coast without much trouble. Low temperatures will only bottom out around 80°, give or take a couple degrees, in most spots.
Traveling this weekend? Your travel forecast is below: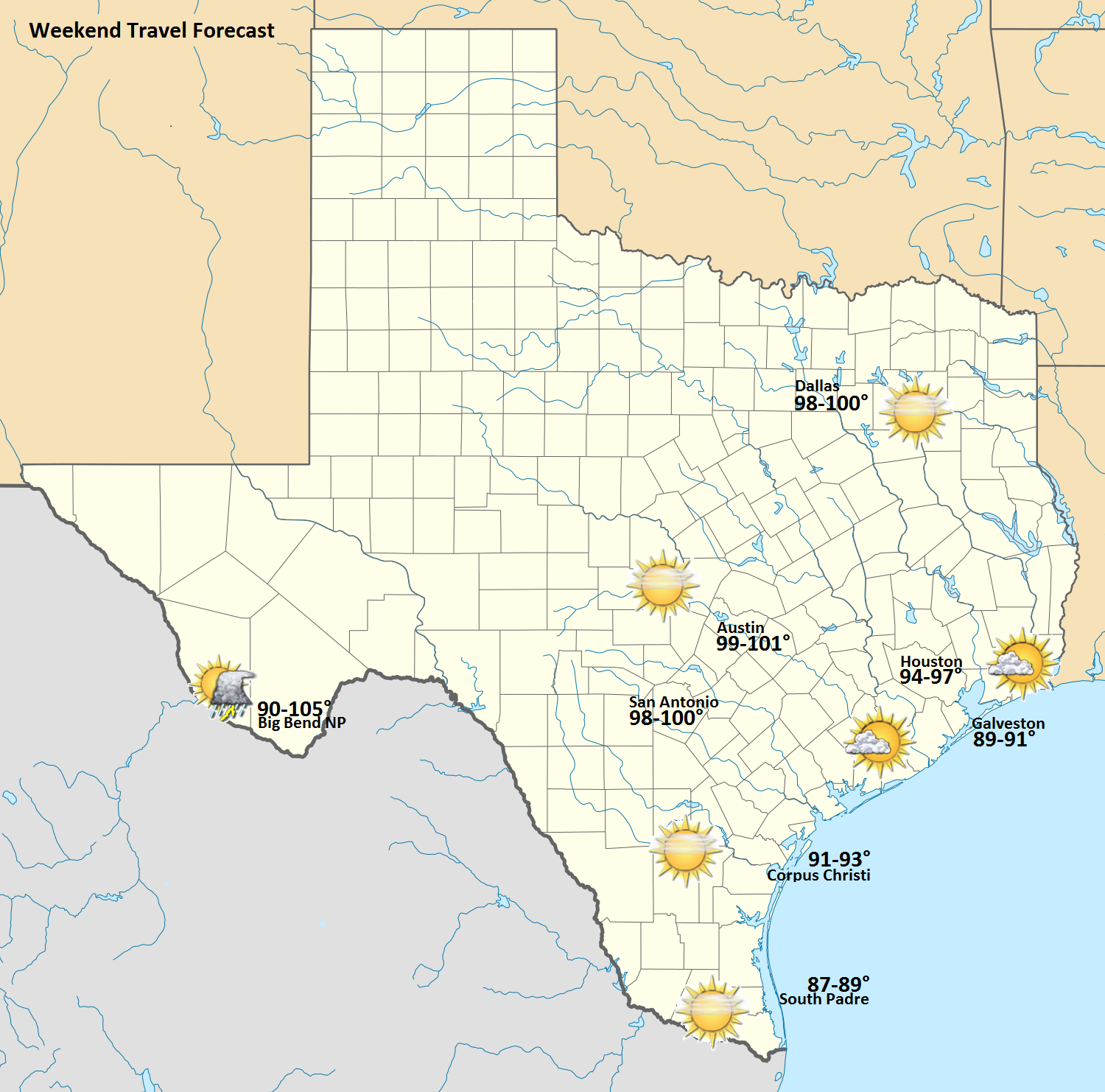 Again, just a note, the temperature at Big Bend is the range from high elevations (~90°) to lower elevations (~105°). All in all, it looks like a mostly trouble-free, hot weekend across most of Texas.
NEXT WEEK
The upper level ridge of high pressure that's been anchored over us since Fourth of July Weekend finally breaks down Sunday into Monday. This will do a couple things: First, it will "cool" the air mass (read: make it less hot). More importantly, it will open back up the sea breeze off the Gulf. Precipitable water (or PWAT, a good measure of how much moisture is available for thunderstorms) has been hanging near to slightly below normal for this time of year much of this week. As we go into next week, the GFS model (below) is showing PWATs bouncing from around 1.5-1.7″ up to around 2″ or so.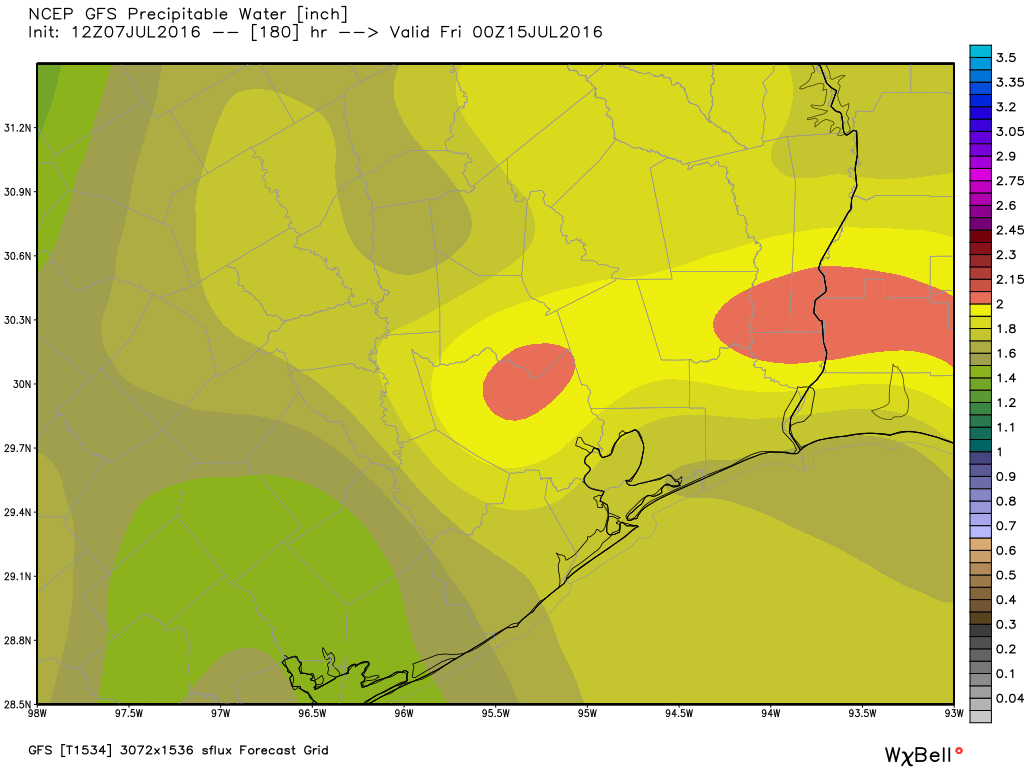 This means we'll have better chances of thunderstorms (nothing too crazy) each afternoon once again. I think this will be the case for much of next week. So instead of mid 90s+ and brutal humidity like we have this week, perhaps we'll see low to mid 90s most days, high humidity, but with at least a few cooling downpours around to help take the edge off on a couple days. We need the rain now, so this is welcome news.
Unfortunately, I do think the miserable pattern we've had this week is going to recycle and return sooner than we'd like. But we'll watch for that throughout next week.
WEEKEND WILD CARD – SAHARAN DUST
One item I wanted to make you aware of this weekend. A quick burst of moderate Saharan dust will make its way to Texas. What does this mean? Every summer, travelling the same way hurricanes do from Africa, across the Atlantic, into the Caribbean and Gulf, dust from the Sahara Desert migrates westward. When the weather pattern is right, some of that dust can make it into Texas or the Gulf States or elsewhere in the Eastern U.S.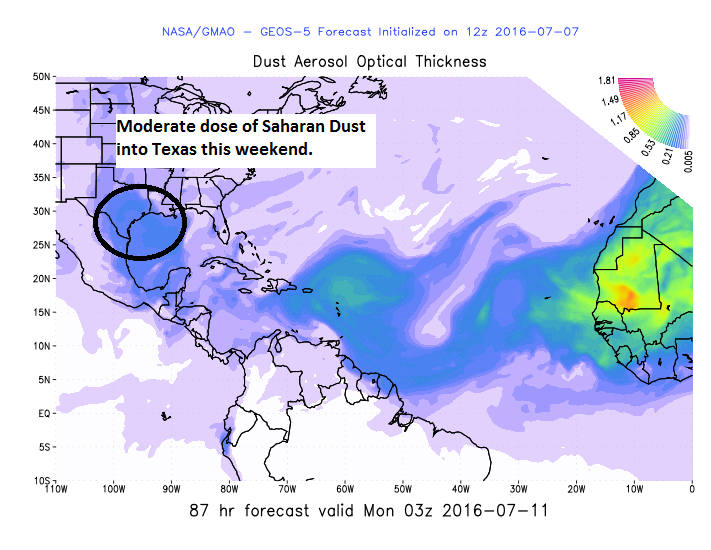 This weekend will see one of those times. You'll notice the extra dust in the atmosphere a couple ways. Often, added dust (or other particles and pollution) in the atmosphere can enhance the color of sunrises and sunsets. So if you're a photographer, be on guard this weekend. Second, you may notice during the day that the sky looks more of a faded blue or milky white or just that the air looks disgustingly acrid. Dust will do that. I'm not expecting a major outbreak of dust this weekend, but as we go through the next few days, you'll likely notice some optical changes in the atmosphere. Just another of our planet's wonders.
Want to track Saharan dust forecasts on your own? Give it a go with this NASA aerosol model. (NOTE: You'll need to right click the link, copy it, and paste it into a new tab or window)