Back to back mid-90s this weekend, though many of us saw showers on Saturday at least. This pattern will continue much of this week before we watch the tropics later in the week from the Gulf. Let's dive in.
Today through Wednesday
I don't see a ton of day to day differences between today, tomorrow, and Wednesday for most of the Houston region. Models are mostly not excited about rain chances, but I do think with daily sea breezes kicking up off the Gulf, we should see at least a smattering of a few showers in parts of the area each of the upcoming days. We'll characterize it as: Most of the time & area will be dry, but if you're lucky, you may see some showers once or twice through Wednesday.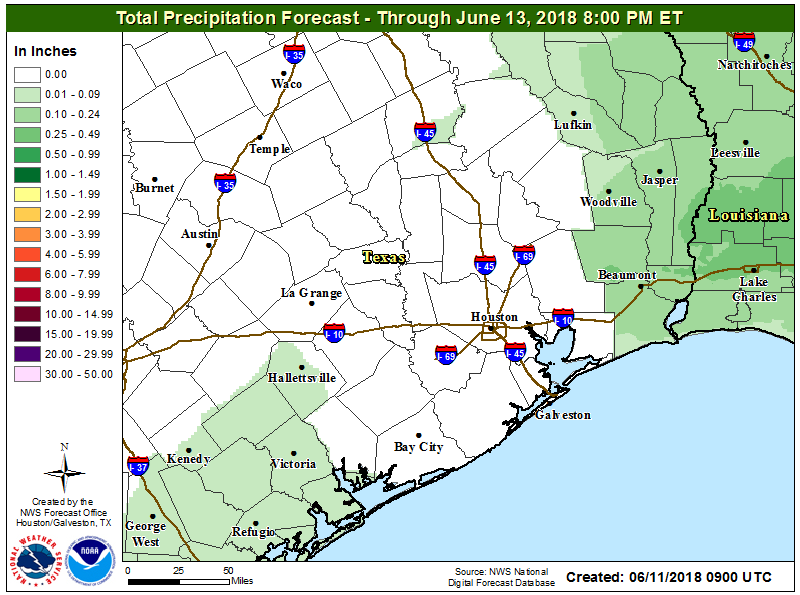 We have a fair bit of cloud cover around this morning, so we'll call it partly sunny today and a mix of sun and clouds tomorrow and Wednesday. Temperatures will be pretty steady. Expect average high temperatures in the mid-90s (93-96 on average) with low temperatures in the mid to upper 70s. Basically, what's normal for mid- to late-July.
Thursday & Friday
The forecast beginning Thursday gets a little muddier because of the possible tropical wave in the Gulf (which I discuss in more detail below). But, in general, expect an uptick in atmospheric moisture Thursday afternoon, with a slightly better chance of showers. That continues into Friday. Again, this is nothing too well organized, but rather scattered showers or a chance of storms each afternoon, perhaps at a greater coverage than Monday through Wednesday. Temperatures may back down a couple degrees here with higher rain chances, so we'll call it low-90s.

Tropics & weekend
You're probably here for the tropics update. So right off the bat here, this is what we can tell you:
A tropical wave will likely enter the Gulf this week.
As of Monday morning, the National Hurricane Center does not anticipate tropical development over the next 5 days and neither do we.
The steering pattern in the Gulf favors whatever it is to come west or northwest toward Texas or Mexico.
The upper level pattern is murky in terms of whether or not it will have a healthy environment to develop in (we can still get tropical waves in Texas without organized development and often do in summer).
Plenty of options from hot & dry weather, with the tropical wave going into Mexico to a somewhat organized tropical storm (no reliable weather model shows any risk for a hurricane right now) are on the table for the weekend.
Right now, we will just call the weekend unsettled with increased rain chances, especially Sunday.
This morning, the disturbance we'll be watching is located in the western Caribbean.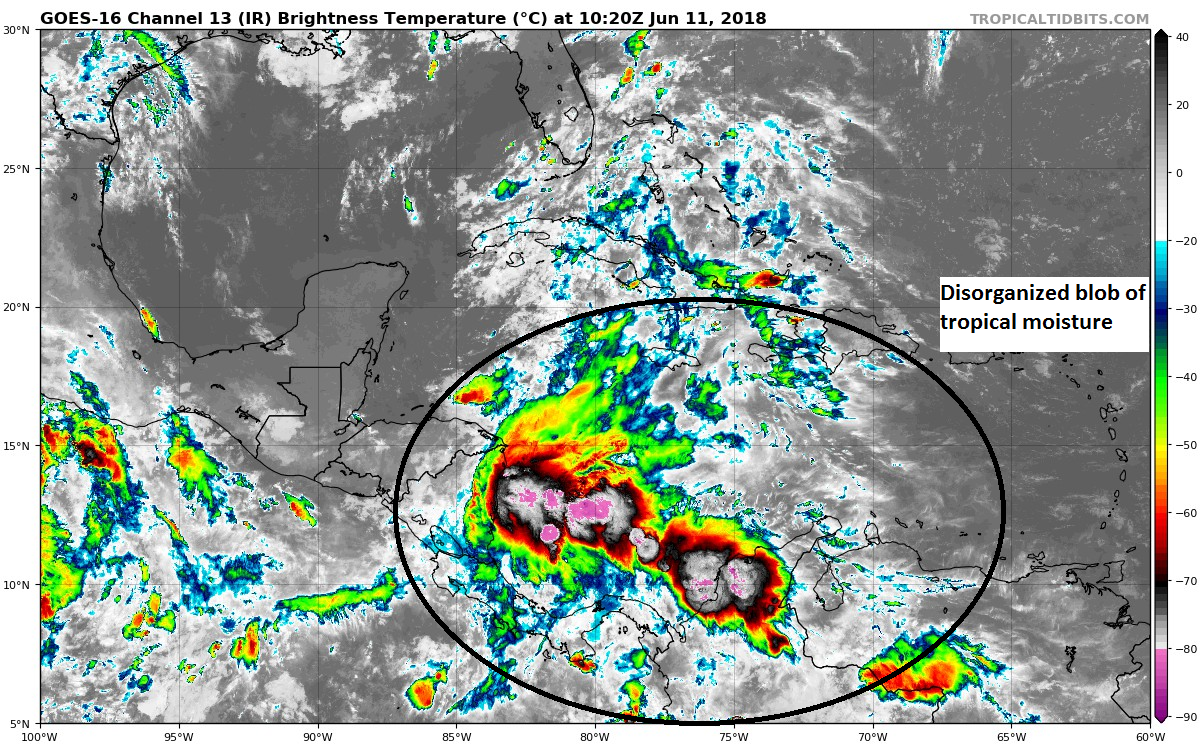 It's noisy, but it's absolutely nothing organized yet, and if it were to organize, it would wait until it arrives in the Gulf later this week.
So, I have one thing to make clear which requires going into the weeds a bit, but I think it's important for you, as a reader, to understand now that so much of this model data is at your fingertips: This isn't a GFS model vs. Euro model fight.
Yes, the GFS operational model has shown a significant storm on several runs since late last week, tracking to anywhere between Louisiana and Mexico. And yes, it capitulated to a much weaker idea overnight, though it still shows tropical moisture (an "open wave") heading toward Texas.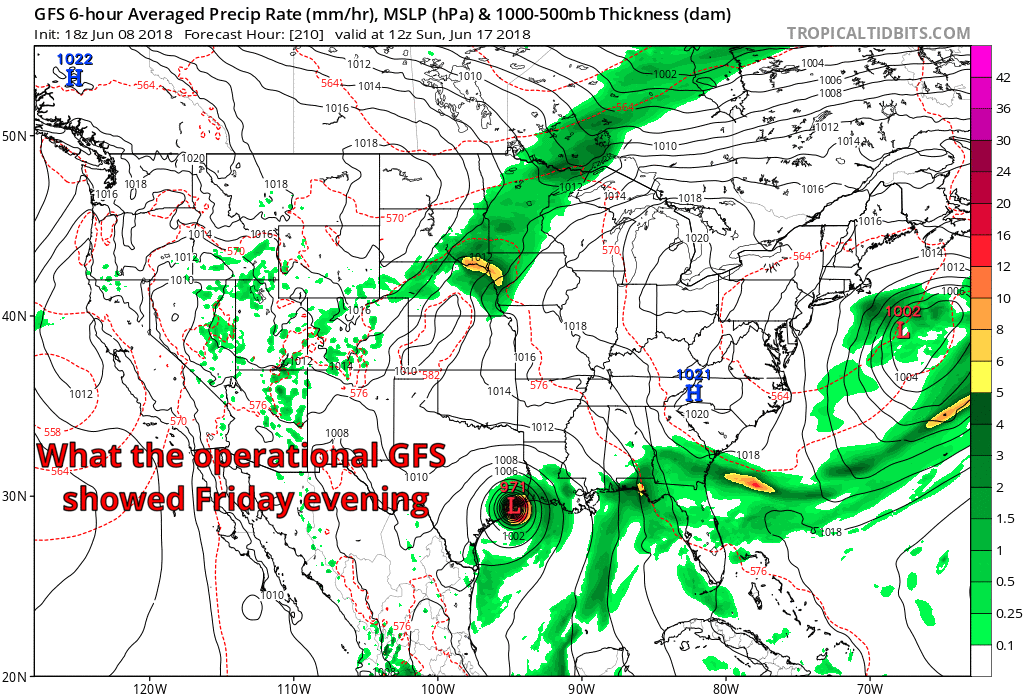 The Euro operational model, since early last week has shown mostly an open tropical wave tracking into deep South Texas or Mexico. I talked a little bit about their biases in my Friday night post, but in a nutshell: The GFS tends to overdo development this time of year and in this pattern. The Euro tends to underdo it. These biases are pretty well known, and that was my motivation for talking down the GFS hard on Friday night. These operational models are all prone to a lot of noise and run to run variation with their specific output making them essentially useless for forecasting for a specific point like Houston 5-7 days out. Yes, you can say there *might* be something, but that's all you can say with any confidence. It may look absolutely nothing (like, nothing at all) like what is shown on that one particular run you see. It's vitally important that if you're going to look at this output that you know this.
When looking at ensemble forecasts, like most meteorologists should, where the models are run multiple times with some minor tweaks each time, you see the same pattern: The GFS model has had lots of enthusiasm for this wave to develop, while the Euro has almost no enthusiasm. So it's not a GFS vs. Euro thing. Both the GFS and Euro have biases and flaws, but we know a lot about them so we can use them to our advantage as forecasters.
I didn't want to go too into the weeds here, but since all of this is "out there" in the public domain today, a challenge we never used to have in weather communication, I think you should know what some of these things mean.
So once the tropical wave ends up in the Gulf, what happens to it?
The steering flow would likely transport any tropical wave, disturbance, or storm west or northwest toward the coasts of Texas or Mexico.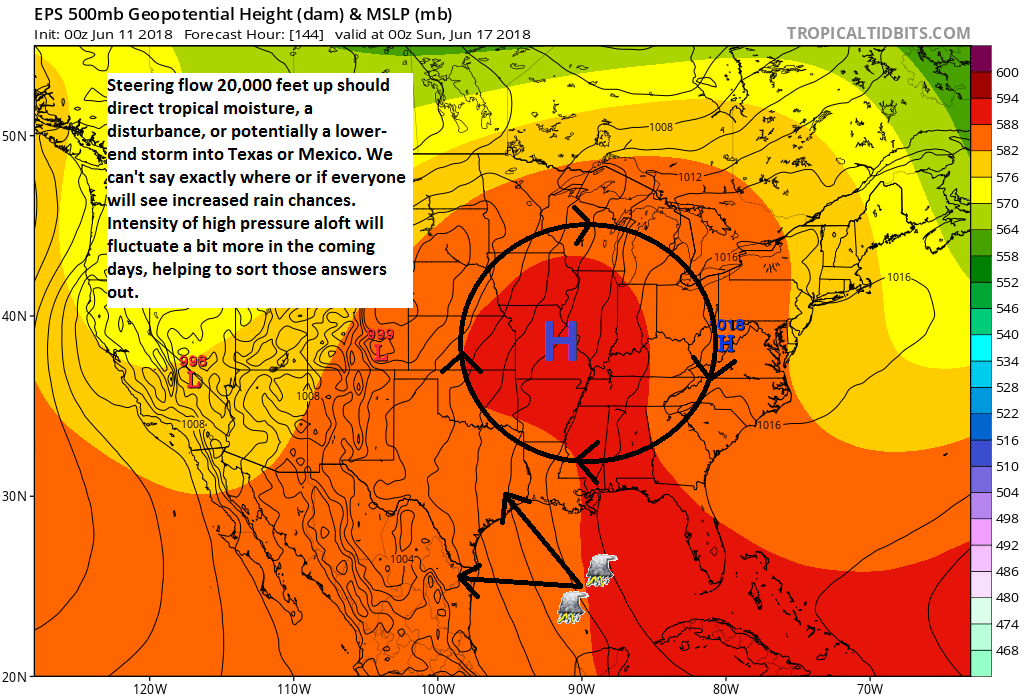 What will impact the exact final course? For one, how strong will high pressure building in from the Atlantic be? And how strong will the high over the Ohio Valley be. If they're both stronger, that increases the odds that our tropical disturbance will end up in Mexico. If they're weaker or not quite as far south and west building, it may allow the system to come a bit further north. This is something we'll watch this week to try and fine tune thunderstorm chances this weekend.
How strong will it be? Well, we don't know for sure. Intensity forecasting is difficult, especially given that no organized disturbance has even really formed yet. But, one could surmise that it probably won't be terribly strong. We have to watch impacts of land (Mexico, the Yucatan specifically), as sometimes models can misplace where the disturbance will end up this far in advance. We will also watch impacts from Hurricane Bud in the Pacific. Depending on how strong/large that is, we could have stronger wind shear than anticipated in the Gulf. Strong wind shear creates a hostile environment for a tropical disturbance.
So there's a lot of "buts" and "what ifs," and unfortunately we just need to accept that there's a dose of uncertainty here. I'm trying to objectively analyze weather model data, not hug a specific model, and what I can gather tells me this isn't clear cut at this time. But, I don't think we need to stress over what I deemed the "scare-icane" forecasts on Friday that some models have produced. Truthfully, as of right now I see the chance that we could get beneficial rains, ill-timed on Father's Day weekend, of course. But again, even that isn't a lock right now, and it's entirely possible that the bulk of the moisture ends up south of Houston toward Corpus Christi or Brownsville. We'll watch that for you this week.
As always, however, it's a great time to remind everyone that it's prudent to prepare for hurricane season, storm in the forecast or not. We have evacuation zone and route maps here (know where you reside on these maps). The Houston NWS office published a fantastic preparedness guide with everything you could ask for to be ready for the season. And remember your pets. The tropics are a part of life in Texas, so preparedness is critical.