Averaging the temperature recorded in Houston (at Bush Airport) from May 1 through yesterday would give us the hottest front 19 days of May on record back to the 1890s. It's probably not terribly surprising. We will begin to see things change this weekend, however, and it can't come soon enough.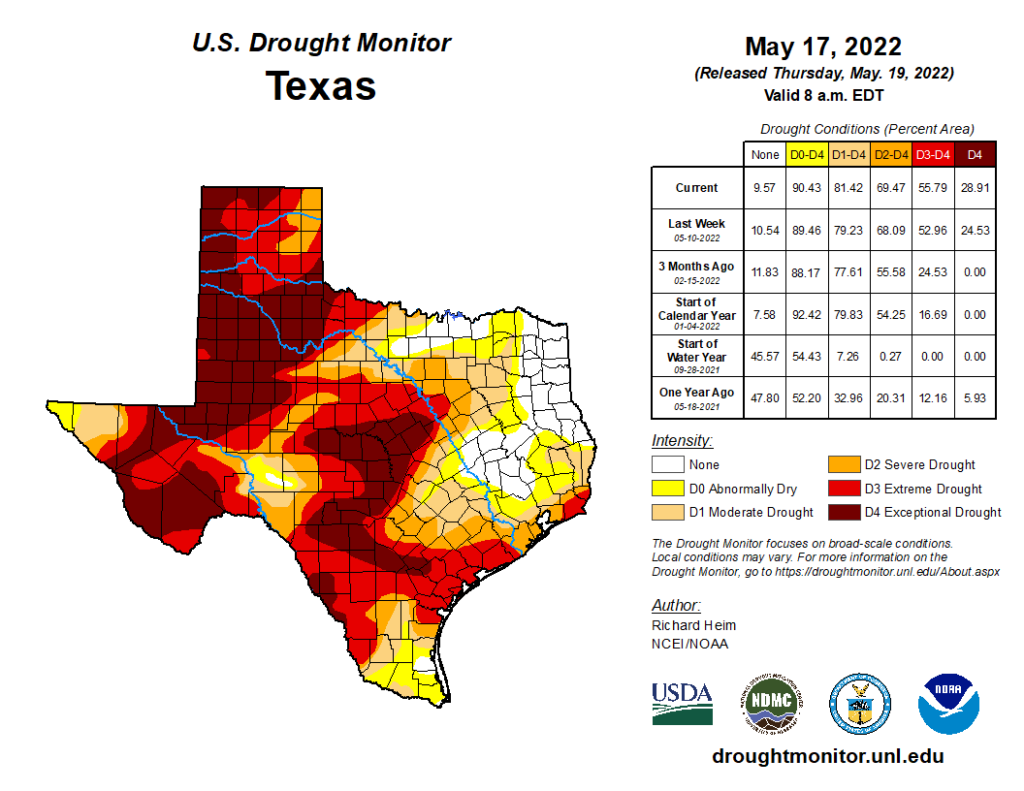 The drought situation has not changed much in the Houston area since last week. We still see extreme drought creeping in across Wharton, Matagorda, and Brazoria Counties. It's really the entire state of Texas that needs some help right now. Almost 30 percent of the state is classified as being in "exceptional" drought, the most coverage of that classification since early 2012, as we were coming out of the 2011 drought.
Our chance for help both locally and statewide is about to kick into gear. But it's a bit of a tenuous story. I've been watching this wet pattern closely, and we started to see the European ensemble model backpedal a bit yesterday, taking us from about 2″ above normal the next 10 days or so down to 1″ above normal. While that may not sound like a huge change, this will go a long way toward relaxing drought, and any cutting back on that would not be great news. So, fingers crossed that the next week or so performs.
Today
The weather remains on autopilot for one more day: Sun, clouds, high humidity, and temperatures in the 90s. Winds will be up a bit today compared to recent days, with some 15 to 25 mph gusts possible. Perhaps that will help make it a bit less painful.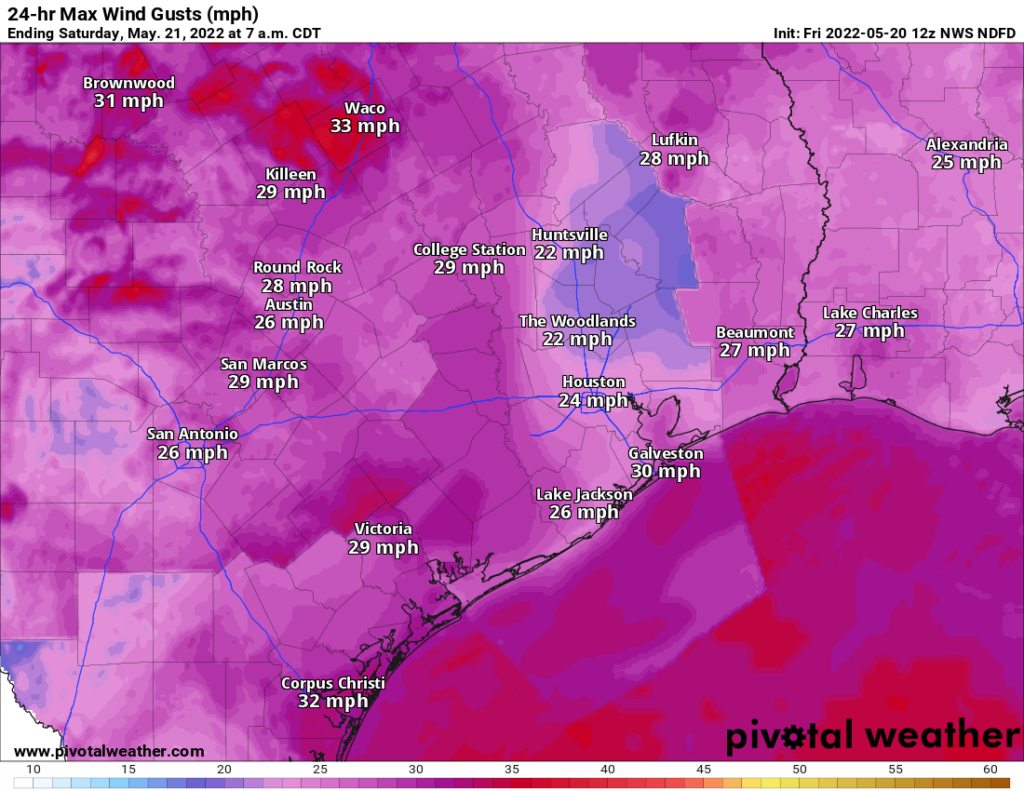 Most of us should stay dry, but perhaps a stray shower or storm could impact areas west of Houston later this afternoon.
Saturday
We should not see any significant weather changes tomorrow, but we may notice a few additional clouds. It should not be much cooler. In fact, with a cold front moving into Texas on Saturday but coming up short of Houston, that may actually allow for a little additional onshore flow or "compressional heating" ahead of the front, which could allow us to squeeze an extra degree or two out of the air tomorrow. Shower chances look minimal during the daylight hours right now. There may be a slightly better chance at storms tomorrow night, especially north of I-10.
Sunday
The big changes should really kick in on Sunday. The front will likely come up just short of Houston, but it will be close enough to the area to allow for numerous showers and storms to develop through the day on Sunday. Timing exactly where and when these will hit your backyard is impossible to do right now, but we believe most areas will see at least some rain at least once or twice on Sunday. And with a very, very humid air mass in place, any rain that does fall could be heavy, so keep alert for some localized street flooding if you'll be out and about.
With rain and clouds, look for upper-80s or low-90s Sunday at best.
Monday & Tuesday
Weather modeling seems to agree that Monday may be a bit of a "down" day in terms of rain chances. So we may just see a few showers around with a mix of clouds and some sun. Look for highs in the upper-80s.
Tuesday should see another disturbance or two swing into the area, and that means that rain chances will probably trend up for that day. Look for scattered to numerous showers and storms with highs in the mid-80s. Again, any rain could be heavy.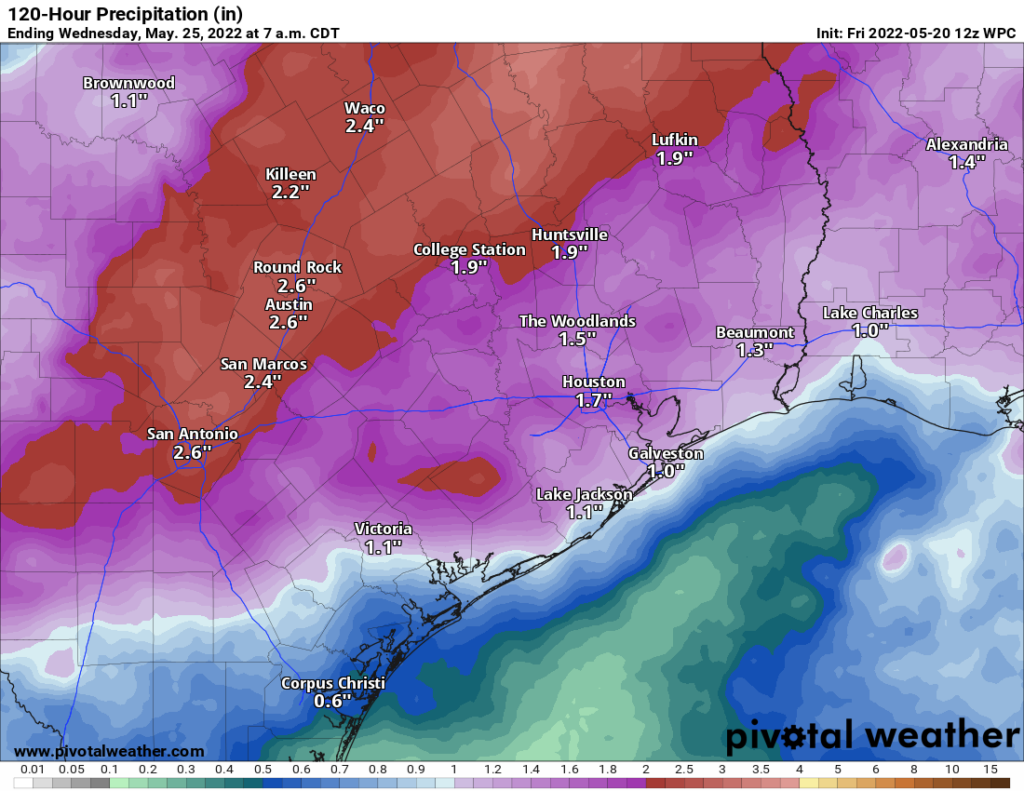 How much rain through Wednesday morning? There will be a very wide variability with some places seeing an inch or less and others likely seeing 2 or 3 inches or even more. Consider this map an average, but you can clearly see we're expecting a good bit of beneficial rain through Tuesday.
One other quick note: An early season Saharan dust cloud will work into our area on Tuesday into Wednesday, so you may see a hazier, dirtier looking sky in between storms. This isn't uncommon in early summer, but it is a bit early for a dust event of this magnitude based on my experience. I would not read into it meaning anything in particular, however, as I don't believe there's any established correlation between early season dust and the upcoming hurricane season.
Later next week
Questions begin to arise later next week as to whether we can keep this wetter pattern going with daily shower and storm chances, or if things dial back a bit. Based on the latest data, I would expect a healthy chance of rain again on Wednesday before storm chances diminish a good bit on Thursday and Friday.
Memorial Weekend looks pretty good right now. Lower-end rain chances may build back in on Sunday or Monday, but as of now, it's nothing too serious. We'll keep tabs on it, but at this point, I would say at least 60 percent of the weekend looks great. It will be hot and humid, of course, with highs likely around 90 or a bit hotter. More next week!