Good morning. Our annual fundraiser ends this weekend—so this is the last time we'll be bringing it up. You can help keep the site running smoothly by donating, purchasing a t-shirt, or an umbrella. (I love seeing these around town!) Every year Matt and I are deeply humbled by the tremendous support of our readers. Thank you very, very much.
Friday
If you're thinking it feels sticky this morning, you've got that right. Lows this morning—generally in the low 70s—are about 5 degrees warmer than typical high temperatures for late November. Overall, conditions for Friday will continue a warming trend we saw on Thanksgiving, with highs near 80 degrees despite the thick cloud cover. Spotty, very light showers will be possible. Low temperatures Friday night will again struggle to fall below 70.
Saturday
More of the same. High temperatures on Saturday should again reach about 80 degrees, with sticky humidity levels and mostly cloudy skies. Very light showers will again be possible, with a slight chance of thunderstorms Saturday evening and night as a cold front approaches the region. The (broken?) line of showers should push through the region between roughly 6pm and midnight on Saturday. The best dynamics for storms should remain well to the north and northeast of the metro area, so I'm anticipating mostly light rain for Houston itself. Drier and cooler air follows later Saturday night.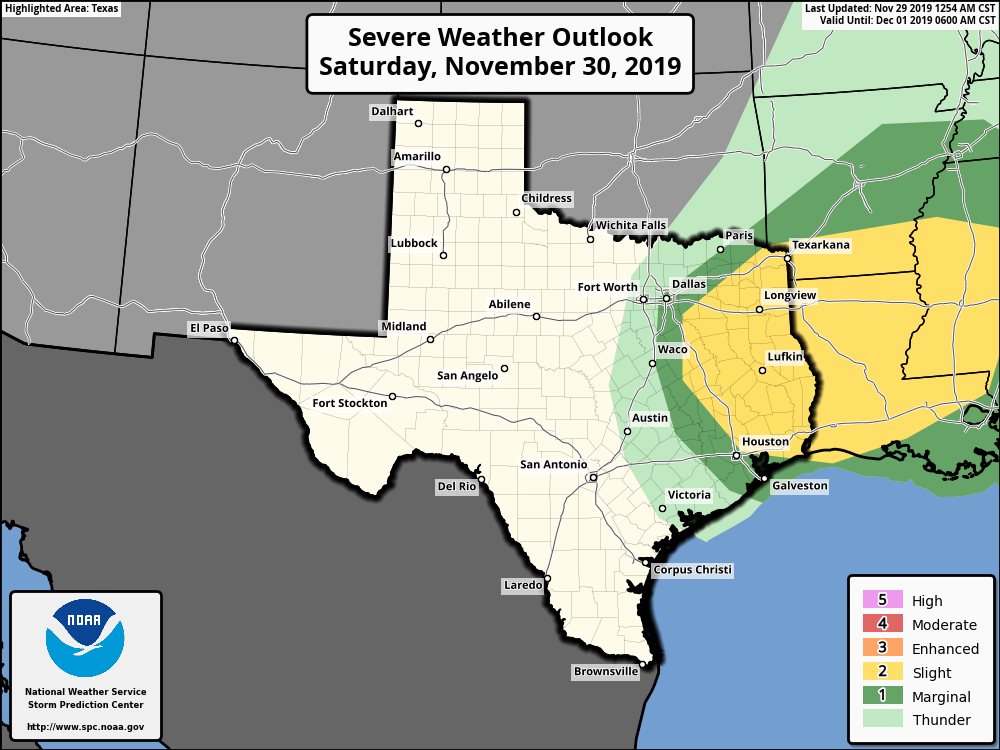 Sunday
This should be a splendid day in the wake of the front, with morning lows in the 50s, and highs in the 60s under sunny skies. Winds should not be too bad, perhaps only 5 to 10mph out of the north.
Next week
Clear conditions should hold on through Wednesday or so, with highs rising from the 60s to the low 70s. Overnight temperatures will bottom out on Sunday and Monday nights, with lows generally in the 40s for Houston.
Overall, there's not strong trend heading into next weekend, but we do not foresee any kind of heavy rain or storms—nor a return to these really sticky conditions the region is experiencing at present.
Have a great holiday weekend and we'll see you on Monday.