Seasonal weather returns for today in the wake of an overnight cold front, but this effect will be short lived. Said front will peter out over the Gulf waters today, allowing the flow to reverse, and set up a warming trend on Thursday. This will continue until a stronger front arrives on Saturday to clear skies out for the second half of the weekend. Matt and I want to take this opportunity to wish you and your families a very Happy Thanksgiving.
Wednesday
Today should see partly to mostly sunny skies through the first part of the day, with breezy northerly winds gusting up to about 20mph—typical for late-fall cold front. Highs will get into the 60s, with lows tonight falling into the 50s for most of Houston as clouds build over the area.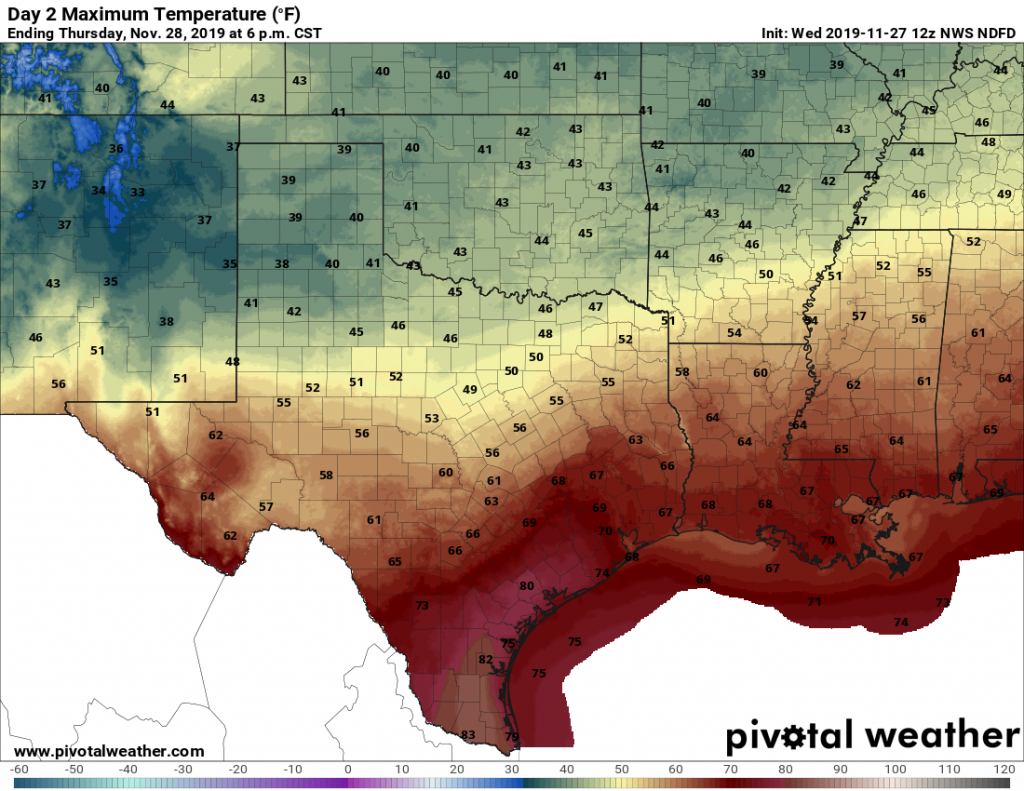 Thanksgiving
Very quickly, moisture levels above the surface will begin to rise on Wednesday night, and this will lead to mostly cloudy skies on Thursday, making Thanksgiving a fairly gloomy affair in that regard. The good news is that rain chances will be fairly low, likely 20 percent or less, and where showers do occur should be light and brief. Clouds should limit highs on Thanksgiving to around 70 degrees. Lows Thursday night will fall into the mid-60s.
Friday
As of now, Friday looks to bring more of the same, with a stronger southerly flow helping to nudge temperatures into the mid-70s, with mostly cloudy skies and the potential for some light rain showers.

Saturday
This will be another warm, gray day with highs in the mid- to upper-70s ahead of a stronger cold front. Right now there's some question about the potential for thunderstorms ahead of, or along the front, but none of the models are particularly excited about rainfall accumulations—expect them to be on the order of one-half inch of rain, or less. The front's timing remains somewhat up in the air, but I'd guess it comes through between the afternoon on Saturday and sunrise on Sunday.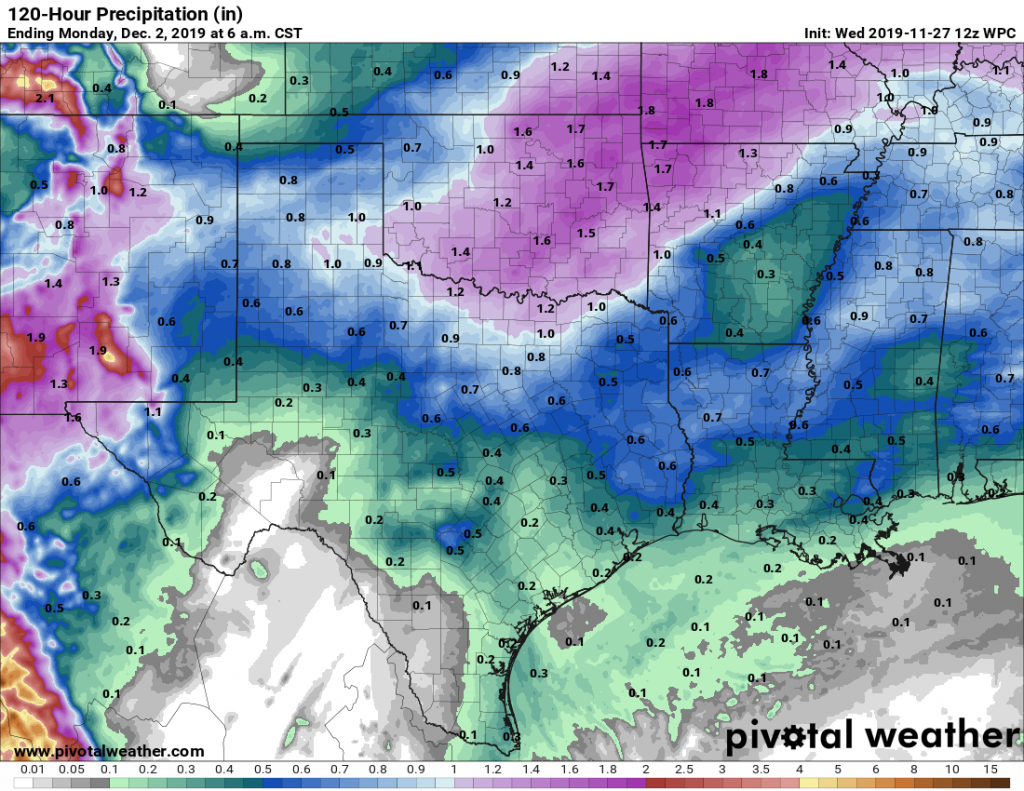 Sunday
This day still looks clear and cool, with sunny skies and highs in the 60s.
Next week
Lows on Sunday and Monday night should get down into the low 40s for most of Houston—colder inland and warmer near the coast—before a warming trend on Tuesday. Highs for the most part next week should be in the 60s and 70s, but we don't have a whole lot of confidence from Wednesday on. There is no signal for very cold or very warm weather at this point, so dare we hope for pleasant weather in Houston? That would be something to give thanks for.
Fundraiser
There remains time to donate funds to the site, or buy a t-shirt, sweatshirt or umbrella to support our efforts. Matt and I have some cool plans for next year, and your donations will help make that happen, keep the server hopping, and more.