There will, frankly, be little change in Houston's weather during the days ahead until a weak front arrives Sunday night. And even that will provide only a relatively short-lived reprieve from the more humid air we've been experiencing. So if you enjoy mild weather, you're in luck. The other thing to note that there is not significant rainfall in the forecast for at least the next 10 days. This bodes well for the Houston Livestock Show and Rodeo, along with the pre-rodeo festivities.
Thursday
With lighter winds, foggy conditions have returned this morning as temperatures and dewpoints are both about 70 degrees. This fog will dissipate this morning as temperatures climb. We should reach about 80 degrees beneath mostly cloudy skies and light southerly winds. Low temperatures tonight will struggle to drop below 70 degrees.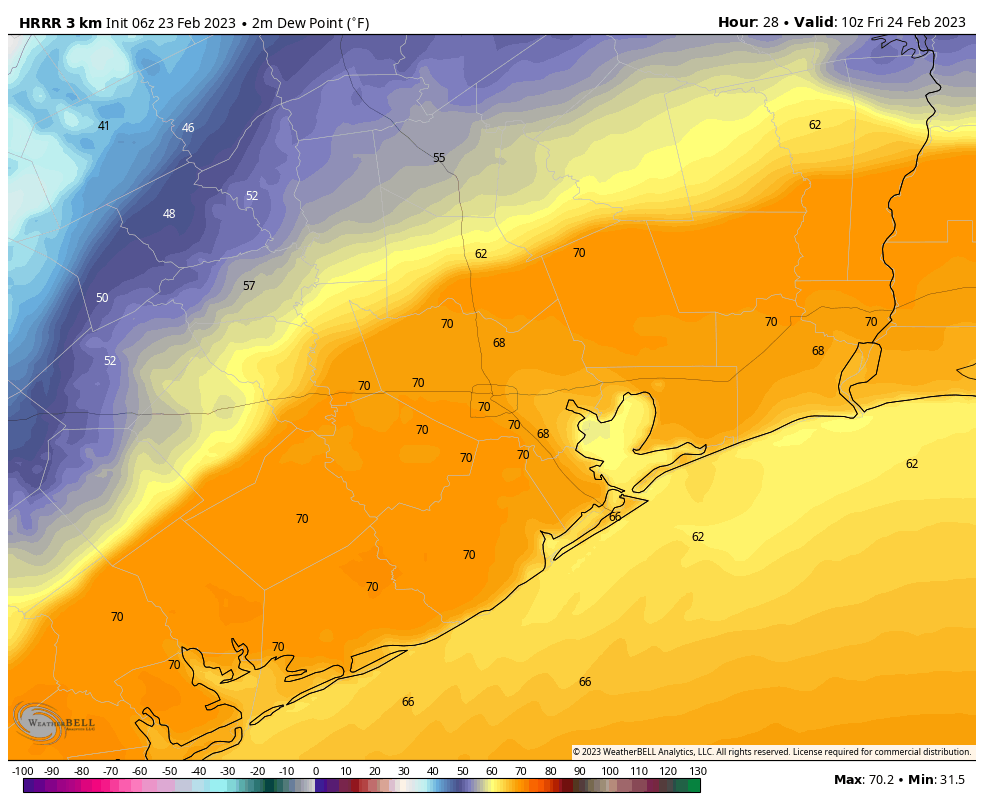 Friday
A weak front will approach Houston on Thursday night, and stall somewhere to the west and north of the region. Areas inland of this boundary—approximated in the dewpoint map above—will see about 12 hours of moderately drier and cooler air. For most of the rest of us, Friday will be a lot of like Thursday, with cloudy skies, highs around 80 degrees, and lows of around 70 degrees.
Saturday
With high pressure holding sway, the weekend will be moderately warm and humid. For Saturday, we're looking at partly sunny skies and high temperatures in the low 80s. Lows Saturday night will fall to around 70 degrees in Houston. Rain chances are near zero.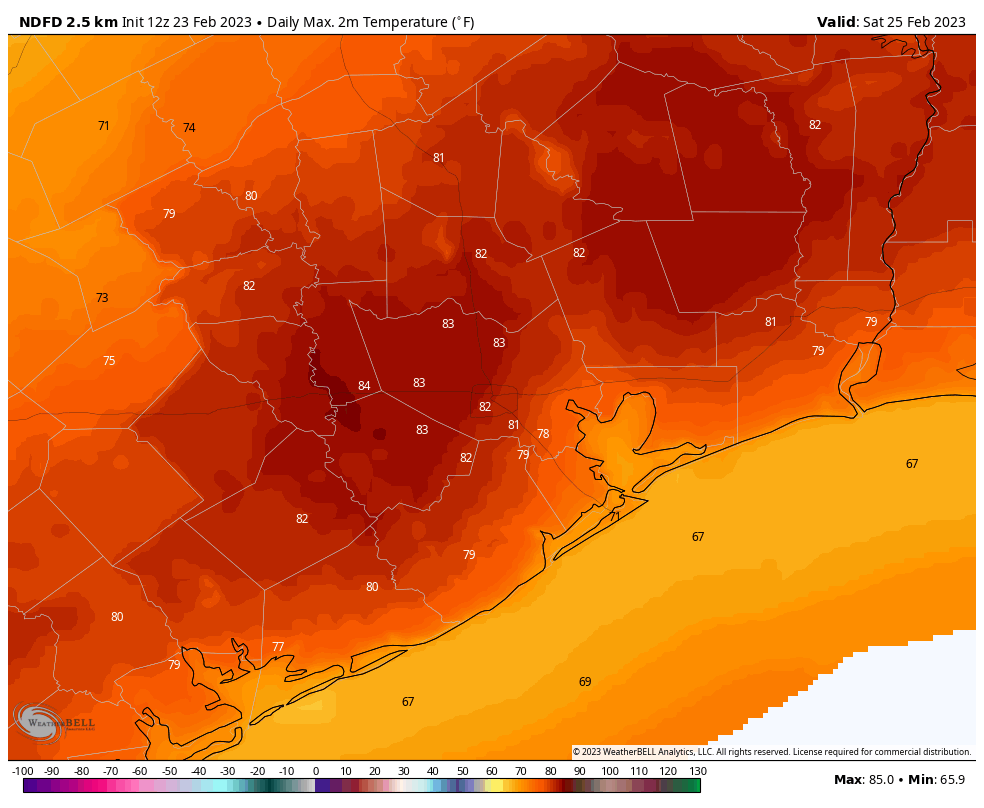 Sunday
We may see a bit more sunshine on Sunday, with highs again around 80 degrees. By Sunday night rain chances should rise to 30 or 40 percent as a front approaches, and pushes into the region on Monday morning. As a result overnight lows should drop into the low 60s for most of Houston. Any rain accumulations will be slight, on the order of hundredths of an inch, probably.
Next week
Monday and Tuesday should be moderately cooler, perhaps with highs in the upper 70s and drier air. Lows on both nights should drop into the 50s before a warmer pattern returns for the rest of the work week. Overall rain chances appear low through this period. By next weekend, however, the models are suggesting we'll see several days of cooler and drier weather. Not too cold mind you, but perhaps nighttime temperatures down to around 50 degrees. We'll see.