Good morning. Houston's chilly and gray weather will continue for several more days. For the most part the cold and wet conditions will be mostly a nuisance, but we do have some concerns about the potential for icing in far north and west parts of the Houston metro area. Some sunshine will finally return to the region on Friday, with mostly clear skies prevailing through the weekend. Soak it up!
Issue with email newsletter
Some readers have reported problems receiving our daily email newsletter, which delivers our posts directly to your inbox. This has been going on since Sunday, and I appreciate everyone who took the time to let us know about the issue. Rest assured, we're working to fix it, and I hope to have the service restored in a few days. In the meantime, you can always check the site after 7 am each morning for our daily post, download the Space City Weather app, or find us on our social media channels.
Tuesday
Coastal areas are seeing some patchy sea fog this morning, and this may persist over the seas until mid-morning. Lows have dropped into the upper 30s in Houston, and we're only going to warm into the mid-40s today beneath cloudy skies. North winds, gusting to 15 or 20 mph, will not help it feel any warmer. Light, scattered showers will be possible today and tonight, but any accumulations will be slight. Lows overnight will drop into the mid- to upper-30s in the Houston metro area.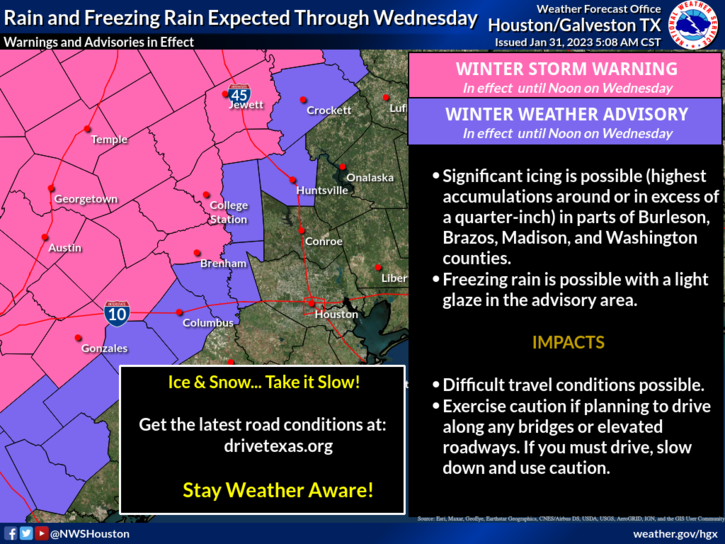 As you drive west and north of Houston, particularly past Katy, Waller, and Huntsville, icing may start to become a concern on elevated roads and bridges tonight. Those concerns will become more acute to the west of Columbus and northwest of College Station where conditions will be colder. A major winter icing event is presently unfolding in Central Texas, particularly along the I-35 corridor in places such as Austin and the Dallas-Fort Worth area. These conditions may persist through Wednesday night for Central Texas, and travel should be avoided if at all possible.
Wednesday
Highs on Wednesday may only reach about 40 degrees in Houston, with continued gray skies. Showers will start to become more numerous on Wednesday afternoon and overnight in the Houston region, but again I'm not expecting too much in the way of heavy rainfall. This is good because our soils are already pretty wet, and cold grounds do not absorb much moisture. Any rain that falls will run off, and a few low-lying streets may flood, but I don't anticipate serious disruptions from these mid-week showers. Lows on Wednesday night may actually be a few degrees warmer than Wednesday night, in the low 40s.
Thursday
Expect more gray skies and rain chances, but these should end later in the day as a cold front moves into the area and drives low pressure away. Overall accumulations for precipitation this week likely will be on the order of 0.25 to 1 inch, with a slight risk of 1 to 2 inches for areas north of Interstate 10. Highs Thursday will be somewhere in the mid-40s, with lows dropping to around 40 degrees Thursday night.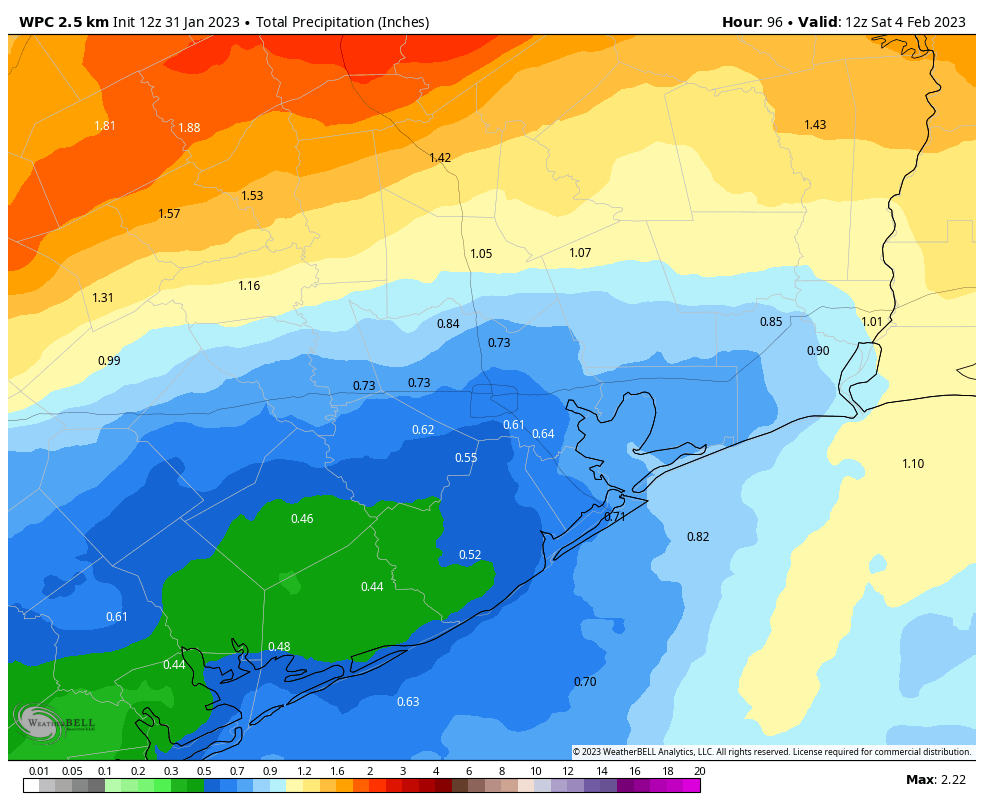 Friday
Some sunshine, finally. Skies should clear out on Friday morning, helping to push highs in the mid-50s. Lows Friday night will drop into the upper 30s in Houston, with a few inland areas possibly seeing a light freeze.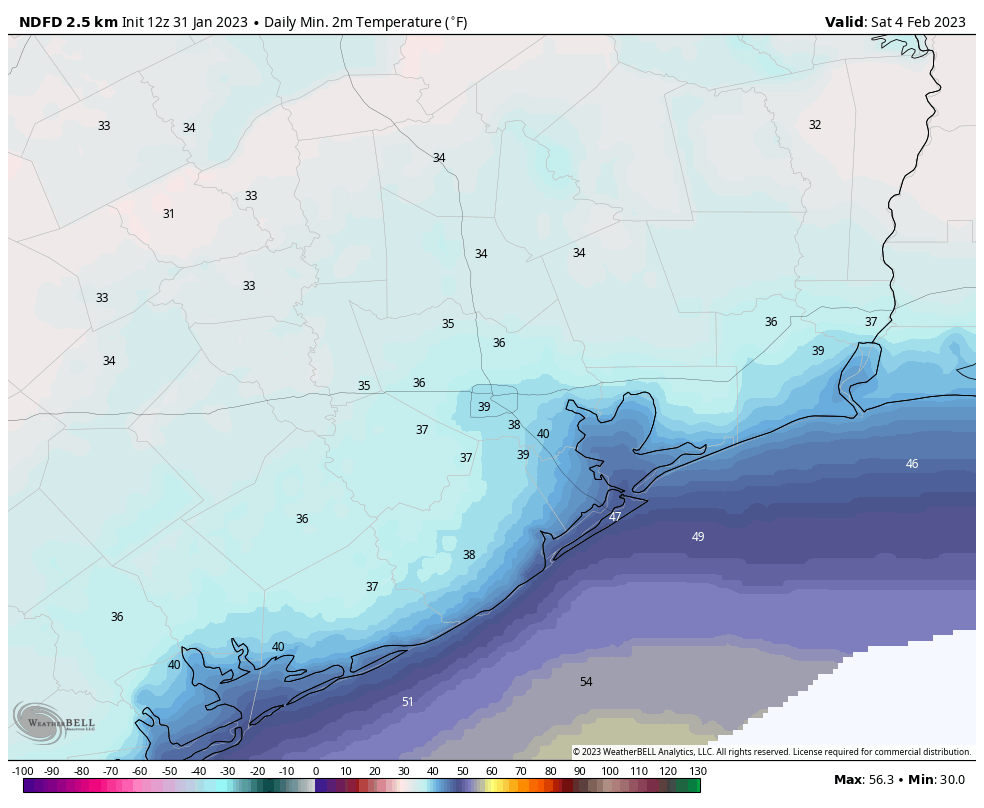 Saturday and Sunday
Both days should see partly to mostly sunny conditions, with highs Saturday of around 60 degrees, and perhaps the upper 60s on Sunday as the onshore flow gets going.
Next week
It looks like a warming trend will continue into about Tuesday, when some rain showers will be possible ahead of the next front. At this point, these rains look mostly light. We'll just have to wait and see.