All things considered, Tuesday was a really pleasant day. The Sun emerged during the afternoon hours, and high temperatures climbed to nearly 60 degrees. We'll remain relatively warm through Thursday afternoon, at which time a strong Arctic front will barrel into the Houston region and plunge temperatures well below freezing in the metro area. This will bring the region its coldest weather since February 2021, and calls for precautions for exposed pipes, tropical plants, and pets.
Wednesday
While we saw some sunshine on Tuesday, skies today will probably remain on the mostly cloudy side of things. This should limit high temperatures to the upper 50s. Winds will be light, out of the northeast. Lows tonight will only drop into the mid-40s as winds shift to come from the south and southeast. This will herald the beginning of a short-lived warming trend.
Thursday
Aside from the potential for some patchy fog, Thursday morning looks fine. Highs may briefly climb into the low 60s ahead of the front, which probably will push through Harris County between 2 and 4 pm ET. Some very light precipitation is possibly with the front, but it will not be enough to stick to roads, so inclement driving conditions are not anticipated. Temperatures will drop swiftly after the front's passage, with freezing conditions likely north and west of Houston by sunset, and temperatures dropping into the upper 20s by 8 to 10 pm. Winds will be very gusty, out of the north at up to 35 mph. This will make for extremely unpleasant conditions outside Thursday night and Friday morning, when apparent temperatures drop into the single digits.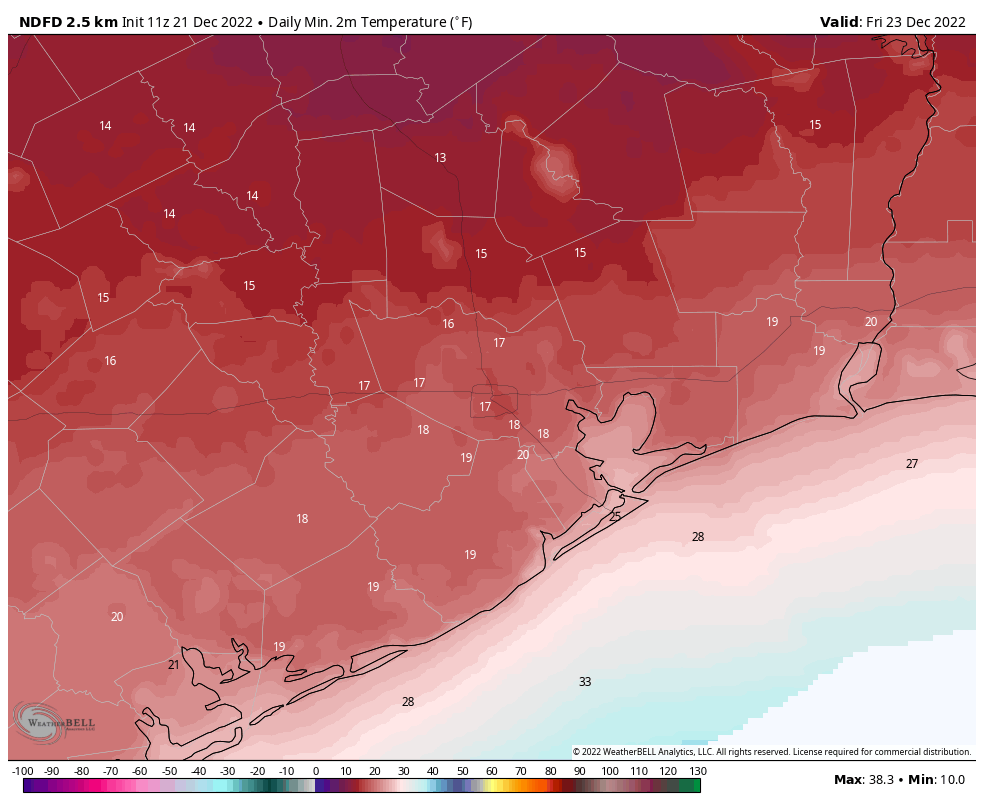 Friday
This will be the coldest morning of the year in Houston, Texas. But how cold? That's the question. We're confident in clear skies, which are ideal for radiational cooling. However, mixing from the gusty winds will complicate matters. That said, I think lows will bottom out from 15 to 20 degrees north of Interstate 10, from 17 to 23 degrees south of Interstate 10 in Harris and Fort Bend counties, and from 20 to 25 degrees in coastal counties, including Galveston. Friday will be sunny, with still very cold with a stiff northerly breeze. Highs likely will briefly climb above freezing during the daytime for most of the region, but we can expect another very cold night, with lows only 2 to 5 degrees warmer than Thursday night.
Saturday
Christmas Eve looks sunny, with high temperatures of around 40 degrees. It will be another cold night, however, with lows dropping into the mid-20s.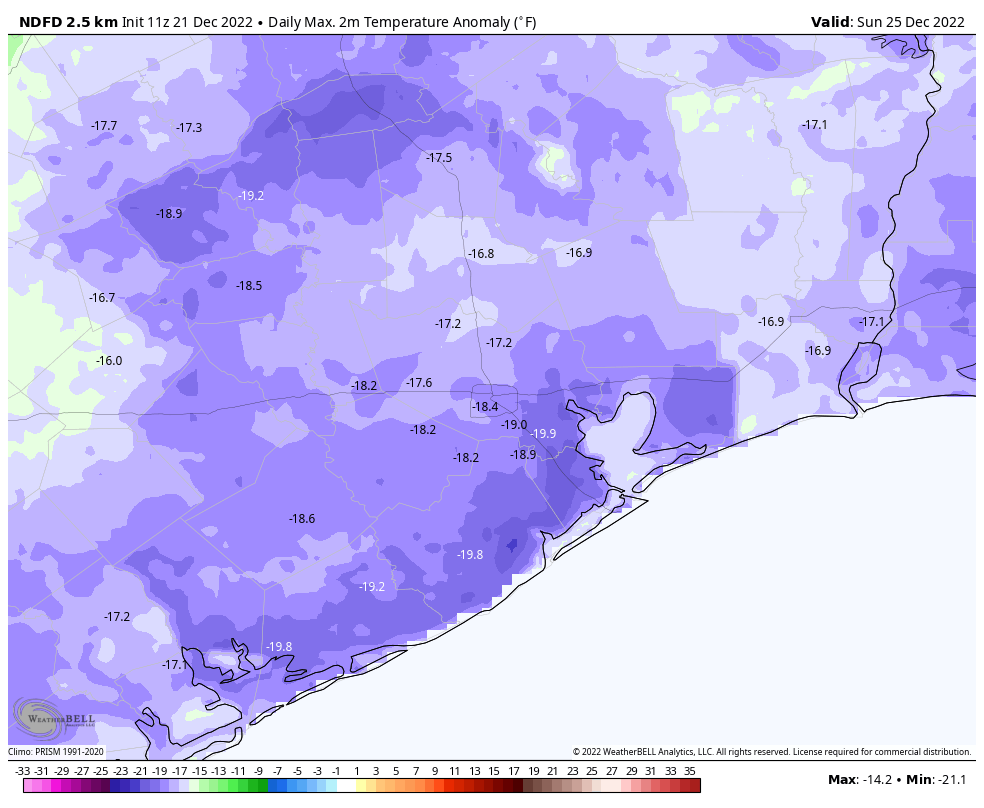 Sunday
Christmas Day should be mostly sunny, with highs in the mid-40s. Dare I say that might feel almost balmy? OK, probably not. A light freeze is possible on Sunday night for areas away from the coast.
Next week
Monday will see an ongoing warming trend, but after that there is some question about whether a reinforcing cold front moves into the area. If it does, this could keep the region on the cooler side of things—nights in the 30s?—through about Wednesday. By the second half of next week I expect us to see highs in the 70s. A weak front may arrive ahead of New Year's Eve, bringing some rain, but that's at the edge of our ability to predict weather.