As a homeowner, I just want things that are supposed to work, to work. I'm not particularly handy, so when something breaks it always frustrates me. Even worse, if there's a plumbing problem, it can damage a home. Or if the AC breaks down in August, heaven help us all. Frankly, there's never a convenient time for a major system in your home to break down. In today's sponsored post from Reliant, we discuss one option to address this.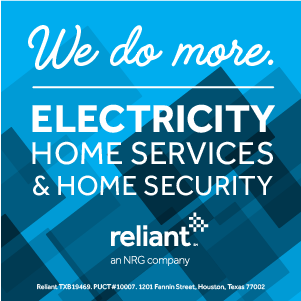 Reliant has created a package to help protect your home from potential AC, heater and plumbing issues. The idea behind the Reliant Home Maintenance Package is to alleviate the stress of the homeowner who relies on their major home systems to perform all year long.
For $249 a year, a homeowner can enjoy the benefits of a full plumbing inspection once a year, two seasonal air conditioner or heater tune-ups per year.
The details of each inspection are as follows:
Heating Tune-up (October – November)
Inspect and test the gas valve
Inspect and test the pilot light (manual or electronic)
Visually inspect the heat exchanger
Check flue for proper ventilation and clearance
Inspect and test the electrical disconnect
Check amperage readings on heat strips
Verify proper wiring size on heat strips
Inspect and test the electrical power switch
Inspect blower motor for proper ventilation
Check the evaporator drain line
Check the overflow pan drain line
Inspect all air filters
Inspect and test thermostat
Plumbing Inspection (January – February)
Check the water pressure
Visual inspection of faucets for leaks
Visual inspection of toilets and tanks for leaks
Check the drain speed in bathtubs and sinks
Visual inspection of shower pan
Inspect flexible hoses/water supply lines to: Toilets, sinks, washing machine, dishwasher, refrigerator, water heater
Drain and sewer line inspection (if accessible)
Water heater: Check temperature, inspect venting system, ccheck water and gas connection, inspect drain and pan piping
AC Tune-up (March – April)
Inspect condenser coil
Clean and clear debris
Inspect all electrical connections
Adjust the system for optimal cooling
Check for refrigerant and oil leaks
Check the expansion valve and coil temperatures
Check refrigerant levels
Check condensation drain
Run the cooling cycle
Inspect and test the thermostat
Inspect all air filters
Perform a wash-down of the condenser coil
Although such a service cannot fully guarantee there will be no unexpected problems with your home, it can often find problems before they happen. There is nothing worse than waking up in the middle of the night to rain showers falling onto your bed. Which has happened to me. When the water heater burst about a decade ago in the attic.