POSTED AT 2:25 PM CT TUESDAY: Ok, everybody. We understand. You're sick of reading about Hurricane Laura, and trust us, we're tired of writing about it. (We first mentioned the possibility of Marco and Laura way back on August 16, which seems like several lifetimes ago). So this afternoon, if I can offer one piece of good news, it's this: Forecast models are starting to cluster a bit more, so confidence in the track is increasing. By tomorrow morning we should probably have it pretty well nailed down. And then by Thursday afternoon it should be all over as Laura pulls away. So in two days we'll either be starting the clean-up process, or looking to help our friends to the east, in the Beaumont area and Southwestern Louisiana. The unnerving uncertainty, at least, will end.
Track
We've had a new suite of model guidance come in today, and the big news is that the operational run of the European model has shifted east a bit, bringing it closer in line with the GFS global model, as well as the National Hurricane Center forecast. This is the kind of clustering we would hope to see at this point to increase confidence in a track forecast. Under this scenario, Laura would make landfall near the Texas-Louisiana border, or 10-20 miles west of there, late Wednesday or early Thursday. Along this track, Houston would very narrowly escape the worst of Laura's winds, waves, and rains—these would impact Beaumont, Port Arthur, and Southwestern Louisiana. This means the most likely scenario is now an event similar to Hurricane Rita, in 2005.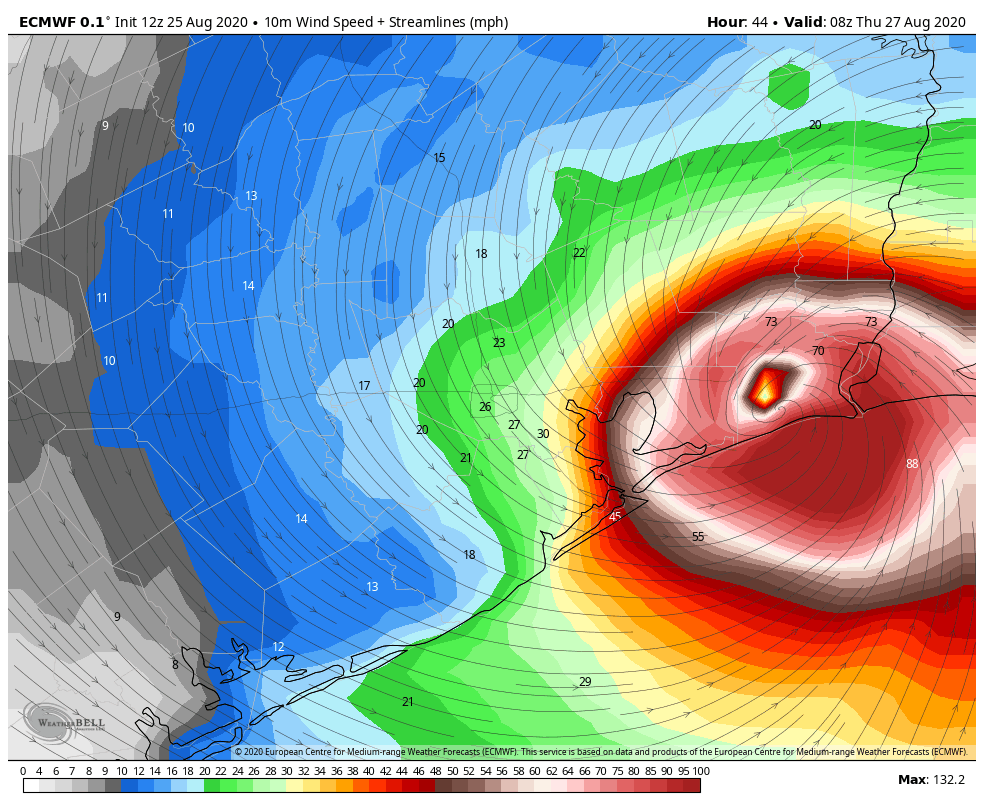 However, and this is very important, this track is far from dialed in. There are still some models that dissent from this scenario, and there remains the potential for Laura to wobble as it moves across the Gulf of Mexico. I think we can safely rule out a landfall near Freeport or the San Luis Pass, which would be the absolute worst case scenario for Houston and Galveston. However, a landfall anywhere from the East End of Galveston Island to the Texas-Louisiana border remains in play. Believe me, I would love nothing more than to close the book on Laura, but we are just not there yet. Maybe by tomorrow morning, maybe not. This is a nail-biter for the Houston and Galveston areas. Please heed mandatory evacuation orders and continue preparations.
Intensity
This remains a very difficult forecast. We have seen little strengthening of Laura through the early afternoon hours, but that's to be expected. The National Hurricane Center anticipates the storm will undergo most intensification between this evening and Thursday morning. They're predicting Laura will come ashore as Category 3 hurricane, and that seems reasonable, plus or minus a Category. Strong winds will likely begin reaching the coast by around 6pm CT Wednesday.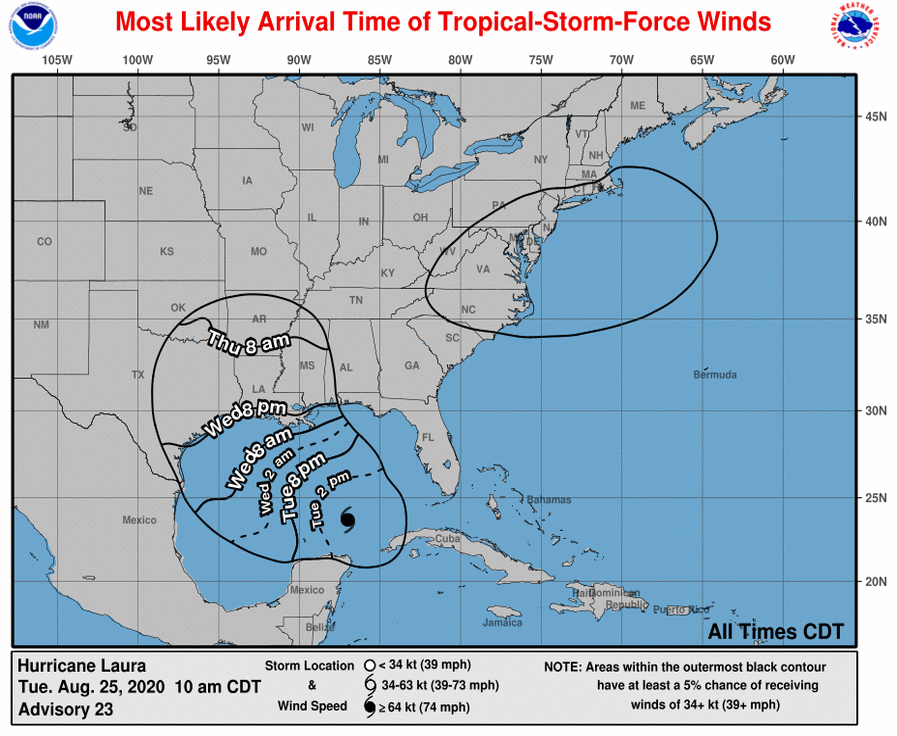 Laura should be a large and powerful hurricane at landfall, and it will cause widespread damage. Given the potential for further, modest swings in the track, we're asking you to hang with us for another day or so. We've just really got to keep tabs on this one, Houston.
Matt will have our next update at 8:30 pm CT, or a bit earlier.