Memorial Day weekend has come and gone, Houston's basketball season has unfortunately ended, and the first named storm has already graced the tropics—I guess we must acknowledge that summer has really and truly come to Houston. This means two things for the upper Texas coast: high pressure, and when there's not high pressure it means the region is open to tropical moisture. To that end, with the onset of hurricane season, we'll have some additional content this week. Later today, in fact, I'll answer some commonly asked questions about Houston and hurricanes. Later this week Matt will talk about how Hurricane Harvey changed the way local meteorologists were challenged and changed by the storm.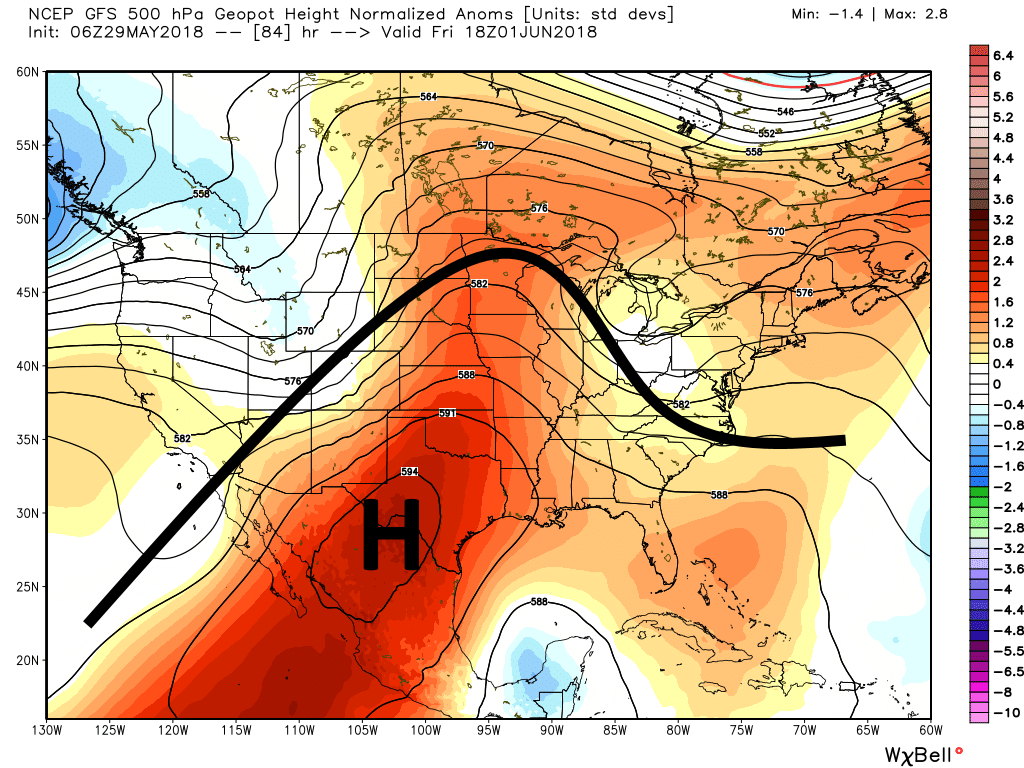 Tuesday
For now, high pressure ridging will remain dominant. There really is not a whole lot to say as we settle into a familiar pattern of warm, sunny days, with high temperatures in the low- to mid-90s, and warm nights in the mid- to upper-70s.

Wednesday through Saturday
More of the same. We could see a few more clouds on Wednesday as moisture levels rise a bit, but I'm pretty sure that a capping inversion will stamp out any real rain chances. The rest of the week looks mostly sunny, with continued highs in the low- to mid-90s and warm overnight temperatures. It could be worse. This pressure ridge will bring highs in 105- and even 110-degree range this week for some areas of West Texas.
Sunday and beyond
A handful of the ensemble members of the GFS and European models show a very weak front reaching the metro area by the second half of the weekend. If this happens—and I'd say we're in "So you're telling me there's a chance" territory—the region might see some scattered showers on Sunday, and some drier air to start next week. But for now the smart bet is probably just on continued hot and sunny. The greater likelihood is that most of Houston is probably at least 10 days away from significant rainfall.