We topped out at 87 yesterday at Bush Airport, about 12 degrees above normal for the date. We have one more fairly hot day, two more real soupy days, and then the weather pattern for Southeast Texas should change beginning late Thursday or Friday. We abruptly shift into a cool and rather unsettled pattern heading into next week.
Today
Look for basically a repeat of what we experienced yesterday. Highs will be in the mid to upper-80s with a fair bit of humidity. We should see a good deal of sun with some passing clouds at times. Southerly winds of 10 to 15 mph and some gusts will be with us as well.
Thursday
Consider Thursday the start of the transition. It will again be warm and humid, with morning lows in the 60s, but we will see a good bit more cloud cover by Thursday mid-morning or afternoon. Coverage of showers with the approaching cold front should begin to increase Thursday afternoon, especially off to the north and west of Houston. Normally I would say the rain may arrive quicker, but with a lack of any Arctic air push behind this front, I would expect just a gradual increase in rain coverage from northwest to southeast through the latter half of the day. Basically, if you have Thursday afternoon plans, include an umbrella. Highs should be in the 80s but a couple degrees less warm than today.
Friday
A gray day. We are expecting periods of showers with some steadier rain possible at times. It will be noticeably cooler with temperatures generally holding in the 60s all day and perhaps a slow drop toward evening. Not exactly cold, but certainly cool. The cold front will push offshore and likely stall somewhere. That front will act as a focal point for disturbances in the coming days, so where it parks is important for rain chances.
Weekend and beyond
I'll preface this by saying there is a high degree of uncertainty in the exact day to day weather between Saturday and Tuesday or Wednesday. We have several systems to watch that will be capable of delivering periods of rain. I would expect a showery, if not rainy Saturday, especially south of I-10. Our highest confidence is that Saturday may be a fairly damp day for Houston and points south.
Sunday could see breaks of sun north and clouds and showers south. Monday should see more clouds than sun with a rain chance. Tuesday would see clearing, followed by a quiet Wednesday and Thursday. But as I said, there is very little confidence in the specifics here.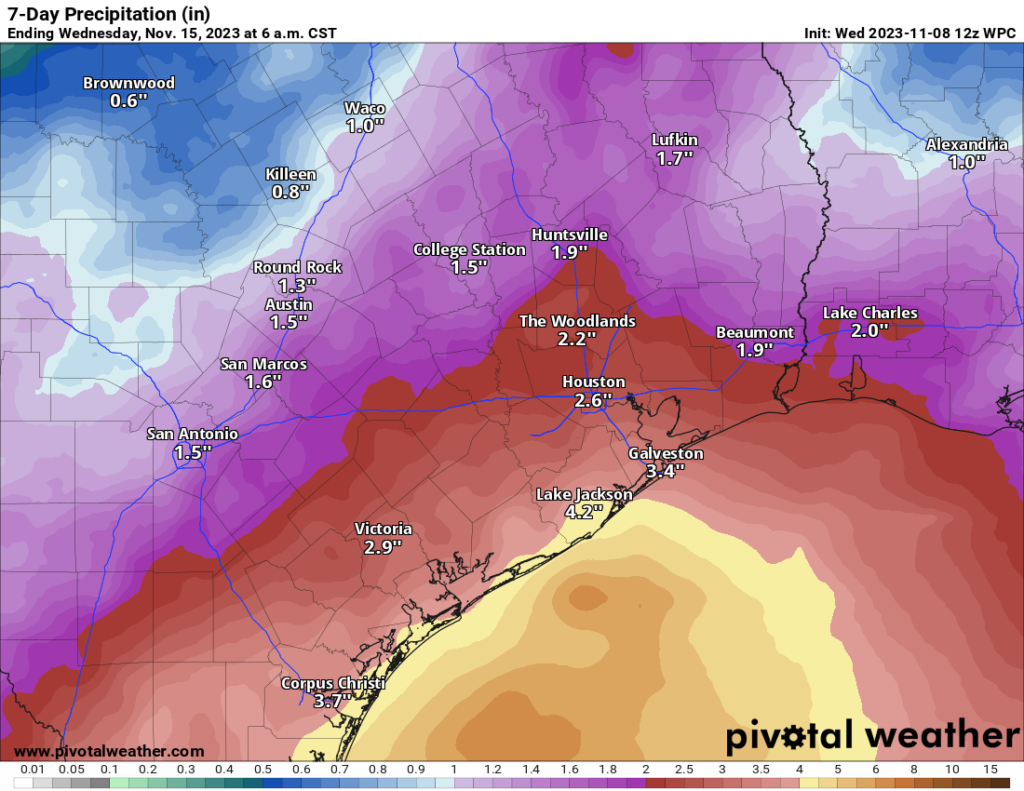 Specifics, details, and more are a long way from being settled, but there is the potential for several inches of rain over the course of the next week, especially south of Houston. The best chance for this may be around Corpus Christi and up through Matagorda Bay to Freeport and Lake Jackson, with diminishing rain chances as you go north. But much will depend on exactly what happens with Thursday's front, where it stalls out, and what it does into next week.
One thing we're fairly confident in is that temperatures will remain cool due to this pattern. Look for highs in the 60s this weekend and early next week, warming into the 70s by late week. Morning lows will generally be in the 50s. We will have more on Thursday!