Houston's first nighttime temperature below 50 degrees this winter occurred back on October 19, about five months ago. With Houston now getting deeper into Spring—and June just 72 days away—it is natural to wonder whether this most recent cold spell was the region's last of the winter.
The short answer, I would say, is no. While we are definitely entering a pattern where warmer rather than colder weather is the norm, we should still see some decently cold weather during the next six weeks. In fact, I think there's a modest chance that parts of the Houston metro area see sub-50 degree temperatures about eight to 10 days from now.
Tuesday
But not today. The onshore flow is fully in control of our weather this morning, and we're going to see a gradual rise in humidity until a front on Friday. High temperatures today will be on the order of the low 70s, with mostly cloudy skies. Winds will be out of the south, gusting to 25 mph at times. And low temperatures tonight will not drop far, perhaps only into the upper 60s. A few areas may see some sprinkles later today as a weak disturbance moves through.
Wednesday
Warmer still, with a high temperature of around 80 degrees and continued partly to mostly cloudy skies. Winds will again be gusty of out the south.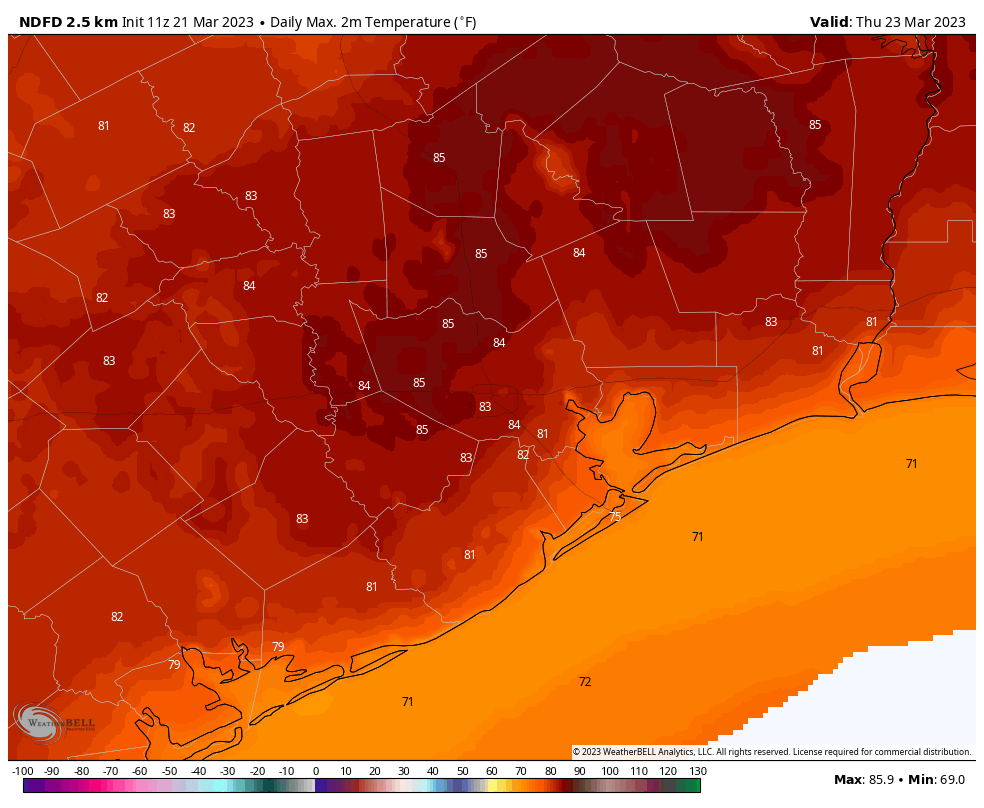 Thursday
This probably will be the warmest day of the week, with highs in the low- to mid-80s. Nights will continue to humid and mild.
Friday
I expect fairly widespread showers on Friday, but accumulations look fairly slight, on the order of one-quarter to one-half an inch of rain for most. At this point I can't entirely rule out some stronger thunderstorms with the front, but as of now I don't think there will be too many fireworks with its passage. These showers should end by the afternoon, or early evening hours as a moderate front moves in with some drier air. Highs on Friday will be about 80 degrees ahead of the front, dropping into the 50s overnight.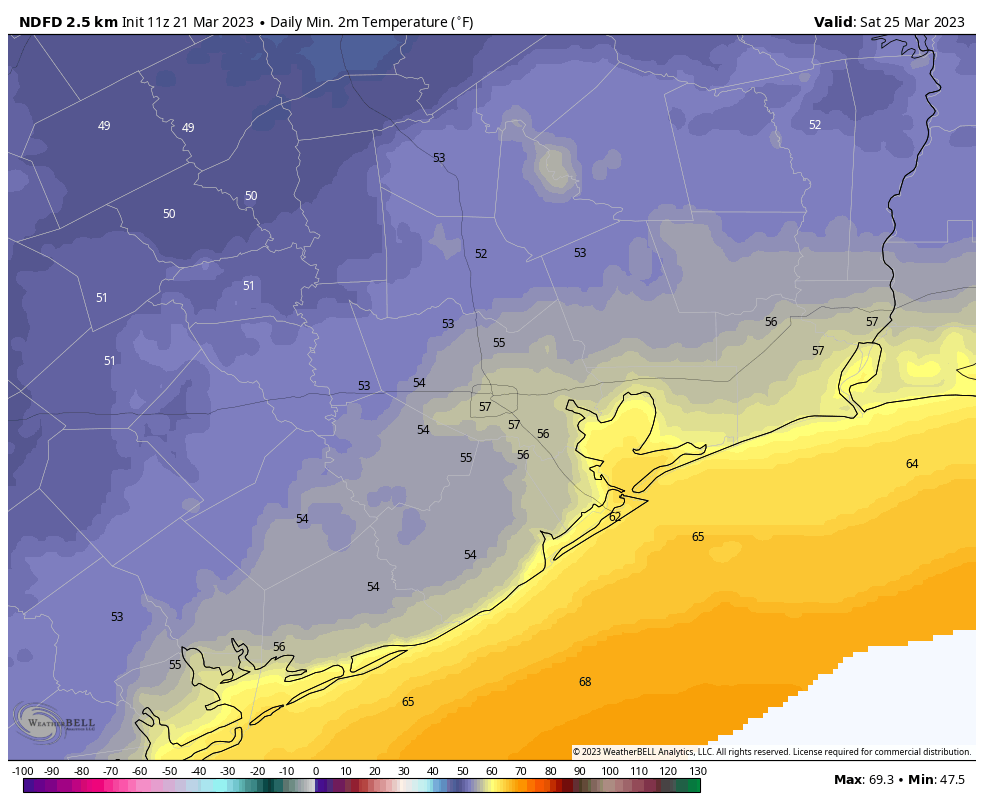 Saturday
This will be a fine springtime day with sunny skies and high temperatures in the low 80s. The reason we're going to get so warm right after the frontal passage is that we're going to see some fairly dry air moving in for a brief period on Saturday. But these winds will turn southerly again pretty quickly on Saturday afternoon or so, and therefore I expect lows on Saturday night to only drop to around 60 degrees.
Sunday
Highs on Sunday will again be in the low 80s, but with more humidity and probably more clouds.
Next week
Monday looks warm as well before another decent front moves in to bring us some days in the 70s, probably. Rain chances look fairly low, and temperatures fairly moderate, for much of next week.