Good morning! Lows bottomed out in the upper-30s and low-40s across much of Houston this morning, and I think this probably will be our coldest weather until October, or possibly even November in the region. Significantly warmer conditions are on the way after today, with a return to highs in the low 80s by Wednesday or so.
The good news is that the passage of a strong front on Friday, with a combination of winds and rainfall, really helped to knock down tree pollen and mold spore allergies over the weekend. We have definitely come through the worst of the spring time allergy season for oak trees and its messy, yellowish pollen.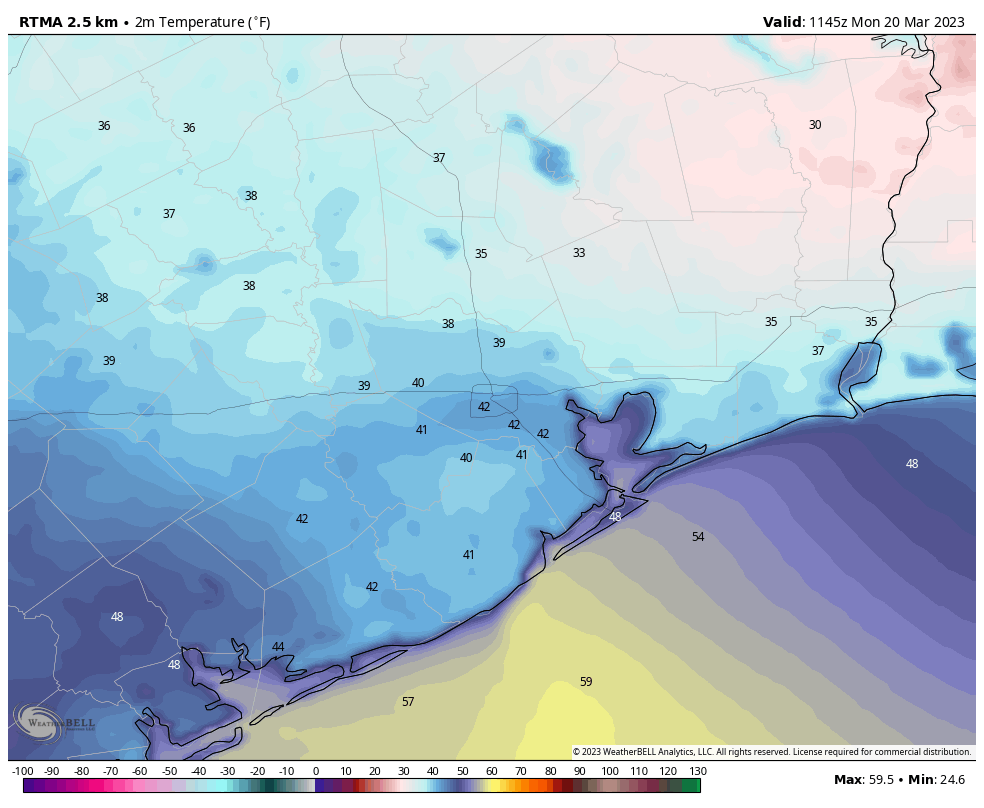 Monday
Today will be our final chilly day, with highs likely only topping out around 60 degrees as a cold air mass remains in place and skies are mostly cloudy. However, change is on the way as winds will shift to come from north-northeast to the southeast. This shift will moderate lows on Monday night, likely keeping most of the region in the low- to mid-50s.
Tuesday
Tuesday will be warmer, with highs generally in the low- to mid-70s, and more partly to mostly cloudy skies. Southerly winds will start to become more pronounced, picking up to 15 or 20 mph. Low temperatures will only briefly drop below 70 degrees in the metro area.
Wednesday and Thursday
These will be a pair of warm days, with highs ranging from 80 to 85 degrees, and partly to mostly cloudy skies. The southerly flow will be really noticeable, with wind gusts up to 25 or even 30 mph due to a fairly steep pressure gradient. Overnight lows in Houston will only drop to around 70 degrees.
Friday
The region's next front will arrive on Friday, and it should bring a healthy chance of rain showers into the region starting during the early morning hours. Accumulations look to be about one-half inch of rain north of Interstate 10, with lesser amounts to the south, but I would not bank on those amounts just yet. The front is not particularly strong, so high temperatures on Friday will still reach about 80 degrees, with lows perhaps dropping into the upper 50s on Friday night.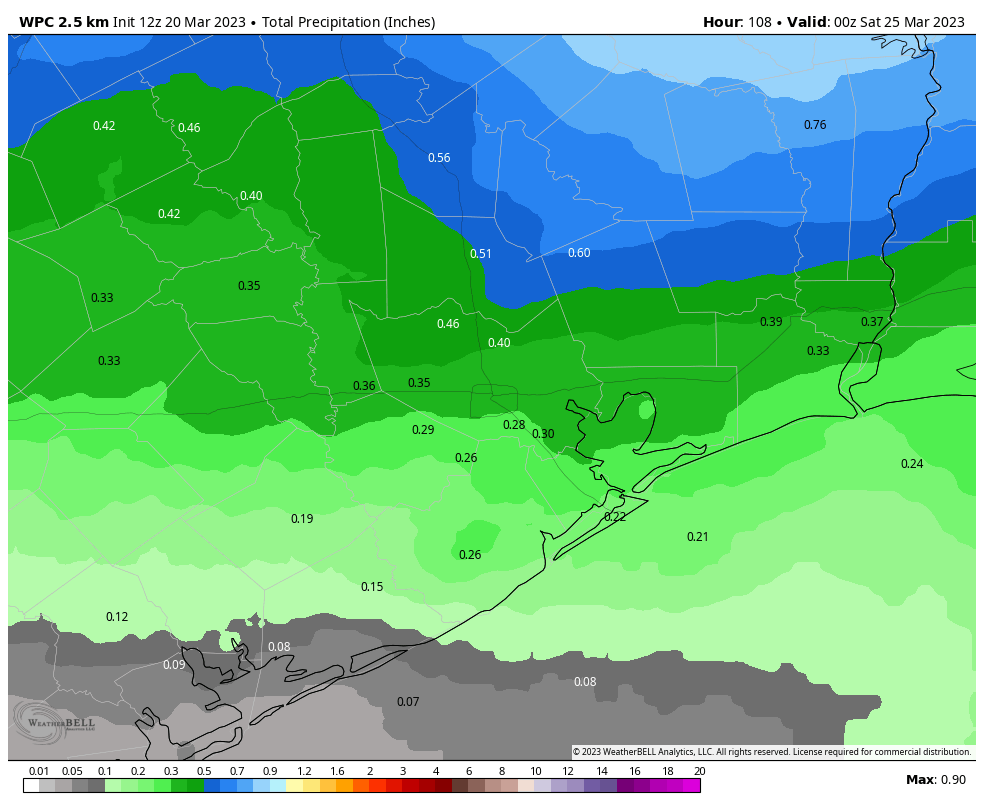 Saturday and Sunday
The first half of the weekend looks great, with mostly sunny skies and highs of around 80 degrees on Saturday. On Sunday, as the onshore flow resumes, we may see a few scattered showers, although I don't feel overly confident in the details just yet. Most of next week should see highs in the 70s, with nothing too extreme on the way. Enjoy your springtime weather, Houston!