This week NOAA said a three-year La Niña event in the Pacific Ocean is finally over. While neutral conditions are likely to exist for the next few months, forecasters now expect a fairly strong El Niño to develop later this spring or early summer. Typically, for Texas, this means a warmer than normal summer, and a cooler and wetter than normal winter.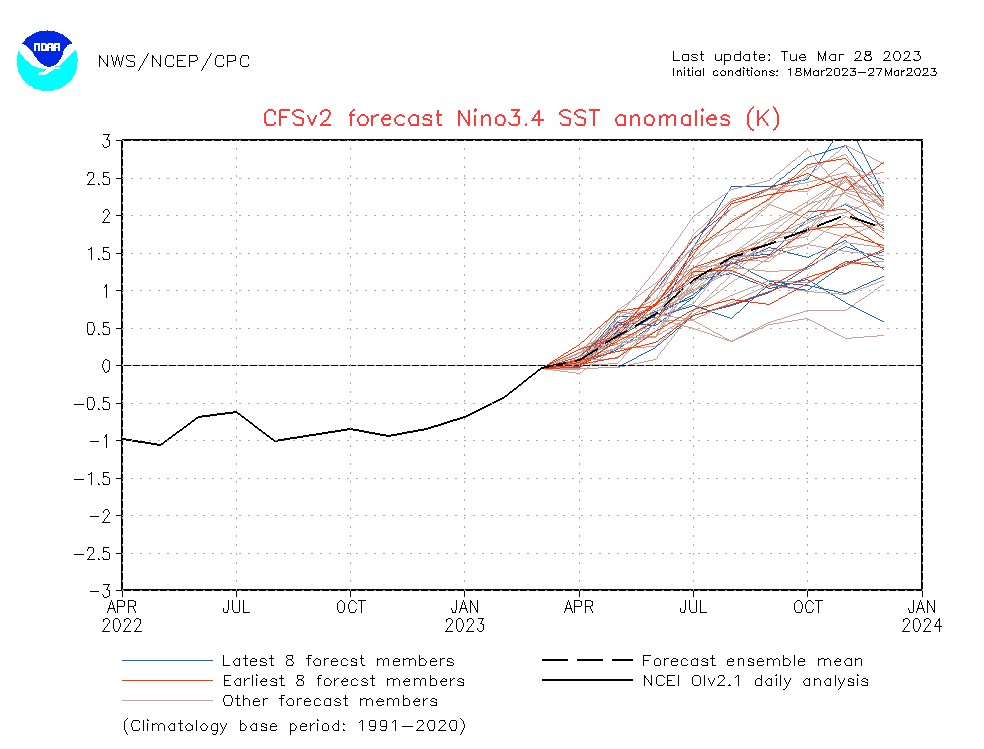 Perhaps most critically for the Houston region, El Niño tends to sap some of the strength of the Atlantic hurricane season by increasing wind shear levels. The effect is moderate, but notable. During El Niño years there are an average of about five hurricanes in the Atlantic Ocean, Caribbean Sea, and Gulf of Mexico. During La Niña years there are closer to an average of seven hurricanes. So the dice are more loaded toward impacts in La Niña years.
Wednesday
Some light showers have developed north of Houston this morning, extending as far southward as The Woodlands, in response to a passing disturbance in the upper atmosphere. This will continue to produce a chance of (very) light rain throughout most of today. Otherwise, we are going to see partly sunny skies with highs of around 70 degrees. Winds will be light, out of the northeast, before shifting to become more eastward tonight. Lows will drop into the low 60s.
Thursday
Skies will be mostly cloudy on Thursday, and winds will turn southeasterly. This flow off the Gulf of Mexico will pick up significantly, with gusts up to 25 or 30 mph. Highs will reach the mid-70s and humidity will return as well with perhaps a 20 percent chance of light rain. Lows on Thursday night will only drop into the low 70s.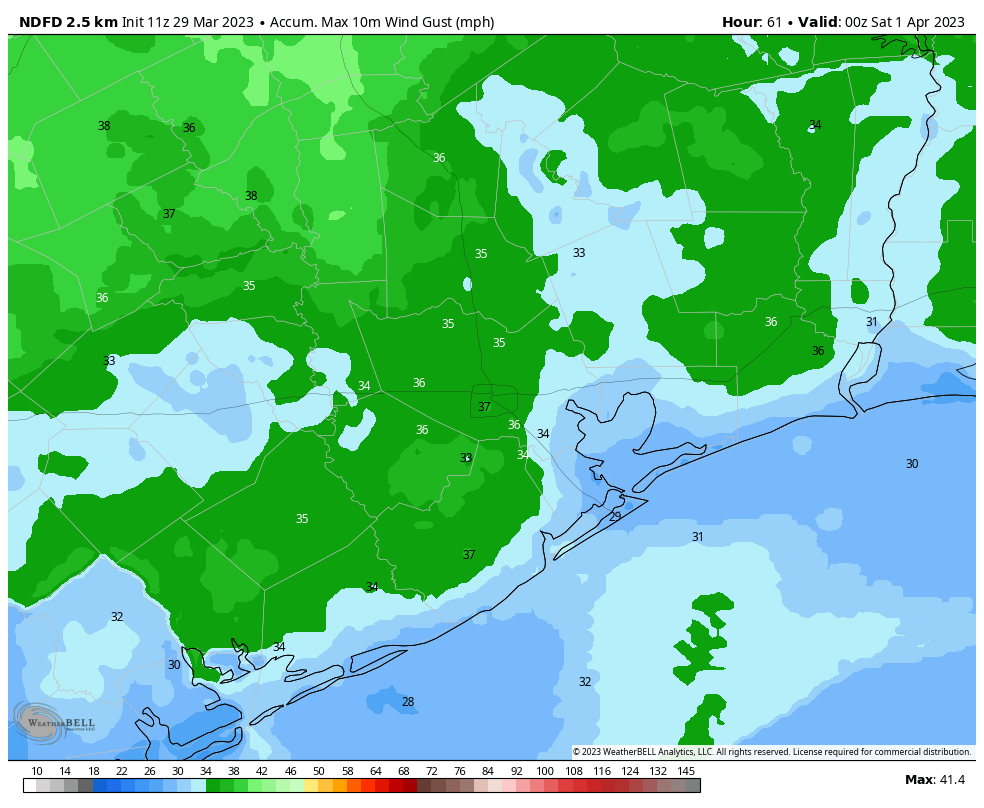 Friday
This will be a warm and humid day, with mostly cloudy skies and highs in the mid-80s. Winds will be significant, gusting to 35 or even 40 mph out of the south. It will be another warm night.
Saturday and Sunday
So here's the deal. A weak-ish cold front is going to approach our area early on Saturday morning. This system is going to bring storms well to the north of the Houston metro area, but if we see any precipitation in the Houston metro area it likely will be light. The bigger question is how the front will affect temperatures and dewpoints. My sense is that the front will essentially push down all the way to the coastline by Saturday mid-morning and then start pulling back northward by Saturday evening. So how much dry air you see will depend on how far inland you live. In any case, the front should pull northward of even areas like Conroe by Sunday.
In terms of temperatures, I'll ballpark low-80s for Saturday, with partly sunny skies, and increasing clouds for Sunday with a high of around 80 degrees. As moisture levels return we will probably see a decent chance of showers later on Sunday, perhaps 30 or 40 percent during the afternoon hours.
Next week
Most of next week looks warm, and humid, with highs in the mid- to upper-80s and partly to mostly cloudy skies. Perhaps some kind of front will arrive by Wednesday and Thursday to offer us a temporary reprieve and bump up rain chances. But my overall confidence in that happening is far from high. In tomorrow's forecast I'll offer an early guess about the forecast for Easter Sunday in Houston.