Houston endured its sixth consecutive day of a 101-degree high temperature on Monday, and the region may well have one more today before some relief finally arrives in the form of a weak front. There won't be much cooler air, but clouds and rain chances will help moderate temperatures as high pressure eases off to the west.
Tuesday
But not today. Once again, Houston will bake beneath triple-digit heat on Tuesday and mostly sunny skies. Very light southeast winds will offer almost no relief, and Tuesday night's lows will again be around 80 degrees for much of the region. Needless to say, a heat advisory remains in effect. The only good news from a weather perspective? August is almost half over.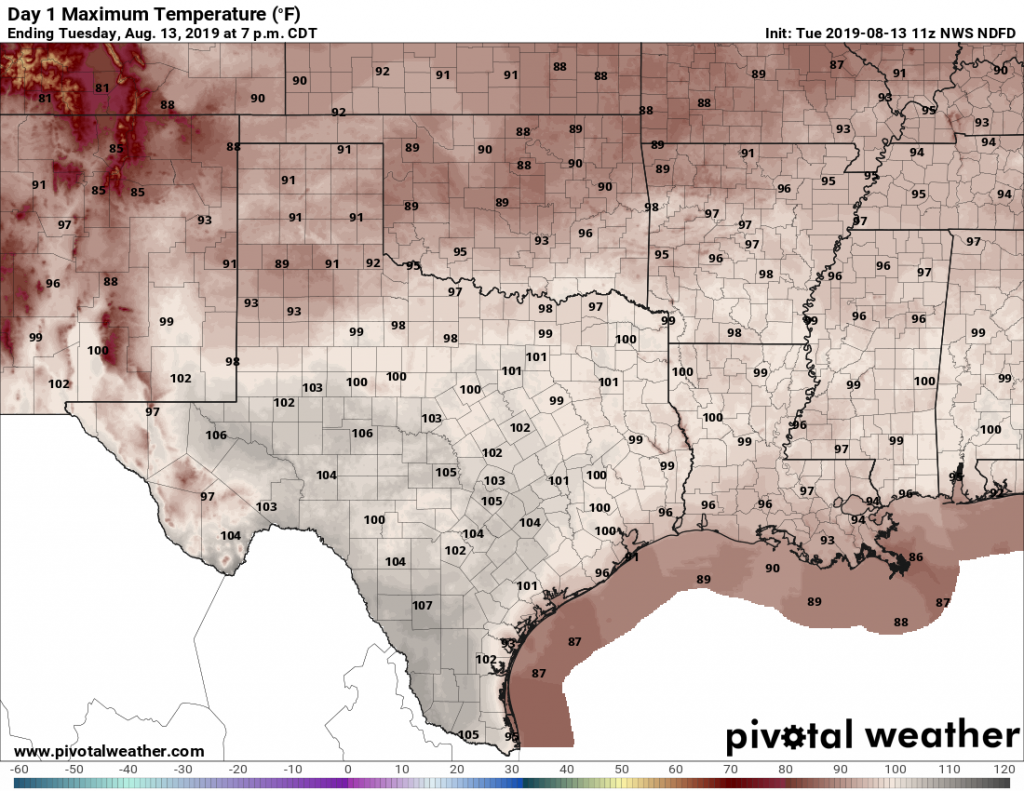 Wednesday
As high pressure backs off to the west, a weak front will move southward into the state. Depending on the timing, this will either limit highs to the upper 90s, or mid 90s—still very hot, but not as hot as we've been. Clouds will increase some, and rain chances will bump up to about 40 percent during the day and overnight hours. We aren't expecting anything spectacular in terms of accumulations, but anything will be welcome after an extremely hot and dry week.

Thursday
This should be another day similar to Wednesday, with scattered, on-and-off rain showers through Thursday evening. Regional coverage of showers may end up being 40 or 50 percent. This should help to limit highs on Thursday into the mid-90s, with mostly cloudy skies and calm winds.
Friday, Saturday, and Sunday
Over the weekend, we should be caught in between high pressure to the region's west, and a more moist Gulf of Mexico to the east. It's not quite clear what will win out over the weekend, so for now it's probably best to broad-brush high temperatures in the mid-90s, with a 30 percent chance of rain. As we get closer to the weekend, the forecast should become more precise.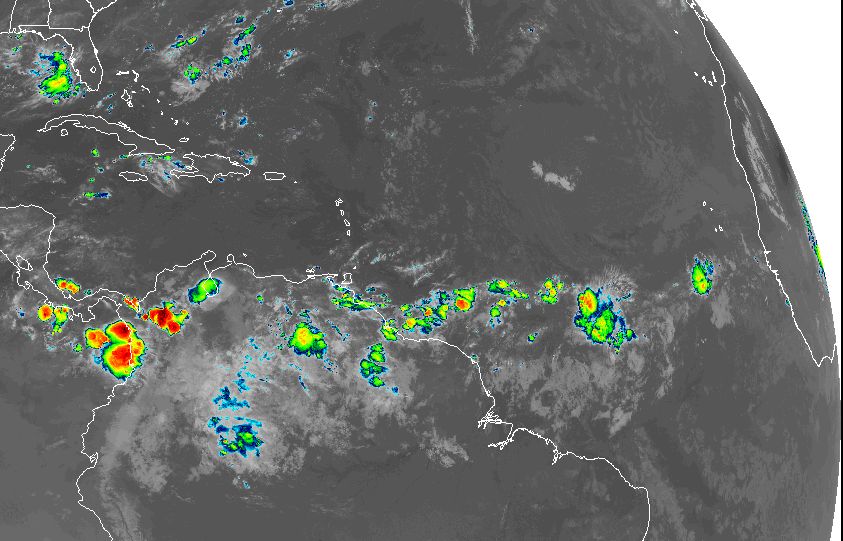 Tropics
The Atlantic tropics remain quiet for now, which is always a blessing for August. Atmospheric dust and other factors are helping to suppress development in the deep tropics, so we're not seeing the African "wave train" get going yet, but that will probably change in a week or so. Additionally, we're seeing some slight hints of the Gulf of Mexico perhaps becoming more susceptible to development during the second half of August, but there are no specific threats to point to right now. All in all, for mid-August, we're in darn good shape.