This has been an unprecedented year, heat-wise, so it's difficult to rely too much on past climate and weather norms. However, we have reached the point of the year after which it is extremely unlikely for a hurricane to strike the state of Texas. The historical odds of doing so after the date of September 24 are approximately 1-in-50.
Despite the fact that the Gulf of Mexico remains toasty warm, if there ever were a year to call the season in late September for Texas, this is the season. Wind shear has been exceptionally high over the last few weeks, and it is showing no signs of abating in the near future. And the overall pattern does not appear to support the movement of tropical systems into the Western Gulf of Mexico toward Texas. The bottom line is that history says we're done, and the current setup says we're done. Never say never, but we're probably done.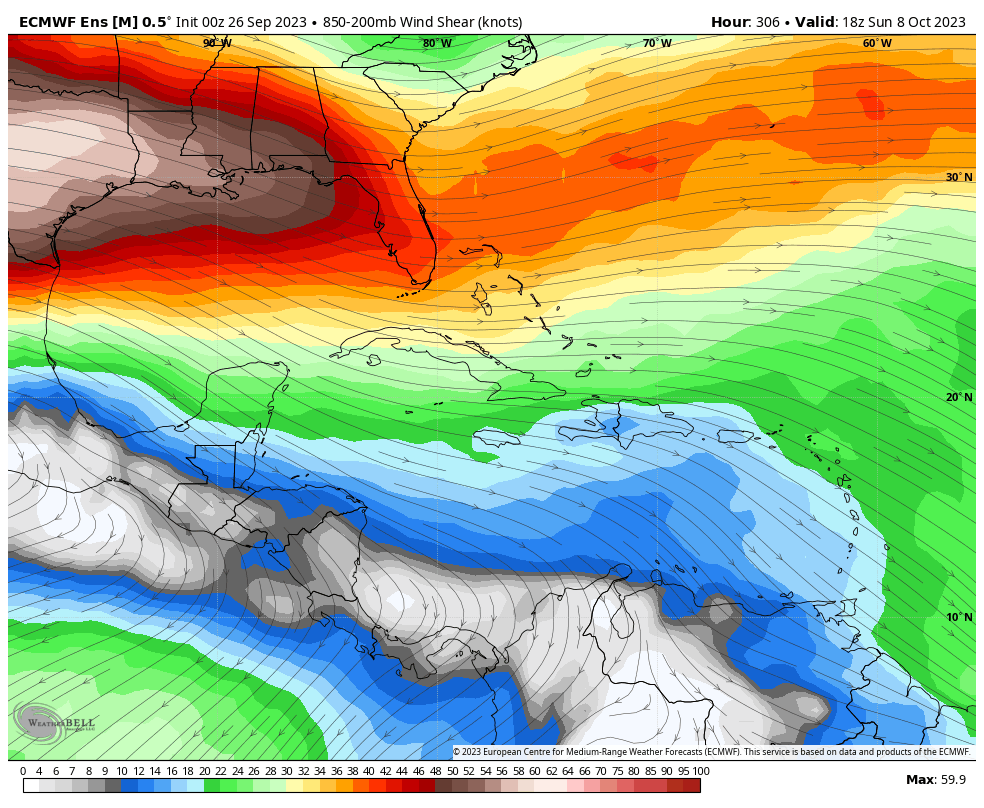 That is not to say that we still cannot see a tropical storm or a disturbance that brings us rain. That can happen in October, and has in the past. But these are mostly moisture events rather than serious wind or surge events. This also says nothing about the hurricane odds for Louisiana and points east. It remains an active Atlantic season, which we're tracking for you on The Eyewall. So my advice is this: Although the Atlantic hurricane season will continue for another couple of months, you can breathe a little easier this morning if you live in Texas.
Tuesday
Houston saw some solid, widespread showers and thunderstorms on Monday. If you got the rain you needed, that's great. If you didn't, well, that's probably the end of the widespread showers for awhile. We'll still have some spotty rain chances going forward, but nothing like Monday. For areas south of Interstate 10, chances today are probably about 30 percent, and for areas north they're much closer to zero percent as the weak front that drove Monday's storms has moved offshore.
Skies today will be mostly sunny, with a light northeast wind, and highs of around 90 degrees or slightly above. Our air is slightly drier, and this should help low temperatures drop into the low 70s for much of the city, with upper 60s possible for far inland areas.
Wednesday
Another day a lot like Tuesday, with coastal areas seeing a chance of rain, and highs generally in the low 90s.
Thursday and Friday
The overall pattern more or less continues, with highs in the low 90s and sunny skies. Nights, generally, will drop into the mid-70s. Rain chances will continue to hover in the 10 to 20 percent range, so unlikely for most.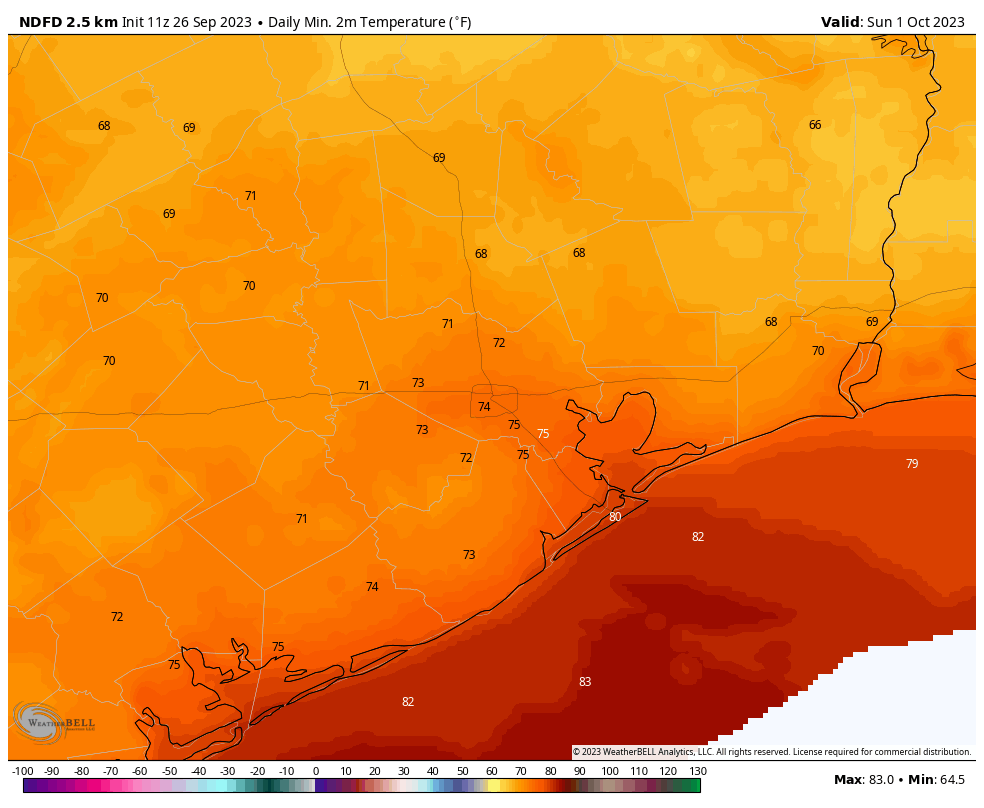 Saturday and Sunday
The upper atmosphere will support the flow of some modestly drier air starting this weekend, so that will allow daytime temperatures to rise a bit. But this will also support more rapid cooling in the evenings, and somewhat lower humidity. Look for highs in the low- to mid-90s this weekend, with sunny skies, and lows in the low 70s except near the coast.
Next week
The overall flow of somewhat drier air should continue next week, with highs generally in the low 90s, and nighttime temperatures in the more seasonable low 70s. It won't be fall, but it's something a bit nicer than summer. Truth be told, after the summer we experienced, it should feel pretty good outside. There are some hints of fall's first real front about 10 days from now, but they're not strong enough for me to have any confidence. We'll see.