Good afternoon. Rain rates today have been more manageable in the area. We've even had reports of sunshine in spots. Over the next few hours, the weather is going to likely deteriorate once more. Current problems will continue and new ones will crop up, but we feel that we will probably see less rain overall tonight than we did last night in the Houston area. That being said, tonight's rains come with a bit more uncertainty than last night's. Let's explain.
Now
Harvey is centered about 25 miles from Victoria. This is further east than Harvey was at this time yesterday. The setup has changed a bit, with a weak boundary along I-10 and flow that's directed more southeast to northwest from the Gulf.
What does this mean? It means that varying intensities of rainfall are likely tonight south of I-10. Again, this isn't optimal, but my hope is that the rains will remain manageable south and southeast of Houston. Folks in those areas will need to stay alert and keep the guard up overnight, but rain totals (and the hope is VERY importantly, the rain rates) should be less than last night.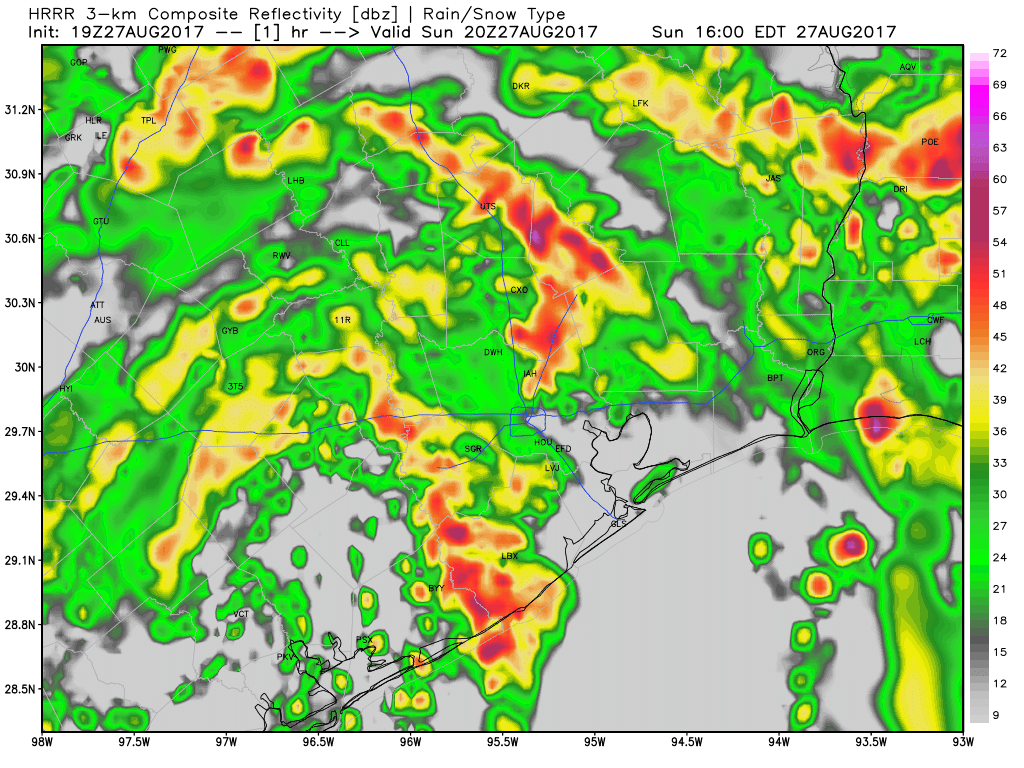 North of I-10,it's similar, but with more rain and fewer breaks. Expect occasional 1-3″ per hour rain rates in those areas. This will exacerbate already near-record levels of flooding on Cypress Creek and other bodies of water north of Houston.
On average, I would expect 3-7″ south and 4-8″ north, but there is most certainly a risk of higher amounts in spots. The heavy rains near Port Arthur and Beaumont should add up to 5-10″ or more.
Tomorrow & Tuesday
Looking ahead, no new news to report. After tonight, rainfall will continue sporadically and heavily at times through tomorrow, similar to what we saw today, perhaps with a few less breaks though unfortunately. Harvey will emerge back out over the Gulf near Matagorda, and a Tropical Storm Watch was reissued from Sargent to San Luis Pass with the National Hurricane Center's 4 PM advisory. Eric will have a post shortly on that aspect of the storm, but please, use your bandwidth to deal with the rain and flooding around Houston right now. That's the issue we have to focus on.
We'll have another post on the forecast this evening. Stay safe.
Posted at 4:25 PM Sunday by Matt