POSTED AT 2 PM CT WEDNESDAY: Good afternoon. Hurricane Laura has continued strengthening in the Gulf of Mexico all day so far, showing no signs of slowing. It is now up to category 4 intensity, with maximum sustained winds of 140 mph.
Could Laura achieve category 5 status before landfall? It's possible, as there are no signs of strengthening slowing down as of this writing (pressures keep falling). Laura is expected to come ashore below its peak intensity. It may feel the effects of some wind shear, shown in red on this map below.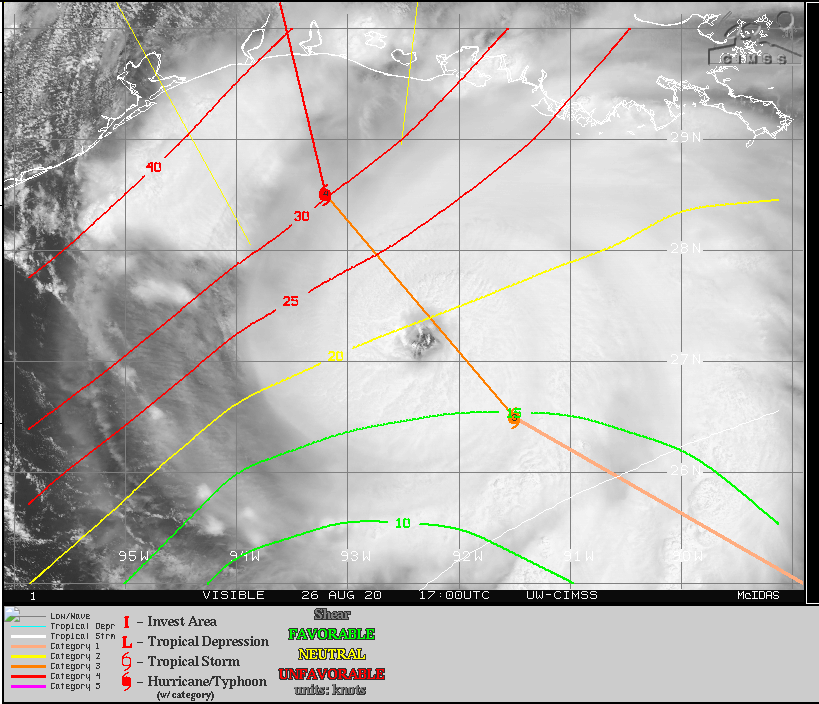 That shear is moving with Laura to the north, so it may not help as much as you'd otherwise hope. More likely, Laura could experience what is known as an "eyewall replacement cycle" before landfall; basically a way for the storm to reorganize itself. When that happens, a drop in intensity usually occurs, sometimes substantial. We hope this happens right before landfall, which would allow Laura to come in on the decline, rather than at maximum intensity. Unfortunately, this aspect of the forecast is difficult to predict and we are really only relying on hope at this point. It's possible Laura could just continue strengthening right up to landfall, similar to what Hurricane Michael did 2 years ago near Panama City, FL, though as a colleague of mine pointed out in a conversation earlier, the coastal topography of the Gulf here is much more shallow than off Florida. Shallow water can be more easily churned up and help to reduce the fuel available for hurricanes to feed off of. Whatever it is at landfall doesn't much matter at this point, as it will still likely be bad.
Laura is moving northwest at 16 mph, which is blazing fast for this part of the Gulf. For folks in Houston, it's important to know that Laura is doing what is expected, and "the turn" is underway. It's not "if" or "when." It "is" happening, and thankfully in the world of 21st century meteorology we can say that with authority. We will not be hit too hard here by this storm. Laura is expected to make landfall on the Cameron Parish side of the Texas/Louisiana border as a category 4 hurricane tonight perhaps around or just before midnight.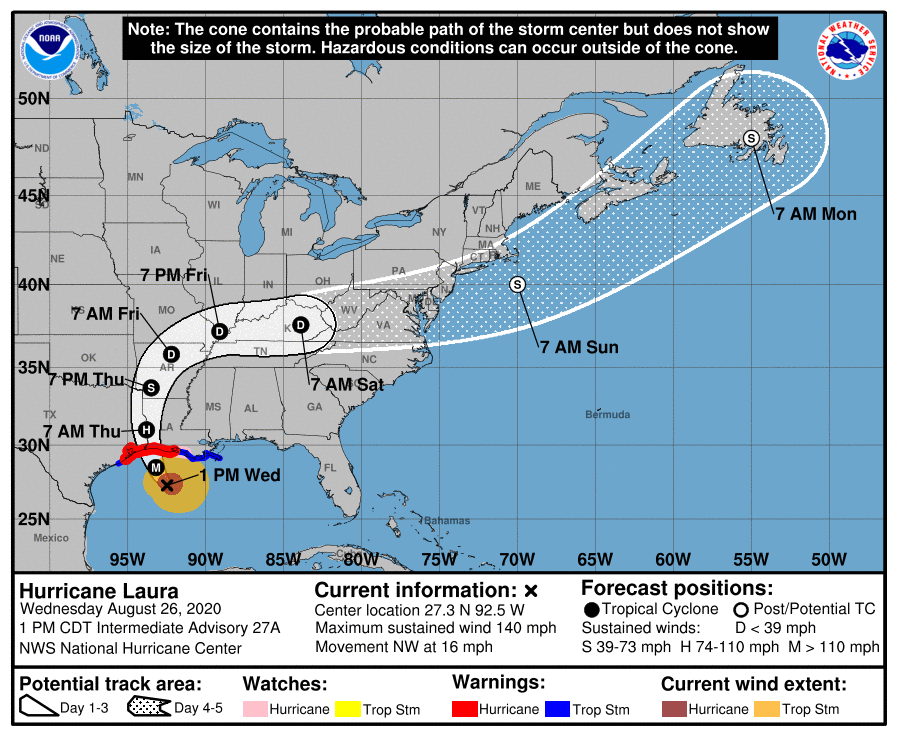 Let's walk you through the expected wind and surge impacts at this time.
Houston area: West of I-45 (The Woodlands, Katy, Cypress, Sugar Land, etc.)
Periods of showers and thunderstorms possible to likely tonight. Impacts peak between 9 PM and 3 AM with winds of 15 to 25 mph and gusts as high as 30 mph or so.
Houston area: East of I-45, north of I-10 (Kingwood, Humble, Crosby, etc.)
Impacts peak between 9 PM and 4 AM with winds of 15 to 25 mph. Gusts will peak around 35 mph or so.
Areas around or just inland from Galveston & Trinity Bays (Bay Area communities, Texas City, League City, Baytown, etc.)
Impacts peak between 8 PM and 4 AM with sustained winds of 25 to 35 mph and gusts of 40 to 50 mph, highest south, lowest north. Surge of 1 to 3 feet, though northerly/northwesterly winds may push water to the south toward Galveston
Galveston & Bolivar
Impacts peak between 8 PM and 4 AM with sustained winds of 30 to 40 mph and gusts of 50 to 60 mph, or a bit higher possible. Storm surge on Galveston Island is expected to be on the order of 1 to 4 feet, with the bay side experiencing surge as well. Storm surge on the Bolivar Peninsula may be as high as 4 to 5 feet.
Beaumont-Port Arthur-Orange area
Impacts peak between Midnight and 5 AM with sustained winds of 75 to 90 mph and gusts of 95 to 110 mph. Surge of 10 to 15 feet into Sabine Lake.
Lake Charles area
Impacts peak between midnight and 6 AM with sustained winds of 75 to 100 mph and gusts of 95 to 120 mph. Storm surge of 15 to 20 feet into Calcasieu Lake.
Rainfall
Just to further put you at ease, the total rainfall through tomorrow in the Houston area is expected to be 1 to 2 inches total. Many places will likely see less than this. A few to the south and east may see a bit more.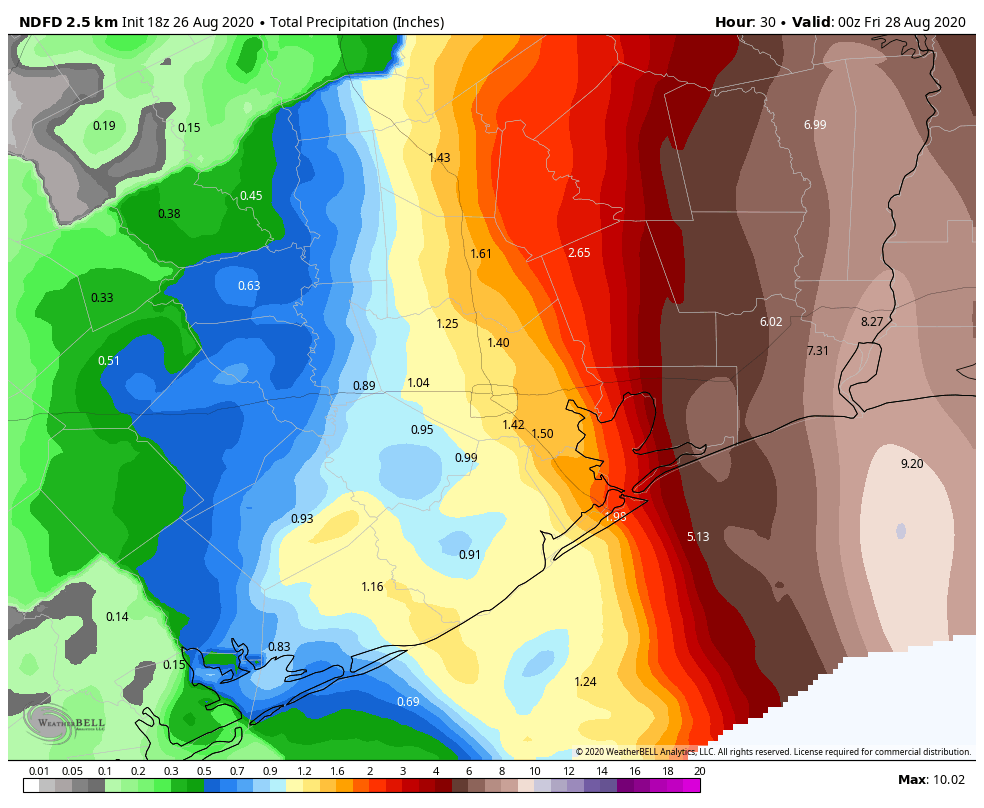 But in this case, flooding, other than some nuisance street flooding is not expected. On Friday, we may see a slightly better chance of some heavier rain as modeling has been in agreement on a better signal for storm chances from a trailing band feeding into Laura's remnants over the Mississippi Valley then. Something we'll check into more closely tomorrow.
So again, just to summarize, Laura is moving northwest and will turn more north-northwest this evening, likely making landfall on the Louisiana coast, well east of Houston, as a major hurricane. Eric will have our next post no later than 5:30 PM CT.