POSTED AT 1 AM CT THURSDAY: At midnight, central time, the northern eyewall of Hurricane Laura came ashore over Cameron Parish, Louisiana. This is about 35 miles east of the state's border with Texas, and a bit further east than forecasters anticipated. This places the storm's core of strongest winds solidly over the western half of Louisiana, and should spare much of the Beaumont region from the very worst of Laura. Meanwhile, a devastating storm surge is moving into southern Louisiana and has inundated some locations for dozens of miles inland.
Laura had 150 mph winds at landfall, the hurricane center reported. This makes it a high-end Category 4 hurricane, tying the storm for the fifth most powerful continental U.S. landfalling hurricane since 1900.
The contiguous US has been hit by 7 150+mph hurricanes since 1900#Laura could potentially join the list
1. 1935 FL Keys 185 mph
2. 1969 Camille 175 mph
3. 1992 Andrew 165 mph
4. 2018 Michael 160 mph
5. 1919 FL Keys 150 mph
5. 1932 Freeport TX 150 mph
5. 2004 Charley 150 mph

— Andrew Hagen (@AndrewHagen) August 27, 2020
The worst of the storm's winds are only now moving onshore and the hurricane center justifiably urged those who have not evacuated from Southwestern Louisiana to, "Treat these imminent extreme winds as if a tornado was approaching and move immediately to the safe room in your shelter. Take action now to protect your life!"
Local effects
A landfall in Cameron places the storm's center more than 130 miles from Houston, and because this is further than anticipated we are seeing very limited impacts here in the metro area. There is some moderate surge along the coast and in Galveston Bay, and a few areas have recorded wind gusts near 40 mph. As a result of these lower-than-expected winds, Houston has so far experienced no power outages tonight—a welcome change from our earlier expectations. We do not anticipate winds increasing significantly overnight. Rain chances are quite low as well. This is it, folks.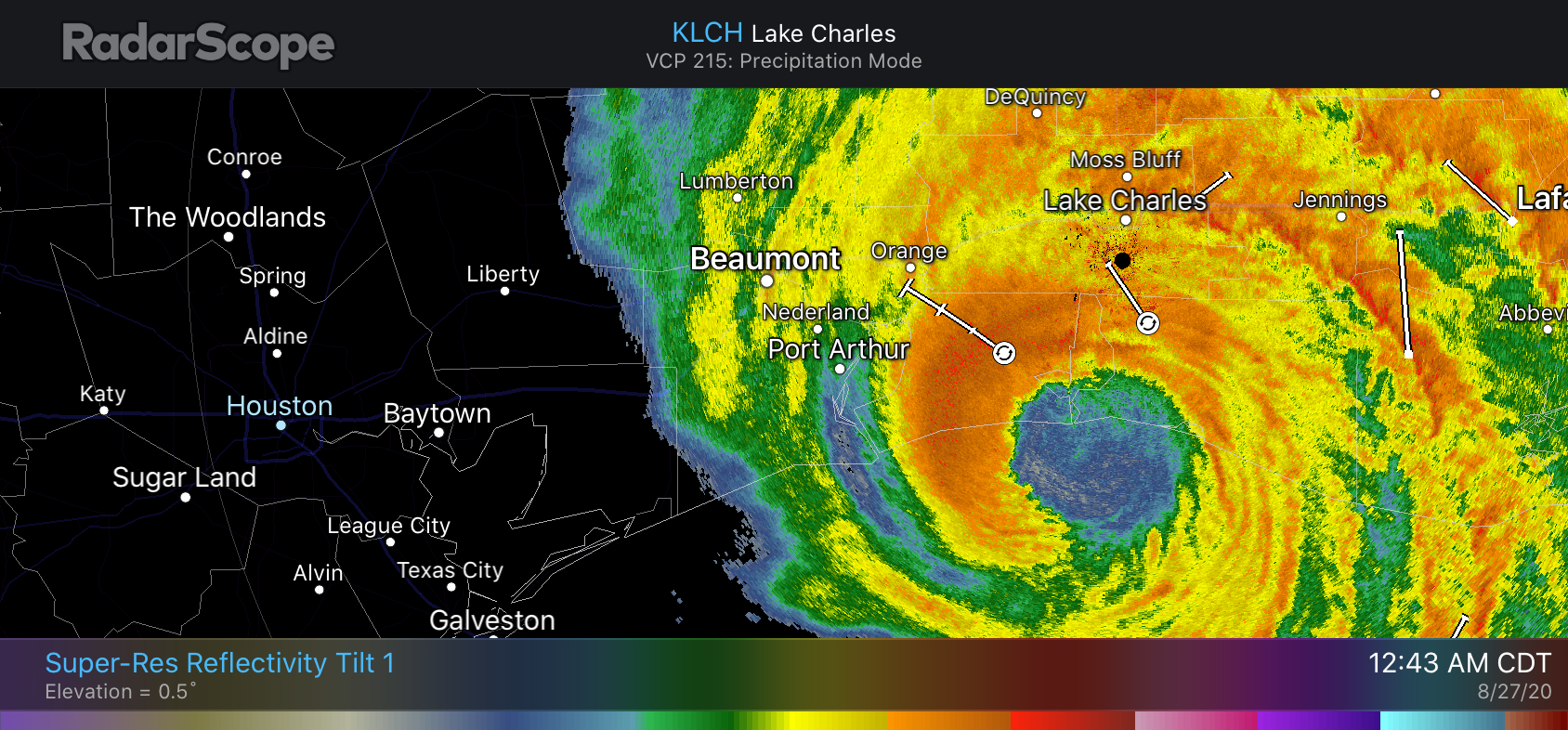 Houston will probably be mostly cloudy, and quite warm on Thursday with a drier flow from the north on Laura's backside. Rain chances may increase on Friday as the tail of Laura brings some moisture into the area before lifting entirely away. We'll have a complete forecast for Houston in the morning—whenever I wake up.